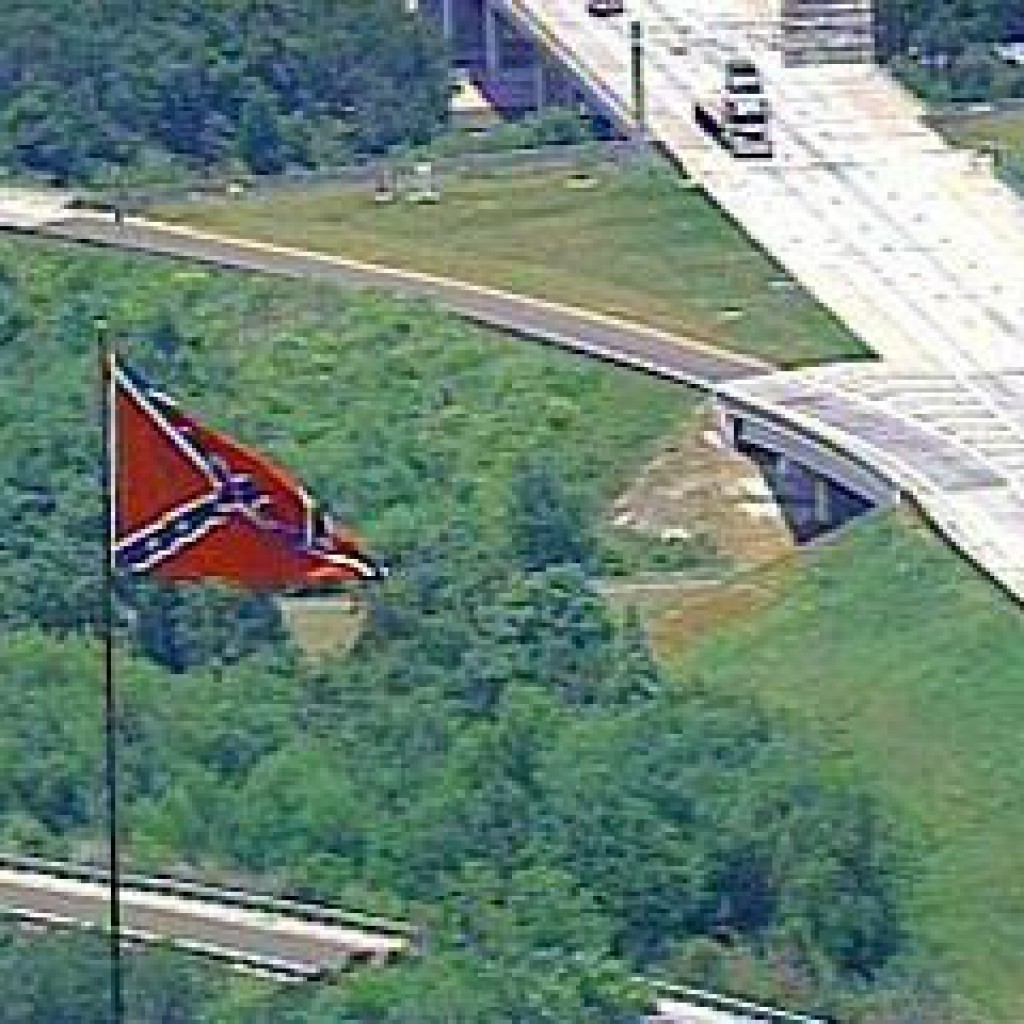 In the wake of the racist terrorist attack on nine black people at a historic church in Charleston, South Carolina last week, there has been a renewed focus on the divisiveness of the Confederate flag,which currently flies on the grounds of the South Carolina Capitol.
Meanwhile the biggest Confederate flag in the world (according to its supporters) currently flies proudly at the intersection of I-75 and I-4 in east Tampa, and Congresswoman Kathy Castor says she hates that it does.
"I just hate it," she told Florida Politics Monday morning after holding a press availability at the Children's Board of Hillsborough County in Ybor City.
"I think it's a symbol of hate," she continue. "It does not reflect this community that is known for openness and welcomeness and has a long history of equal rights and I think it's a real blight on the community. "
Castor says she traveled on Highway 50 on Father's Day to visit her in-laws, and saw no fewer than three cars with Confederate Flags displayed along the road. "People really need to understand what the symbol that it is for the majority, of people and take those symbols of hatred down."
"It's not a symbol of hate," responds David McAllister, with the Sons of Confederate Veterans. "It's a symbol of the veterans who fought under that flag and the patriotic and honorable veterans that fought under that flag."
Hillsborough County Commissioners acknowledged shortly before the flag went up in June of 2008 that there was nothing legally they could to stop the huge flag from going up. As I reported on at the time, then-Commissioner Jim Norman suggested that organizers think of hoisting a large American flag at the spot instead, and he urged the Sons of Confederate Veterans to work with members of the NAACP on such a compromise.
In 2005, a county land use hearing officer approved a request by Sons of Confederate Veterans member Marion Lambert's for a lighted park with monuments and a flagpole "to commemorate American veterans."
For years, Hillsborough County Commissioners had routinely presented proclamations to the Sons of Confederate Veterans. But in 2007, the board changed the policy after it was embarrassed when it honored Confederate Gen. Robert E. Lee on the same morning as a civil rights leader.
More Florida lawmakers are weighing on the Confederate flag controversy in South Carolina.
This afternoon South Florida Congressman and U.S. Senate candidate Patrick Murphy called for the flag to come down there, saying, "Now more than ever we must renew our commitment to unity over divisiveness, to healing over pain.  As a symbol of one of the darkest chapters in our nation's history, it is past time for the Confederate flag flying over the South Carolina state capitol to come down.  I urge Charleston lawmakers to make the right decision and remove it, not only because it is the right thing to do, but also out of respect for those who continue to mourn the loss of their loved ones."
Meanwhile Castor says that the only way that Washington might do anything regarding gun regulations or funding mental health programs is for people to make their voice heard to their member of Congress.
"We need to take action," she says, calling it "disappointing" that the last efforts at gun regulation in Congress, a universal background check bill, died in the U.S. Senate back in April of 2013, just months after 20 children were slain in a Connecticut school room by a lone gunman.
"Unfortunately here in the state of Florida, the NRA has really shut down any type of community progress that we can make," Castor said. "Remember when they went after pediatricians to say that they couldn't give advise to parents about keeping guns safe?" she said, referring to the Firearms Owners' Privacy Act, passed in 2011. It would subject medical providers to fines and a potential loss of licensure for asking patients about gun ownership or recording that information in the medical record if it is not "relevant to the patient's medical care or safety (A court struck down the law in 2012, but an appeals court reversed that ban in 2014).
Castor also lamented state legislation that bans cities like Tampa or St. Petersburg from passing their own regulations on guns, a law that prevented Bob Buckhorn from banning guns in the so-called "event zone" during the Republican National Convention in 2012.