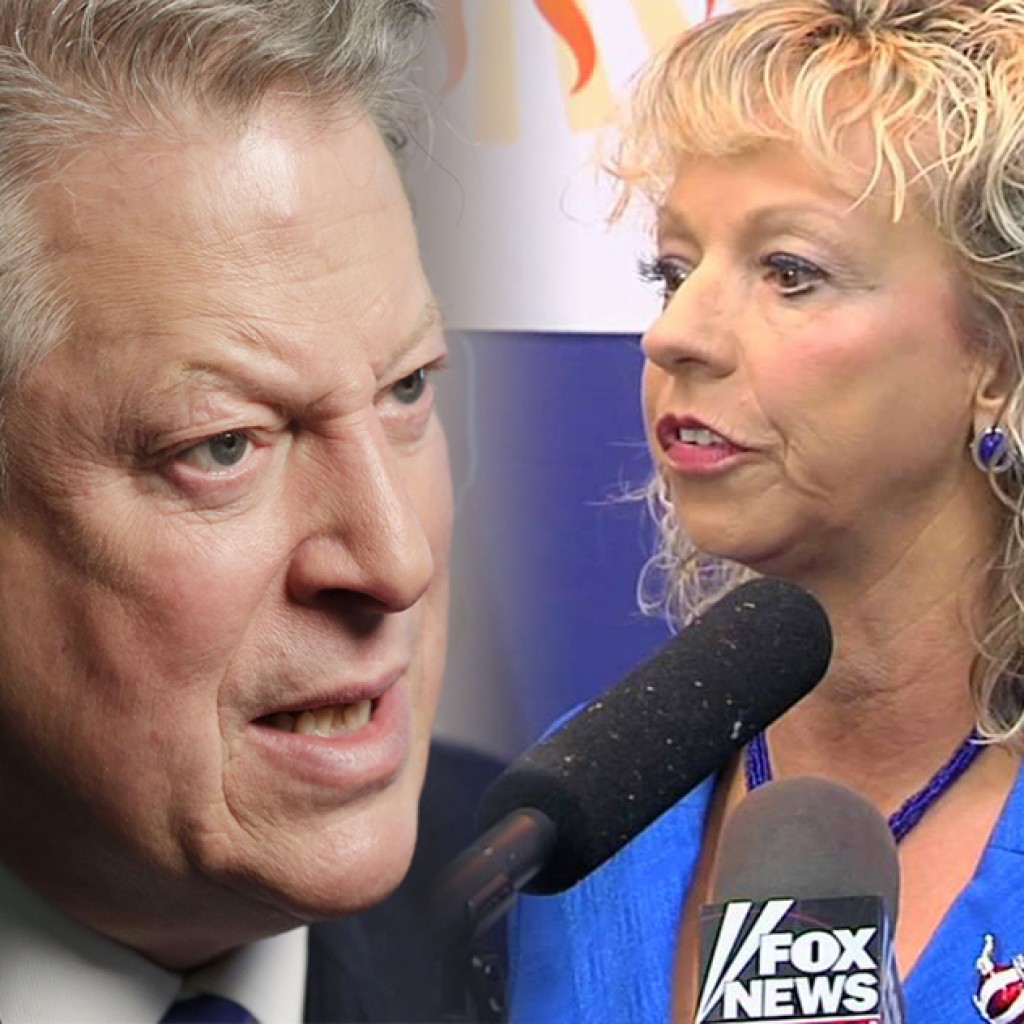 A group of environmentalist political activists – "diverse," to say the least – continued their conference at the Hyatt Regency in Miami on Wednesday.
Continuing subsidies for solar and defeating the Koch Brothers were common themes center stage at a panel entitled "Solar Energy in Florida." The panel, which included former Vice President Al Gore, Sierra Club leader Tom Larson, and Tea Party-turned-environmental activist Debbie Dooley, spoke stridently in favor of the environmentalist group's amendment to liberalize state law regarding residential solar panels – and against Consumers for Smart Solar's counter-amendment.
Speaking about the key strategic importance of allowing third-party sales via purchase agreements with outside vendors, which is illegal in Florida, Larson said "We are literally in a war. Solar is expanding, but there are lots of people who want to choke it in the crib. They want to kill it off early."
Despite claims by Floridians for Solar Choice that they are not for subsidies and mandates, Larson was quick to point out how important and necessary they are saying, "One of the things that matters most right now is the federal Investment Tax Credit, the ITC. It's going to be up for renewal next year – we have got to be engaged in that debate." "That is where people have been able to get a 30 percent federal tax credit if they put solar on their homes, which dramatically decreases the cost of solar, to incentivize this."
"There are forces that are trying to roll back the Investor Tax Credit next year and we have got to stand up and fight for that."
"The other thing that net metering – that's where you put solar on your home and you sell [the energy] back to the grid – but now the utilities have decided 'wait, wait wait – we're in the business of selling electrons. Now all the sudden we're reversing the flow'?"
Larson cited a poll commissioned by the Southern Alliance for Clean Energy (SACE) which he says showed 82 percent of Floridians "want solar," though they may or may not want his amendment. A recent Florida Chamber poll showed his group's amendment was less popular among likely voters than that of rival group Consumers for Smart Solar.
"There is no better time to run something like this in Florida than in a presidential year," said Larson, referring to the more liberal orientation of voters in those years than in mid-term cycles.
Larson said the group is on track to meet the requirements for inclusion on the 2016 ballot.
Next it was former Vice President Al Gore's turn to assess the solar energy debate in Florida.
"All over the world, there is this battle by the old, dinosaur, coal-burning fuel elites to keep their monopoly," said Gore, who compared the utilities' opposition to Floridians for Solar Choice's amendment to that of Big Tobacco's stance in the 20th century that cigarettes are not dangerous.
In the beginning of mass electricity utilities, governments developed "Regulatory compacts, so that they would try to organize things in the right way, and see that it was fair and just for [utilities] to have a monopoly on all these power lines, because you don't want a bunch of Gumbys plugging up all the holes in the lines, so there's a natural monopoly there."
"But they also have a monopoly on the source of all the electricity flowing into that grid and their relationship with customers and all the services that are involved. But the world has changed in the last hundred years. There's no longer a reason to give them a monopoly on the source of all the energy that flows into the grid."
"It really is outrageous," said Gore.
Next up to have her say was Debbie Dooley, founder of the Green Tea Coalition or as Gore calls it, "the Green Tea Party." Dooley is a self proclaimed Republican activist who spends nearly all of her time these days speaking on behalf of conservatives alongside some of the nations most liberal environmentalist. Dooley who says her conservative principles led her to join the fight, along with natural enemies like Gore and the environmentalist movement, for increased access to residential solar panels.
"I would just like to say one thing," said Dooley when opposition from Americans For Prosperity was raised by another speaker.
"Americans for Prosperity is a Koch-funded group. A lot of these groups throw principles out the window. 60 Plus, they're very active in Florida. This is a group, on a national level, that complains about excessive regulation yet in Louisiana and in Florida they complain that solar isn't regulated therefore consumers are not protected."
"Recently, Florida Power & Light wrote a million-dollar check to Jeb Bush's super PAC," noted Dooley, who later said in a question-and-answer session that her favored candidate in the 2016 GOP primary was "whoever the Koch brothers are not supporting." She went on to say that both Florida natives Marco Rubio and Jeb Bush get Koch support.
After a brief back-and-forth discussing strange political bedfellows between Dooley and Gore briefly she said, "Three activists and the regional director of 60 Plus crashed [a recent event where Dooley was speaking]… I gave the talking points and called out the hypocrisy that they oppose solar subsidies but didn't say a word about the subsidies fossil fuels has received…"
"Forty-four times larger than solar," Gore interrupted.
"At the same meeting, I had two activists come up to me who said 'You changed our minds'," said Dooley, who was met with a "Yay!" from Gore and cheers from the Miami crowd.
Florida Politics reached out to 60 Plus Association's Apryl Marie Fogel about Dooley's comments who responded saying, "If Debbie Dooley spent half as much time fighting for consumer protections and lower energy rates as she does fighting her personal war against the Koch brothers and shilling for solar companies she could possibly not have to resort to such baseless lies and far fetching stories." Fogel explained that the event she "crashed" was open to the public and that she and guests politely listened to the presentation along with about 6 other general guests and two dozen solar employees and liberal activists.
As for Dooley's claim she changed two of the three activists minds, Fogel said that both activist who spoke to Dooley confirmed her claims are "an outright lie. It contains zero basis in fact or reality." Charlie Schmitz, one of the activist in question recalled in a statement provided to Florida Politics that he approached Dooley to discuss an anecdotal story she told towards the end of her speech and in no way offered any support to her or her mission.
Fogel questioned Dooley's continued use of her tea party origins to bolster her emerging role in the solar movement. "Who benefits from this deceptive use of a group who at it's core is against government subsidies and mandates? It is the solar companies, green groups and big government liberals. Who else would pay for Dooley to travel around the country to take the stage with environmentalist Al Gore and Barry Goldwater Jr. in the name of the 'tea party'?"
One thing they both agree on, quoting Dooley "It's ridiculous that some people are willing to sell out their principles for money." Fogel says, "What's worse? Someone who will lie outright and sell out an entire movement, like the tea party, for those looking to profit off the use of its name."