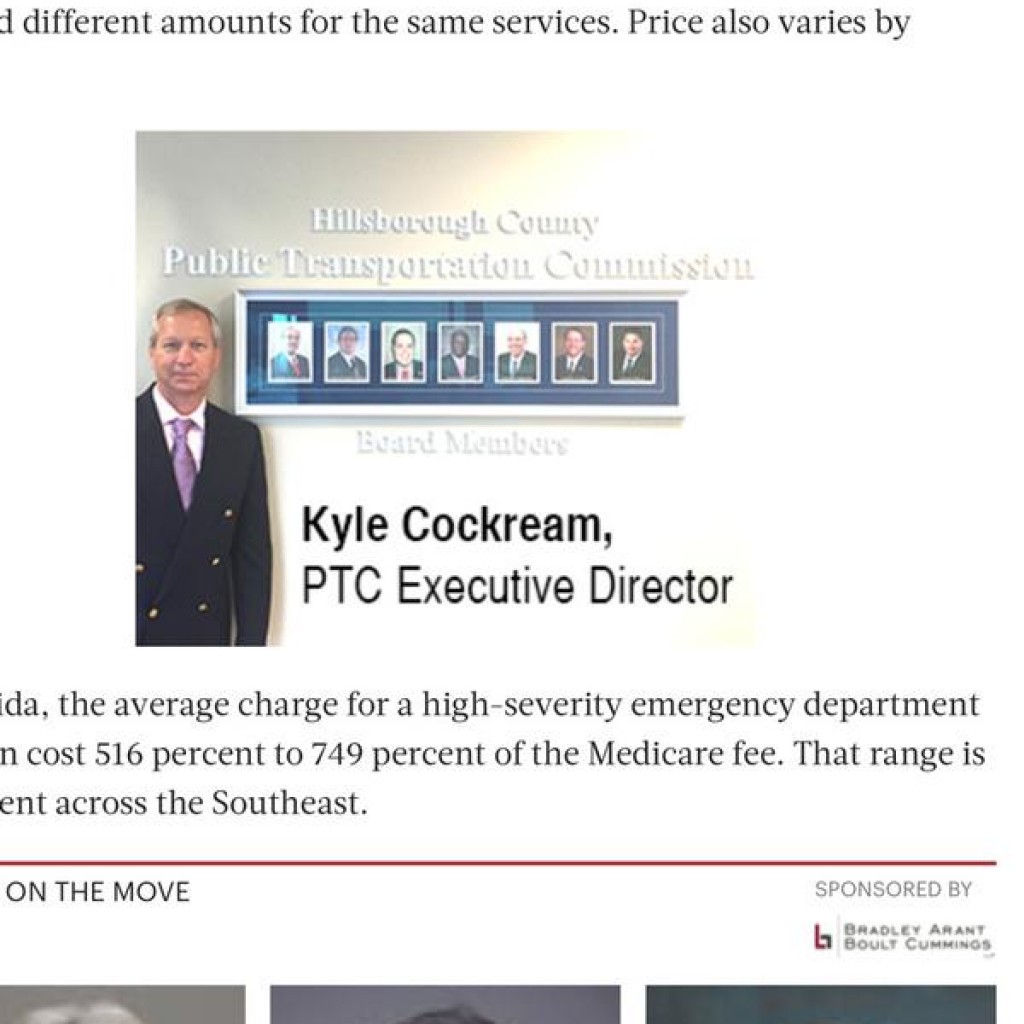 Unlike some of her contemporaries, Tampa House Republican Dana Young isn't looking to eliminate the Hillsborough County Public Transportation Commission. But she's less than pleased with the agency upon learning that they recently purchased space in the Tampa Bay Business Journal for an advertorial spread explaining how the agency works.
"WHY is the Hillsborough PTC advertising in the Tampa Bay Business Journal? If ad not free, we deserve an explanation," Young tweeted after seeing a link to the advertorial.
"I'd like to know what was the benefit that the PTC believes they are deriving from advertising in the TBBJ and on billboards which I've seen around town?" she asked in a subsequent interview with FloridaPolitics.com. "Are they trying to justify their existence somehow to the public and they're wasting money doing it? I just don't think it's appropriate, and I'm going to find out more."
The Public Transportation Commission has been in the crosshairs of Bay area legislators such as St. Petersburg state Sen. Jeff Brandes for years. Brandes and Tampa Mayor Bob Buckhorn are among the set of local lawmakers who contend that some of the agency's rules and regulations haven't adapted very well to the new "disruptive" economy that features rideshare companies like Uber and Lyft. PTC agents have been issuing citations to those companies since they began operating in the spring of 2014 (though as a good will gesture, the agency announced that for the time being they would cease issuing such citations).
PTC executive director Kyle Cockream sounded a bit peeved that Young hadn't communicated directly with him about her concerns. He justified the Q&A advertorial as a way to explain to the masses what the agency does and why they've taken action against Uber and Lyft over the past 18 months
"It's an informational designed to inform people and educate them, in the form of Q & A.," Cockream said. "It's not uncommon for entities to do an advertorial like that that's informationally based. That's not uncommon at all."
Cockream also said he doesn't understand why Young "feels she deserves a taxpayers response," since the agency doesn't get any direct taxpayer money.
The Hillsborough PTC is an independent special district that derives no direct funding from taxpayers, but instead from licensing fees and citations from the industries they regulate, such as taxi cab companies and limousine services.
Doesn't matter, Young said.
"They say that, but taxpayers take taxis and limousines and ambulances and tow trucks and they are funded by fees from those entities," said Young, first elected to the Legislature in 2010. "It doesn't take a brain surgeon to realize that the rates that are charged by those services include taxpayer dollars. It might not be a direct stream, but it's enough of a stream that it deserves looking at how much money they're spending on advertising that, as far as I can tell, has no benefit to the public."
"She's never reached out to me or my staff to discuss whatever concerns that she might not like about us," Cockream, who said he thinks she's among the group of lawmakers who doesn't like his agency and wants to kill it. Young says that's not where she's at on the topic. Not right now, at least.
"The regulatory structure of the PTC does not particularly bother me, " she said. "But if the agency continues down the road to try to stifle services that the public wants, then it might be worthwhile to look at alternatives, but I'm just not there yet."