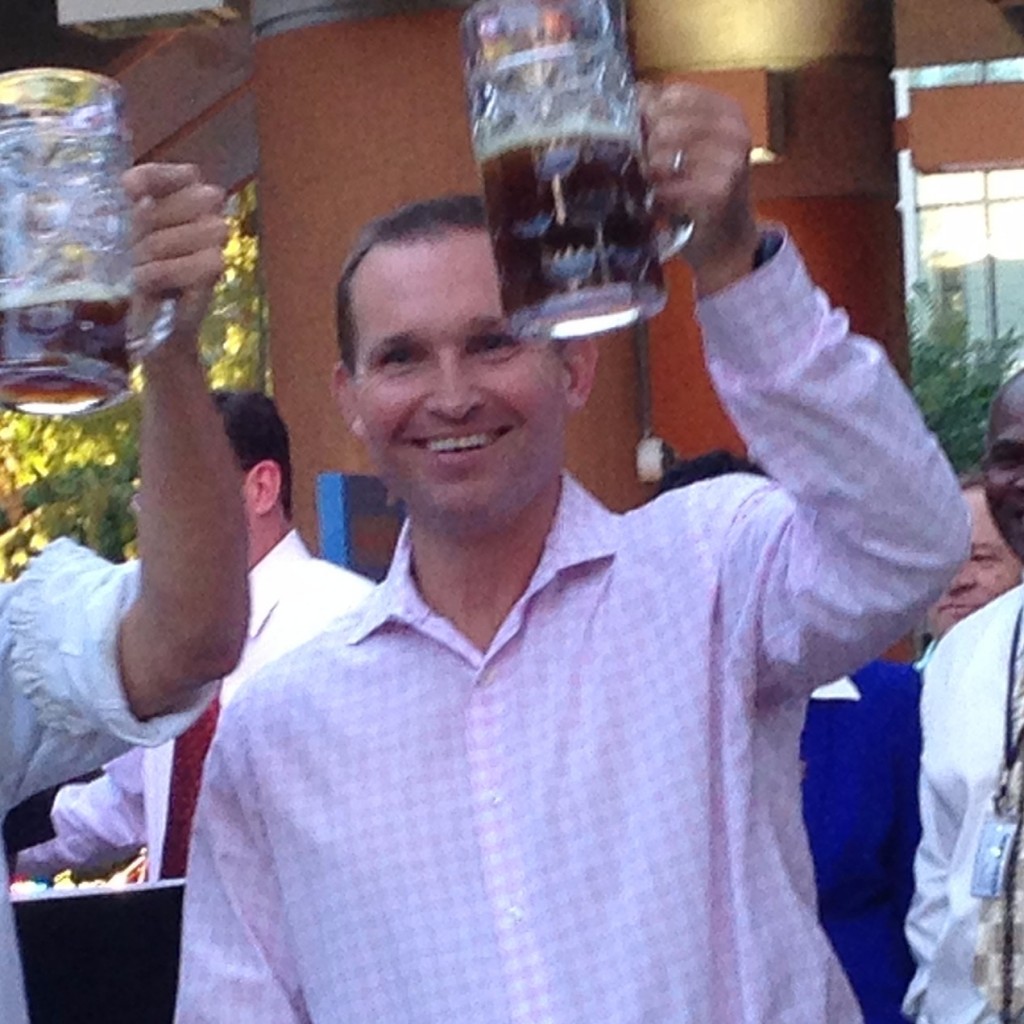 The persistent, percussive oomph of oom-pah polka filled the air, drowning out the off-record conversations among elected officials and those they represent in Hemming Plaza on Wednesday night, as Jacksonville's storied Art Walk held its third Oktoberfest celebration.
The main attraction for political watchers: Jacksonville Mayor Lenny Curry, who was joined by longtime Jaguars mascot Curtis "Jaxson D'Ville" Dvorak in that most solemn of ceremonies, the tapping of the keg.
Flanked by council members including Democrats Reggie Brown, Reggie Gaffney, and Katrina Brown, as well as Republicans Al Ferraro and Jim Love, celebration and chill vibes filled the air.
Dvorak, clad in lederhosen, noted that he "spent the last 19 years dressed up in a cat costume, so this isn't much different."
Dvorak, during his time as the Jaguars mascot, routinely elevated the role to performance art, perhaps highlighted by his sign held up during a Steelers game: "terrible towels have Ebola."
Curry, in his fashion, kept his remarks brief, noting that he was the "only thing standing between [the crowd] and a tapped keg."
"We are moving forward and we celebrate beer," Curry told the crowd.
The beer on hand: a German Chocolate Stout from the local Bold City Brewery. A mild surprise to those who might have expected an Intuition Ale, the product of Planning Commission appointee-in-waiting Ben Davis, to be tapped.
Beyond the sudsy reverie, also commemorated was the recent honor of Laura Street, which frames the east side of Hemming Plaza, as one of the top five streets in the nation by the American Planning Association.
The street, which hosts an eclectic array of mostly local businesses ranging from bookstores and optometrist offices to cafés and coffee shops, was refashioned this past decade with an eye toward traffic calming and creating a pedestrian focus.