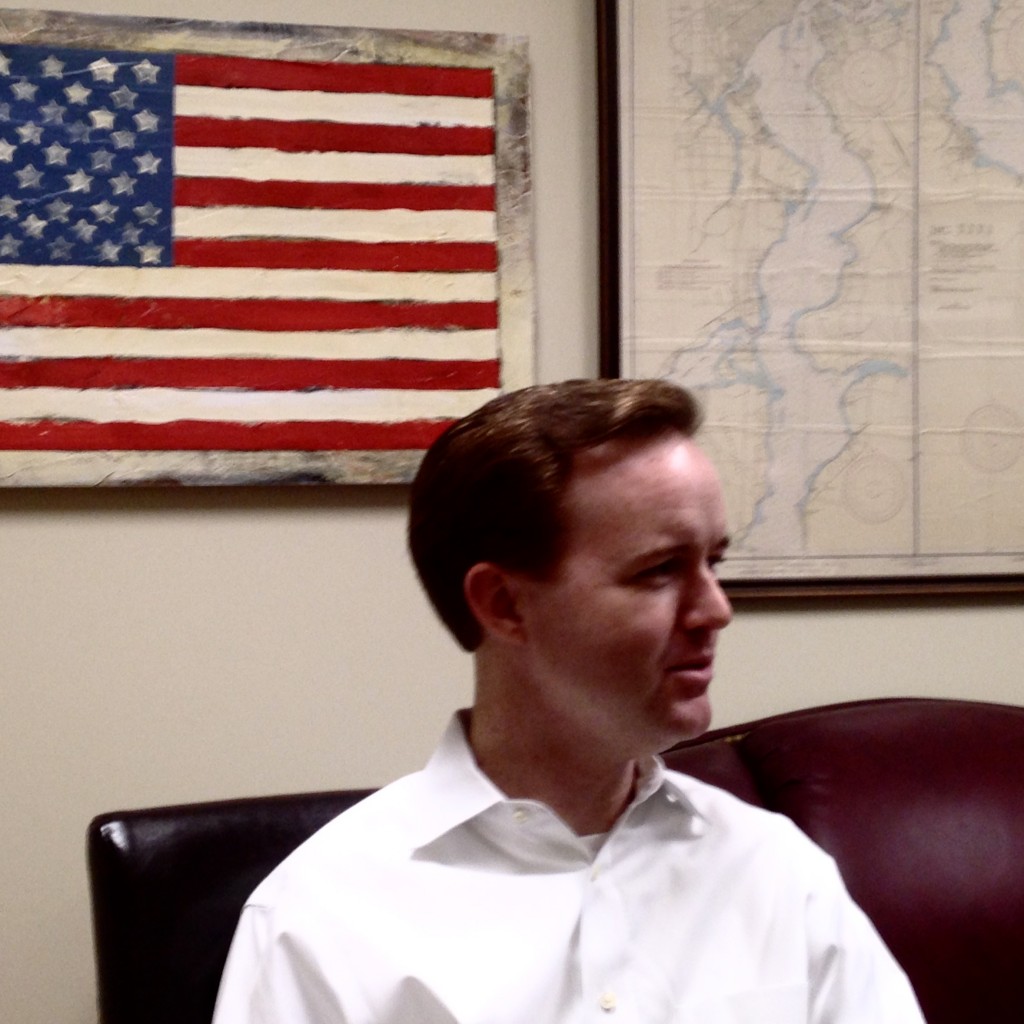 The 2015 elections led to a lot of changes in Jacksonville's city government. Alvin Brown and his appointees were, except for certain high-performers, out. Lenny Curry, and his appointees, in. Among those imports to the mayor's suite: a number of City Council members from the previous class (Policy Director Robin Lumb; Blight Director Denise Lee; and Boards and Commissions liaison Johnny Gaffney).
Left out in the cold: former Council President Clay Yarborough. His resume' had been received by the mayor's office, and the hot story of the summer was one in which he passed on a job with Mike Hogan in the Supervisor of Elections office, then was told, by Susie Wiles, that he should have taken it.
Yarborough, a young man by almost any definition save that of boy bands and NFL running backs, had served eight years in Council. Was his political career, which started with him routing School Board member Cheryl Grimes in an election eight years before, in which he was outspent, over?
Not so fast.
Yarborough's name has been linked for a few months now to the HD 12 race, in which the previous two entrants were fellow former GOP Councilmen Richard Clark and Don Redman. They represented a quarter of HD 12, roughly, each, when they were on Council.
Yarborough? The other half.
And now, FloridaPolitics.com can report, his papers are en route to Tallahassee, and as of Monday, he will be the third candidate in the race.
In leaving Council, and handing the seat over to Joyce Morgan, Yarborough said in an exclusive interview that he'd left a light footprint, leaving her a list of projects that he had been working on, both of capital improvements and infrastructural repair in the long-suffering Arlington neighborhood.
He had positive things to say about the first few months of Morgan's term, including her Renew Arlington push, which he described as a "new, fresh approach" that "makes sense."
Of course, the seat is the charismatic Morgan's now. But Yarborough still wants to serve the community, and is willing to run against two men he's had collegiality with to do it.
Yarborough said that "even though we served together, all of us have unique take-aways and unique experiences."
One thing that he believes sets him apart is his ability to "work with people," especially essential given the large body of people in the House, and the shorter time they meet.
He also accepts that there is a "learning curve," and welcomes the opportunity to conquer it, to "represent the district and the city well."
Of course, each of these men will be running to succeed Lake Ray, which Yarborough did eight years prior.
"Lake and I have known each other for a long time," Yarborough said, adding that they have talked about this.
Ray, the chair of the Duval County GOP, can't endorse in a primary (apparently, that can be controversial). However, an indication of how another member of the Ray family feels: Hampton Ray, who is serving as a Duval County co-chair for the Marco Rubio campaign, and whose name was linked to this race, won't run because Yarborough is.
Of course, in a three-way race with smart politicians, the temptation might be there to go negative. One can imagine a world in which a rival campaign sent out a mailer pointing out Richard Clark's potential conflicts of interest as a JTA lobbyist.
That won't be sent out from the Yarborough campaign.
"Anyone is free to work in the occupation they choose," Yarborough said, citing the "rewarding" nature of his work in HR, which allowed him to "shake the hands of 1200 people" over the years and say "You're hired."
The conversation then pivoted to the City Hall process, which he described as having "slipped a resume under the door."
He didn't mention a specific role he'd wanted; given his choice, he would have liked to have been liaison between the mayor's office and City Council.
Ultimately, the mayor didn't go in the direction of hiring Yarborough, who endorsed him only a few weeks before the election. Yarborough harbors no bitterness, saying that it's the "mayor's prerogative" to hire who he chooses.
The conversation then pivoted again, to the MOCA flap, in which he had objected to a photograph of a naked woman in the Museum of Contemporary Art, desiring to have its funding of $223,000 excised from the Cultural Council grant process.
In November 2014, Yarborough emailed the Mayor's Chief of Staff, Chris Hand, complaining about an item in an exhibit of Angela Strassheim's photographs in the atrium of Jacksonville's Museum of Contemporary Art. The portrait he objected to — "Janine (Eight Month Pregnant)" – depicted a nude woman, reclining on her couch in front of an open window.
Council President Yarborough's email described a "large picture" of a "woman with bare breasts exposed and laying in a questionable position" as an "inappropriate, pornographic display". He demanded that the Mayor pull the funding from MOCA for the current fiscal year or "explain how this will be addressed within 24 hours".
Calling the picture "pornography," Yarborough opined that "to promote a positive moral climate in our city and though some will defend the pornography by labeling it 'art,' we need boundaries in order to be healthy, especially where it concerns our children."
Yarborough eventually met with MOCA, and they came to an amicable resolution, and kept their funding.
Yarborough's thoughts, almost a year later?
"The biggest room in the world is room for improvement," Yarborough said.
"When I first saw the photograph as I walked into Café NOLA, I was thinking as a parent," and thought of the painting being inappropriate for a "public building funded with public money."
"Could I have handled it differently? Yes," Yarborough said.
Another high-profile moment in which Yarborough's faith became central to the public discourse was when he, along with Don Redman, raised objections to the confirmation of Parvez Ahmed to the Human Rights Commission in 2010 on religious grounds.
Yarborough stands by his position, even half a decade later.
The confirmation of Ahmed was "on the heels of a very big investigation" into the Committee on American Islamic Relations, and the "scrutiny from the federal government" on CAIR was "foremost on [his] mind" and so he wanted "details."
Another issue that Yarborough focused on during his Council tenure, which took him on a fruitless trip to Tallahassee on Presidents Day of this year: the police and fire pension fund.
Yarborough appealed for state redress on the issue, including help with an audit, but was rebuffed.
With the forensic audit now an agenda setter in City Hall, Yarborough quipped that "the saga continues," before echoing contentions that Bill Gulliford makes.
"When we'd ask questions of the fund, it was like pulling teeth," Yarborough said, adding that the fund would send "letters that would respond to everything we didn't ask for."
Yarborough spoke with certainty on the fund, calling it a "total undermining of the consolidated structure" and a "rogue attitude that slaps the people of Jacksonville in the face."
He also spoke positively of the two mayors he worked with regarding the pension issue.
"[John] Peyton tried," he said, "knowing there was a problem."
And "Alvin Brown was committed to advancing pension reform."
In contrast to Clark, who called into a local radio show days before the election to say that the Brown administration had scuttled the Peyton pension plan for political reasons, Yarborough made no such claims.
"It's been a long hard row to put the plow to," Yarborough said, regarding the pension crisis.
And for now, at least, Yarborough is plowing in a new field. But first, the seed has to be planted, and the immediate goal is to "get resources put in, make a good showing, and get the campaign launched," and to "talk to folks, show that we're serious."
As it stands now, Yarborough is $50,000 behind the front-runner. But Clark's peripatetic fundraising, coupled with a sense of disquiet about him in Tallahassee among some Republican insiders, has clearly created an opening for Yarborough to make his next move.
Yarborough will be in Tallahassee Thursday, talking to politicos and opinion leaders, and he should be expected to be an immediate threat to the other two campaigns.