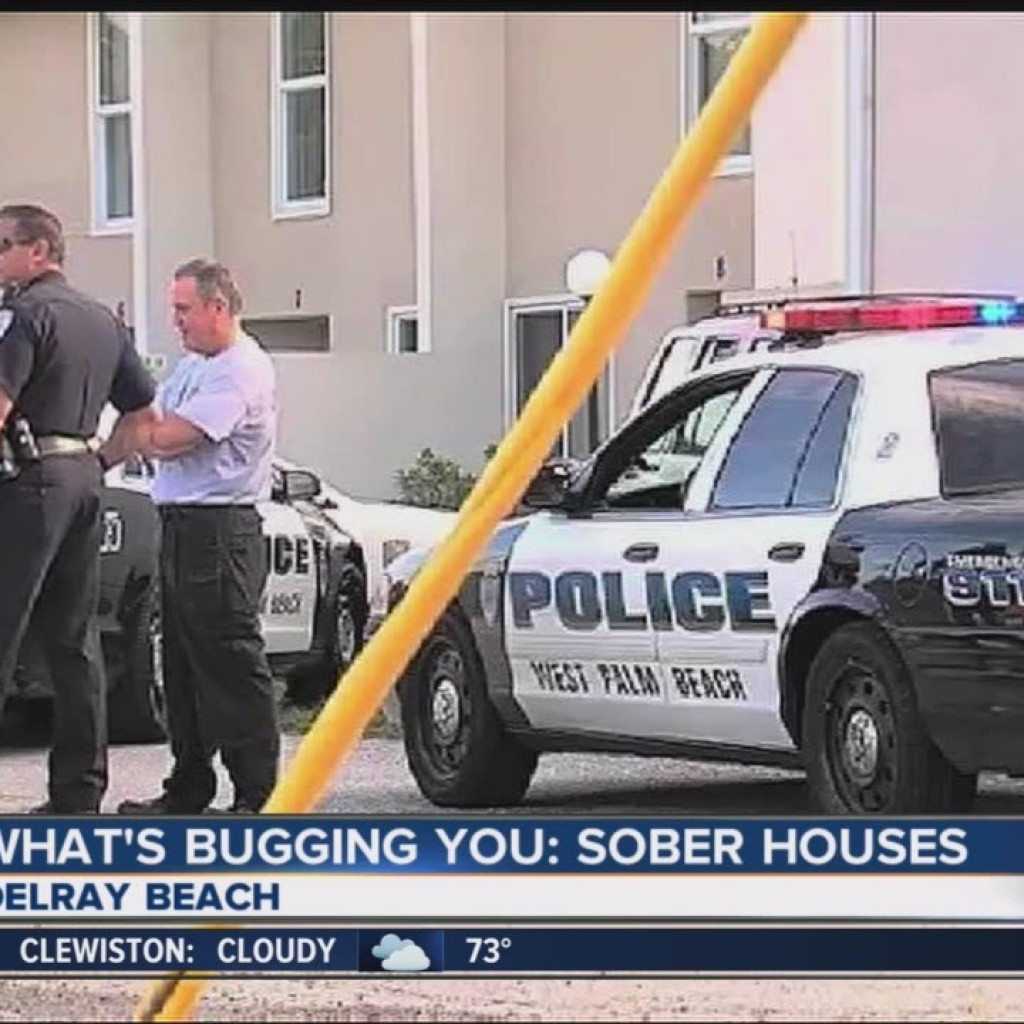 When 20-year-old Nicole Cronin relapsed in 2012 at Halfway There, a Delray Beach sober home, employees told her she couldn't stay and dropped her off at a cheap motel.
Eleven hours later, Nicole was dead, face down on the floor, alone. She overdosed on a deadly cocktail of oxycodone and antidepressants.
Addicts like Nicole who relapse while living in sober homes in Delray Beach, often are dumped into seedy motels, often still high. Without supervision, some continue the binge, overdose and die.
That's because Delray Beach, nationally known as a treatment destination, forbids sober home operators from immediately evicting addicts who have relapsed, a policy that sober homes insist on to assure the homes remain drug- and alcohol-free.
Under the city's law, sober home operators who want a relapsed resident to leave must keep a roof over their heads for at least 48 hours or give them written notice that they must leave in 48 hours. The city, besieged by angry neighbors, put the rule in place to prevent homelessness and crime.
To comply, many sober homes simply drop off residents at a motel, often in transient neighborhoods where options for relapse multiply. Other sober homes throughout South Florida use a similar approach.
The results can be tragic.
In Boca Raton in January, Matt Klosowski died in a motel room just hours after he and a friend were kicked out of a sober home. Already high, the first thing he did when he arrived at the motel, his friend said, was to crush tablets of Xanax and Percocet and snort them.
But not all operators let it come to that. They make residents provide contact information in the case of a breakdown or they provide supervision if they have to move someone out.
"For them to be separated from the population is OK for keeping that segment safe," said Suzanne Spencer, executive director of the Delray Beach Drug Task Force. But putting relapsed addicts, who have already demonstrated poor judgment, into an unsupervised environment without medical care, "that's where you get in a situation like Nicole."
Nicole first attempted to get clean in Old Bridge, N.J., where she grew up.
"I was very naive about her addiction even though all the signs were there," said her mother, Myra Cronin.
Nicole was a senior in high school and two weeks from turning 18 when the school called to say Nicole had been using heroin.
"That was the beginning," Cronin said. "We immediately found an IOP (Intensive Outpatient Program) by our house and she started there."
But the problems persisted. Nicole dropped out of two colleges. Her parents realized she needed a fresh start, away from friends who used drugs and their drug dealers.
On Christmas Eve 2011, her parents put Nicole on a plane to Florida.
For months, she did well, then relapsed, her mother said. During the next seven months she bounced in and out of detox and sober homes in Palm Beach County. On Oct. 16, 2012, Nicole broke curfew at one home and was referred to Halfway There in Delray Beach. An employee later told police she tested positive for drugs when she arrived.
On the night of Oct. 19, a Halfway There staff member accused her of being high and demanded she take a urine test.
Nicole denied she was high and refused to take a drug test. Staff tried to convince her to go to detox but she refused. She was told she would have to leave immediately.
Aaron Fitzgerald, an employee at Halfway There, dropped off Nicole with all of her belongings at the Budget Inn on Federal Highway in Delray Beach and told her to call him the next day, according to a police report.
Fitzgerald told police that Nicole's speech was slurred and he knew that Nicole took sleep medication. But another Halfway There employee and the manager of the motel said Nicole appeared fine, court records show.
When Nicole didn't check out by 10 a.m., a motel employee knocked on the door. She got no response. She looked through the window and saw Nicole lying face down. Paramedics could not revive her.
Nicole was 20 years old – 7 months shy of the legal drinking age.
Cronin had paid her daughter's rent and left her contact information at Halfway There. She assumed she would get a call if her daughter relapsed.
She didn't.
"One phone call would have saved her life," said Cronin, who in past relapses coaxed Nicole back into detox by threatening to cut off her money. "To put an addict in a hotel alone, I don't know what they were thinking."
Eric Snyder, owner of Halfway There, and his attorney, Bryan Yarnell, facing a lawsuit over the incident, declined comment. Halfway There and Real Life Recovery, Snyder's outpatient treatment program, were raided in December 2014 by the FBI, part of a multi-agency task force investigating insurance fraud. No charges have been filed.
Safer alternatives
It doesn't have to be that way.
Under a pilot program at Hartman House in Delray Beach, an addict who relapses will be removed immediately, said the owner, James Hartman. But instead of going to a motel, the resident will be given the option to stay in the Situation Room, in one of Hartman's 10 sober houses. The relapsed addict cannot interact with other residents.
"A lot of them get worse in hotel rooms," Hartman said. "That's not the answer."
An occupant of the Situation Room will have round-the-clock monitoring and supervision for 24 to 72 hours. Family will be contacted immediately, Hartman said. When the addict is medically clear, "then we can get them exactly what they need," Hartman said.
For Hartman, who has been operating his sober home business for 10 years, the intention behind the Situation Room is simple: It prevents relapsed addicts from losing the recovery tools they have already learned to use, Hartman said.
At The Sanctuary in Delray Beach, a sober living facility affiliated with musician Eric Clapton's treatment center in Antigua, a relapse protocol is established for every client when they move in – when they are not under the influence, said Nancy Steiner, founder and executive officer. The plan includes emergency contact numbers and contingency housing plans, Steiner said.
"We explain it to them that this is the plan should you relapse," Steiner said. If the client relapses, "we pull that out and go, 'Remember, this is what you signed.'"
Occasionally, "we buy them a ticket home," Steiner said. Sometimes residents who have relapsed are taken to the hospital or the South County Mental Health Center. If the only option is a hotel room, "we put them in a place we can trust and have somebody stay with them," Steiner said.
"We just don't leave them and go bye-bye," Steiner said. "We always have somebody we can call, a therapist, family or doctor."
A death in Boca
Nothing like that happened at Jays on the Hill, the Boca Raton home that made Klosowski and his friend, Sam Holtz, leave on Jan. 3.
Klosowski, 37, had relapsed. Holtz, 24, had broken curfew.
The sober home manager told owner Jason Mueller that Klosowski was so high he needed to go to the emergency room. Mueller asked him if he wanted to go to the hospital but Klosowski said, "No."
Mueller drove the men to the Boca Inn on Federal Highway, according to a Boca Raton police report.
Klosowski's mother, MaryBeth Cichocki is a nurse in Delaware. She told The Palm Beach Post she was shocked to learn that the owner had left the decision to go to the emergency room to her son: "People who are high can't be held accountable for making decisions about their own safety."
Using Holtz's father's credit card, Mueller checked the men into the motel, Holtz told The Post. In the room, Klosowski crushed three Xanax and three Percocet tablets into a single pile and snorted it, Holtz said.
"After that I was just telling him, go to sleep, you'll be all right in the morning," Holtz said. "And he fell asleep almost instantly."
Holtz said he stayed awake because Klosowski "didn't look right." He checked Klosowski's pulse every 15 to 20 minutes. Between 4:30 and 5 a.m. Klosowski's breathing began to slow and then stopped. Holtz called 911. Paramedics tried to revive Klosowski but he died at 5 a.m. – about four hours after being kicked out of Jays on the Hill.
Cichocki said she spoke with her son twice a day and often to Mueller, too. She sent weekly care packages to her son. She made sure that Mueller had her contact information.
"I made it perfectly clear I wanted to hear from (Mueller) day or night if anything was going on with Matt," she said. As far as she knew, there was no detailed plan to respond to a relapse.
Finally, after leaving numerous messages, Mueller called. "His last words to me were – and I will never forget this – 'People die here everyday,'" she recalled. Mueller did not return several phone calls for comment.
Eviction safety valve?
Had Nicole and Klosowski not been addicts living in sober homes, they would have been protected by Florida's landlord tenant laws, which require a week's written notice before eviction. Sober home owners say that law does not apply to them because sober housing is related to an addict's medical treatment.
"It's unsettled law how the statute applies," said Jeffrey Lynne, a Delray Beach attorney who represents sober homes and treatment centers. "It goes to a deeper issue of are you just room and board or are you a recovery residence?"
Nicole's parents have filed a lawsuit against Halfway There. Among their complaints: the sober home did not give Nicole "proper or timely notice" of her eviction or reasonable time to "vacate the property."
Susan Ramsey, the Cronins' attorney, believes that if sober homes want to be classified as housing related to the addicts' medical treatment – a classification that exempts them from giving a week's notice – then they should provide care consistent with those medical services.
"You come here because you're not just renting a room in a rooming house," Ramsey said. "Is it within the standard of care to kick somebody out who has had a recurrence at 10 p.m. – when you by definition think they're high? How are they not a risk to themselves and others?"
In defense of Halfway There, Yarnell wrote in court papers that the sober house was not negligent. Halfway There provided sober housing to support Nicole's recovery, but did no treatment, Yarnell wrote. And because she appeared sober to some, he wrote, Halfway There complied with the law and provided her alternative housing.
State requirement?
Addicts who have relapsed cannot be forced to go to the emergency room, detox or back into treatment. Finding another sober house or putting them in a motel are common responses. However, those who are a danger to themselves or others could be involuntarily committed to a hospital for 72 hours under Florida's Baker Act.
But the Baker Act also poses problems. Neighbors, already upset to have a sober home in their community, would be further angered by the sight of police and paramedics every time an addict relapses and refuses treatment.
A state law that calls for sober homes to become certified, allowing treatment centers to refer patients to them, would have standards for the treatment of residents who relapse, said John Lehman, whose organization, the Florida Association of Recovery Residences, is writing the standards.
"If there is one thing we will require and will hold every recovery residence to, is immediate and comprehensive communication with family . that we have documented in the file for the resident," Lehman said. "You have to make a phone call right away."
Cronin still doesn't understand why Halfway There did not call her when Nicole relapsed. She said she didn't even get a condolence call after her daughter died. Still, she spent a year deciding whether to file a lawsuit.
"I'm not doing this for the money," she said. "I'm doing this because people need to become aware of what's going on."
—