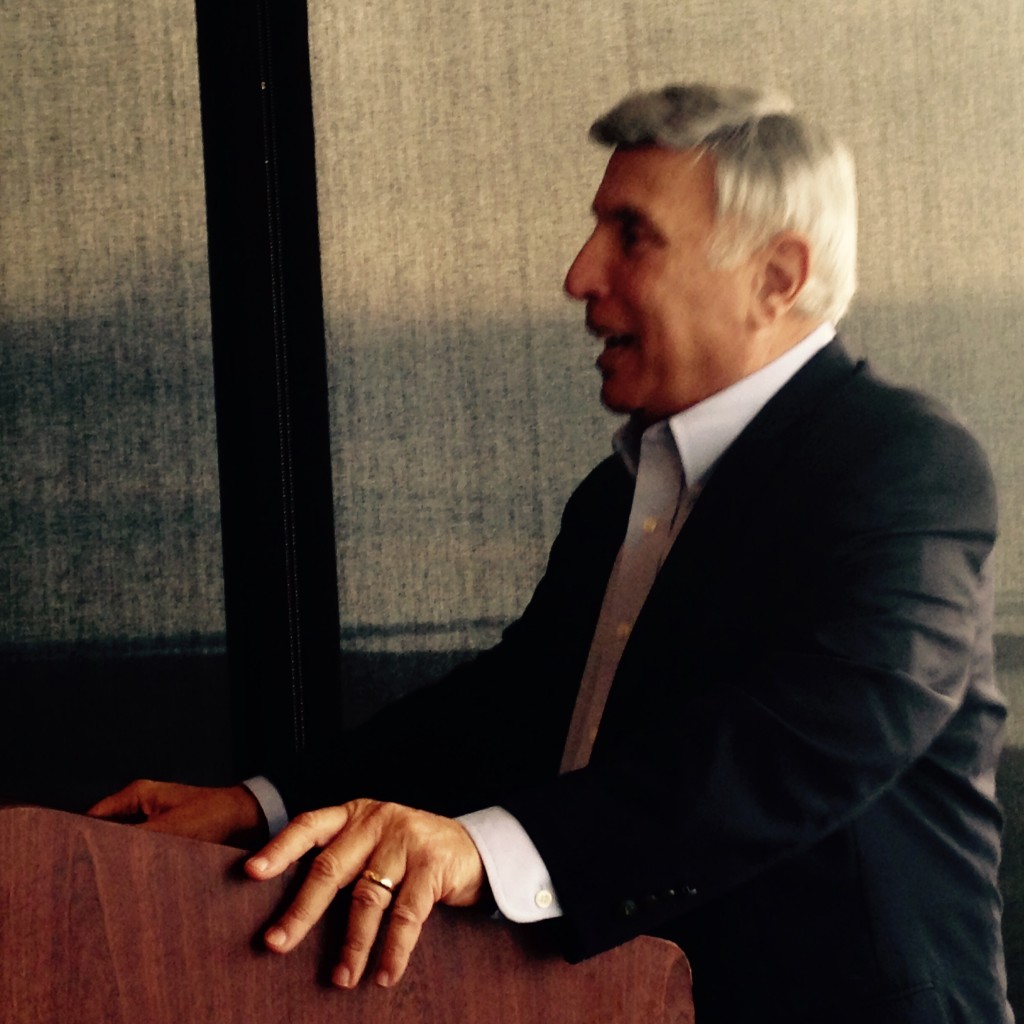 On Tuesday night, Jacksonville's City Council's public comment was wall to wall HRO for over three hours.
On Wednesday afternoon, the co-sponsor (with Republican Aaron Bowman) of an ordinance expanding the HRO to the LGBT community, Tommy Hazouri, spoke to a Democratic women's group about the urgency of the effort.
Speaking to the Democratic Women's Information Network, Councilman Hazouri addressed topics ranging from the dialogue in Council, the tactics of the opposition, and the need for interested parties to let Council know the HRO matters.
"After last night," Hazouri said, "it's good to be among friends."
Hazouri reminded those in attendance that he had gotten over 110,000 votes, and a big reason why: his support of a fully-inclusive Human Rights Ordinance.
He addressed the Bill Gulliford referendum, saying that while it included "everything but the kitchen sink … for [Gulliford's] bill to pass, the charter would change."
Hazouri sees the referendum as a deliberate attempt to craft a wedge issue to anger the Christian Right base, as happened in Houston. If the referendum were to come to pass, Hazouri said, "there would be blood in the St. Johns River; it would turn the river red."
Conversely, Hazouri said, "my bill just amends the present HRO," adding the "six words."
As well, in what should reassure those worried about protecting churches and small businesses, "the exclusions are there" to protect small businesses with under 15 employees and churches.
Hazouri, a mayor of Jacksonville from 1987 to 1991, is aware that Jacksonville is losing "millennials," often members of the creative class, to cities where they have the protections in law (as has Tampa, since 1993) that Jacksonville debates nearly a quarter century later.
To him, it is essential. For human rights. For economic development. And the referendum option strikes him as a dodge.
"Human rights," Hazouri said, "deserve a lot more than a referendum."
As many have asserted, issues such as the Civil Rights Act of 1964 or Women's Suffrage never would have passed via plebiscite.
"For me," the councilman added, "it's personal. This issue will never go away until we say enough is enough."
Hazouri outlined the process going forward until Council decides its course of action March 3, which includes the Committee of the Whole meetings, and Council meetings which undoubtedly will feature more robust public comment on this subject.
Such public comment, Hazouri cautioned, will include "the parade of horribles that people put forward to present," as a way of dismissing LGBT concerns.
Hazouri urged those in attendance to be undaunted.
"This is our Confederate flag issue … our 'Scarlet Letter' … the bottom line is getting 10 votes," Hazouri said, for a fully-inclusive bill that does not leave the transgender or intersex community behind, and truly encompasses Lenny Curry's goal of One City, One Jacksonville.
Hazouri, who has gotten no shortage of criticism from preachers of a certain stripe in this process, knows his Bible also. He is a member of Mandarin Presbyterian.
And he broke out the New Testament also at the University Club.
"The second great commandment is 'love thy neighbor.' Some fundamentalists have lost track of that," Hazouri said.
As a result, if this process is as complicated, divisive, and rhetorically pitched as opponents would have it, the "nation's going to be looking at us like Houston," with a process the former mayor likened to the Scopes Trial that H.L. Mencken documented with such devastating accuracy.
In Houston, their equivalent to the HRO got reduced to a "bathroom bill."
One will note that an opponent of Jacksonville's HRO, Roy Bay, spoke about his own experience molesting children in St. Louis bathrooms on Tuesday evening in front of Council.
Bay, who served no time for these offenses, contended that he was a repeated violator of children until "God set him free."
Bay was applauded by many from his church, the Evangel Temple, for his declaration of a pattern of felony sexual assault.
Hazouri, without naming Bay, clearly called him out, as well as those who oppose the HRO expansion yet would aid and abet Bay, a man classified by the state as a "habitual criminal," and who had criminal offenses as recently as 2015.
"The ones to worry about are sexual predators not LGBT community members," Hazouri said.
Referring to the rhetoric used by HRO opponents, a farrago of slanders and character assassinations, of false science and even falser morality, Hazouri (a native of Jacksonville) said,"When you hear some of this … you wonder 'Is this Jacksonville?'"
Hazouri urged those in attendance to lobby Council members, something he can't do because of the Sunshine Law.
He wondered, as do many, "Are they in the same place [supporting the bill] that they were when they were trying to get votes?"
Some, he continued, may be more "worried about the next election than the next generation."
Hazouri related the LGBT struggle to that of his own Lebanese ancestors, who came to America, and Jacksonville, to escape the depredations of the Ottoman Empire.
His family and so many other bedrocks of Jacksonville "all fled: Syrians, Lebanese, Iraqis."
This immigration helped Jacksonville become a "mosaic of cultures," which "should be embracing" all.
As the HRO debate indicates, there is serious disagreement about what constitutes that mosaic, and ignorance and hostility are being exploited, over and over again, by those who don't value that mosaic and, indeed, lack real understanding of what really constitutes it.