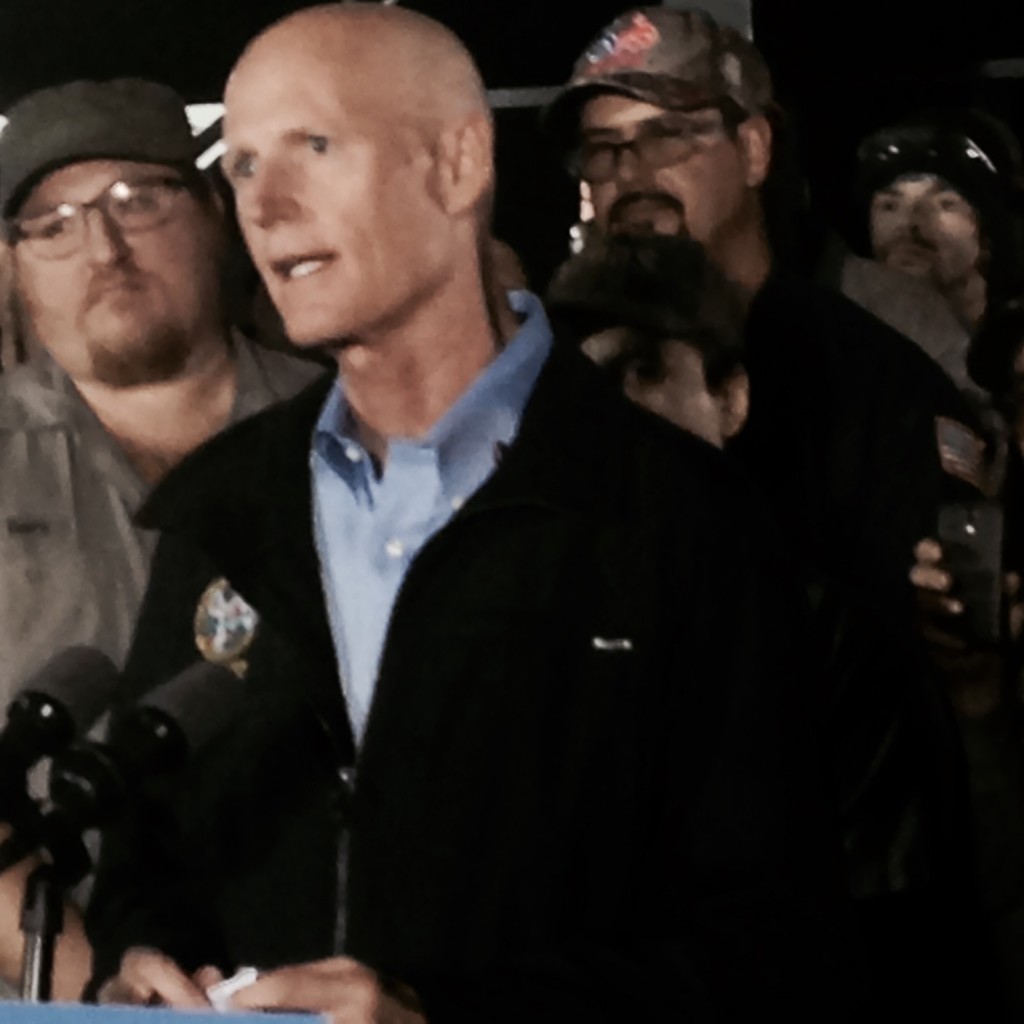 The Rick Scott "A Million Miles for a Million Jobs" bus tour hit Green Cove Springs on Thursday night. Among questions he answered: his take on Lenny Curry's pension tax pitch.
We know how aggressive Scott is when he wants to push something. The push for cutting business income taxes, manufacturing equipment taxes, and increasing Enterprise Florida incentives has been heard repeatedly around the state.
Scott was not so forceful when he was asked about the Curry proposal, which would devote the 1/2 cent Better Jacksonville Plan sales tax to the unfunded pension liability once the BJP obligation is retired.
"As bills come to my desk," Scott said when FloridaPolitics.com asked him about the plan, "I'll review them."
Given that Curry had spent the last three days buttonholing Scott and key lawmakers in Tallahassee about the plan, and given that the only other print outlet on hand was Clay Today, we asked a followup, stressing the sense of urgency that the mayor's office and the City Council, every member of which co-sponsored the resolution, felt about this deal.
Scott stuck to his guns, talking about his commitment to "jobs" and about what a "good friend" Curry is.
"I wish him lots of luck," Governor Scott said.
Scott refused two chances to commit to supporting the plan, which has been framed by many advocates as a measure of home rule.
It is no stretch to say that Curry could have used the gubernatorial imprimatur as the legislative session gets underway.
The Governor was in Green Cove Springs as part of his three-day, nine-stop tour at Vac-Con, an employee owned manufacturing company that has 320 workers and is looking to add dozens more.
They make industrial sewer cleaning trucks, vacuum trucks, and hydroexcavation trucks, including one that will come to Jacksonville as part of the Public Works Drainage fleet.
The real drainage problem in Jacksonville is the unfunded pension liability, which Republicans and Democrats agree is crippling the city's ability to handle its needs.
Not sure if Vac-Con makes a truck to clear up that mess.
Jacksonville's unfunded liability across its three pension plans is the worst in the state, and constitutes a full quarter of Florida's unfunded liability burden. Lenny Curry could have used Rick Scott's backing.
He didn't get it, at least not publicly, on Thursday night.