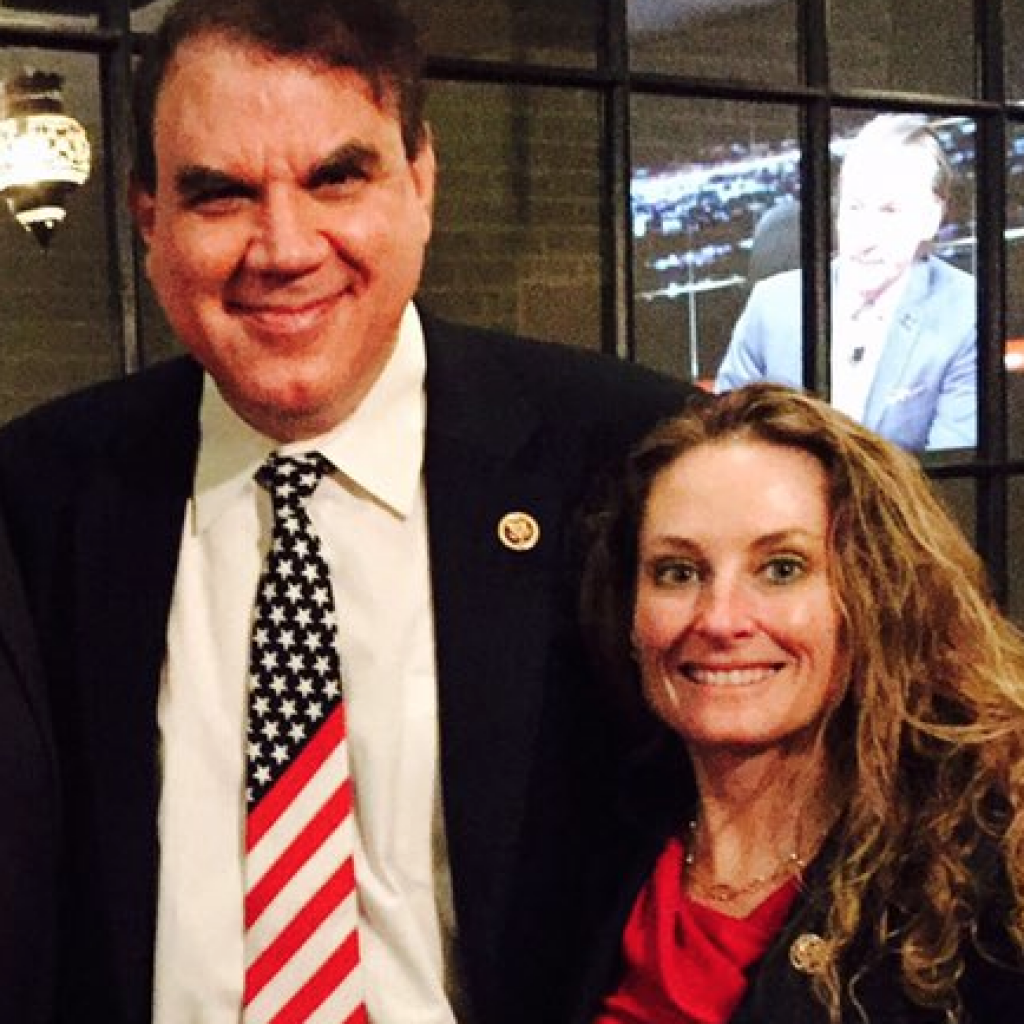 It's time for a certain U.S. Senate candidate from Central Florida and a certain U.S. House candidate who lives in his home to update their Facebook relationship status.
Dr. Dena Minning, Democrat from Orlando running in Congressional District 9, and U.S. Rep. Alan Grayson, that district's incumbent and a Democratic U.S. Senate candidate, are engaged to be married, a source close to the couple confirmed Tuesday.
Minning, 45, and Grayson, 58, have been living together in his south Orange County home since at least last spring, and reportedly have been dating since 2014.
Rumors of their possible engagement to marry have circulated at least since Grayson's previous marriage to Lolita Grayson was ended last summer after extended and often ugly litigation. But nothing had been said publicly about Grayson's and Minning's relationship.
That was at least not until the Polk County Democratic Executive Committee Annual Gala in Winter Haven on March 19. Multiple sources told FloridaPolitics.com this week that Minning was at that gala describing Grayson as her fiancé.
At least a couple of sources told FloridaPolitics.com that Minning explained to her potential voters there that she would appear on ballots under the name Dena Minning Grayson.
Neither she nor Grayson were willing to comment Tuesday on those reports.
Late Tuesday, FloridaPolitics.com confirmed the couple is formally engaged.
If they marry before Florida's June 20 filing deadline, and it is her intention to change her name and refile candidacy paperwork using the name Grayson, the move could change the dynamics of the Democratic primary race in CD 9.
To date the Democratic primary campaign there has largely been a slugfest between two candidates: state Sen. Darren Soto of Orlando, and Susannah Randolph of Orlando, who is a former staffer to Grayson, with businesswoman Valleri Crabtree of Kissimmee seeking to play spoiler. While Soto and Randolph  have been raising significant money and attracting numerous endorsements, neither has demonstrated overwhelming name recognition among voters in CD 9.
Nor has Minning. But Grayson has plenty of name recognition there.
Minning entered the race on July 24, but until recently she has been fundraising nationally while keeping an exceptionally low profile locally.
Polk DEC Chairman Ellis Moose III said he spoke with her about that.
"She did say she had a reason that she hasn't been as active as she plans to be, but that would change shortly," Moose said. "She plans to begin campaigning more aggressively in the near future."
Minning holds both a medical degree and a Ph.D., and runs a biotechnology company. She lived in Brevard County, in Congressional District 8, before moving in with Grayson.
Like Grayson, she also had been previously married.
She filed to run for Congress in CD 9 just two weeks after Grayson announced he would run for the U.S. Senate rather than seek re-election to Congress.
Grayson faces a tough race for the Democratic primary with U.S. Rep. Patrick Murphy of Jupiter. Murphy has most of the establishment endorsements and far more campaign money, but Grayson has remained close in polls, and ahead in some. Also in that race is Palm Beach Gardens attorney Pam Keith.