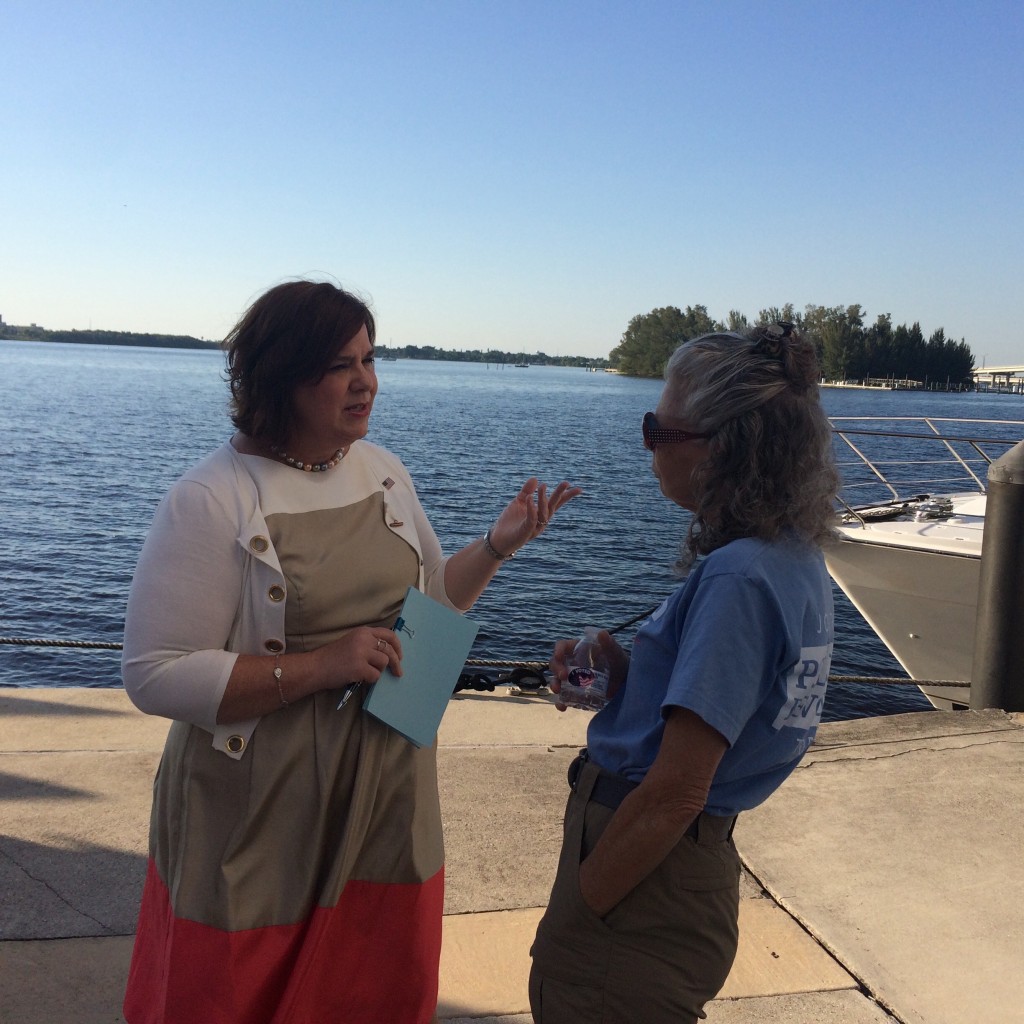 A Southwest Florida Democrat is calling on the federal government to designate Lake Okeechobee as a national monument.
April Freeman, a Cape Coral Democrat running for Congress, said Tuesday that President Barack Obama should designate the lake as a national monument through executive order. The action, she said, would expedite clean-up, and "ensure appropriations for needed repairs and water quality projects."
"The federal government already owns and maintains the Herbert Hoover Dike that surrounds Lake Okeechobee, and the poisonous water being released from the lake through the Caloosahatchee River and killing the protected wetlands and wildlife of J.N. Ding Darling National Wildlife Refuge," she said in prepared remarks.
Freeman is running in Congressional District 17, in hopes of unseating incumbent Republican U.S, Rep. Tom Rooney. The newly drawn district covers all of part of nine counties, including Lee, Charlotte, Polk and Highlands counties.
"I have been an environmental activist for years and have closely been following the water release issues from Lake O for as long as I can remember," she said.
Freeman started the petition Tuesday on the White House site We the People. The petition calls on the the president to proclaim the lake a national monument, and says that, in conjunction with a proposal by Rep. Curt Clawson, would solve the area's water crisis.
"Immediate action should be taken to preserve human life, the ecosystem and economic losses that will continue," the petition says.
In March, Clawson introduced the Everglades Land Acquisition Act. If approved, it would set aside $500 million for the Department of Interior to buy land in the Everglades Agriculture Area. That land would help move the water south.
At least 100,000 people need to sign the petition by May 5 before it will be considered. As on Tuesday evening, 12 people had signed the petition.
"Working together is the only way we are going to make a real difference," she said.
Freeman is no stranger to congressional runs. In 2014, she ran against Clawson in Congressional District 19. That district includes most of Lee County and a portion of Collier County, and is considered a Republican stronghold.