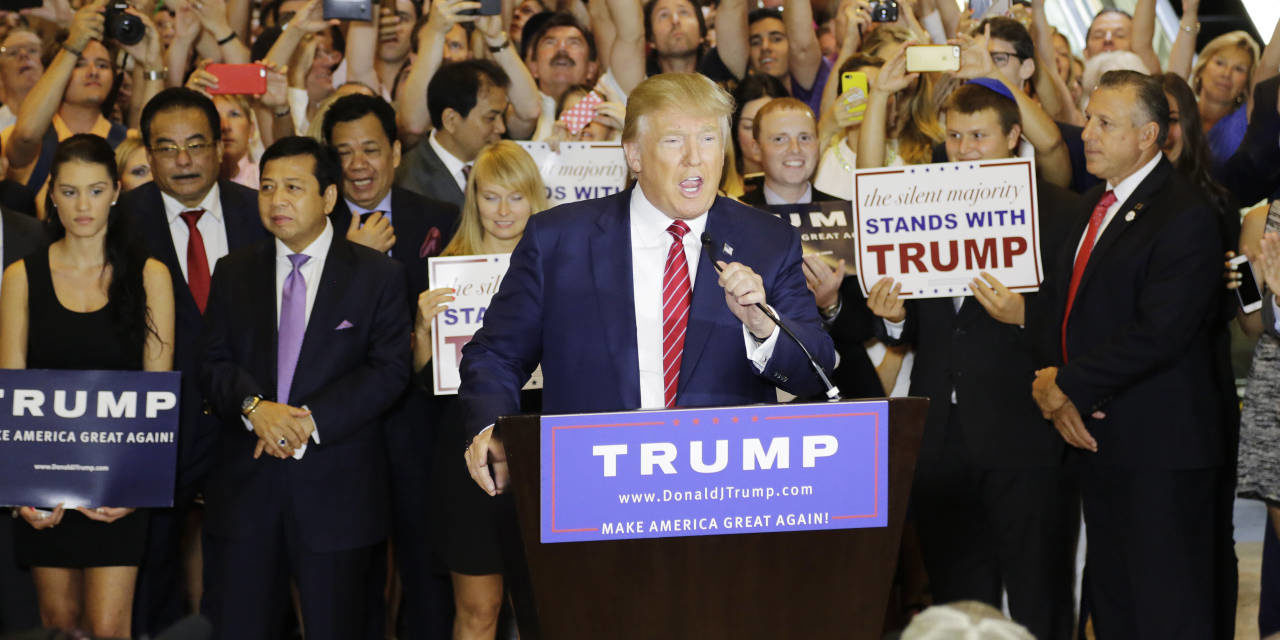 At long last, it looks like Republicans are going to do this thing. This unexpected, astonishing and — not to put too fine a point on it — crazy thing.
They're going to nominate for president a demagogic, bullying, uncouth, uncurious, insincere, shifty, disloyal blowhard with minuscule thumbs and an unconscionable combover.
In short, out of all the constitutionally eligible Republicans in America, the party of Lincoln is about to anoint the grump at the end of the bar at closing, the guy who appears to believe every wacky claim that pops up on Twitter, and who shares unverified nonsense on Facebook because, well, it might be true. "Some people say," after all.
Remember how Ronald Reagan chided Democrats back in the day? "The trouble with our liberal friends isn't that they're ignorant; it's that they know so much that isn't so."
Well. It's time to take a hard look in the mirror. Global trade is bad? We can keep Medicare and Social Security exactly as they are? Immigration of every sort is ruining America? We're bringing the steel industry home? Saddam Hussein was tough on terrorists?
Yes, say the Trumpkins. Every bit of it. By all means. Now excuse me while I hit "share" on the too-good-to-check story about the media suppressing reports of torture and mutilation at the Bataclan during the November 2015 Paris massacre.
It could very well be that misinformation, disinformation, and outright invention have never played a larger role in a presidential election. (On both sides, frankly, but we'll get to the Democrats' serial subterfuge when their convention arrives.) But this sounds-right-to-me narrative was good enough for a plurality of a minority of Republican (and, in some open primary states, Democratic and unaffiliated) voters to boost him to the top.
It is against the backdrop of Donald Trump's instinctive know-nothingism that an awkward, fascinating alliance came together late last week in a mugging of #NeverTrumpers in a marathon rules committee meeting.
The hashtag insurgents wanted a floor vote on allowing delegates to vote their consciences. Pretty radical concept, right, to allow representatives to decide whether those who elected them screwed up? But fear is a mighty motivator in the business of matching strange bedfellows.
Trump's forces, correctly scared of the worst, and RNC hotshots, frightened by the impact on future cash-cow primary elections if the delegates were unleashed, bludgeoned the movement like a herd of baby harp seals.
Luckily for a GOP that will need every scrap of unity it can quilt together for November — the party can't expect Hillary Clinton to do all its heavy lifting — Trump was, as ever, gracious in victory.
Oh, wait. He was the complete opposite. Friday morning, on the eve of his rambling introduction of Indiana Gov. Mike Pence as his running mate, Trump tweeted, "#NeverTrump is never more. They were crushed last night in Cleveland at Rules Committee by a vote of 87-12."
The next day, the presumptive nominee who let the mask slip a little when he said picking Pence was a nod to party unity, nonetheless reiterated how Republican conscientious objectors, including Utah Sen. Mike Lee, got "crushed." So, unity on The Donald's terms. It's orange crush time. Deal with it.
It promises, then, to be a Republican National Convention unlike anything in modern memory. The stage at the Quicken Loans Arena been described as resembling the bridge of the Starship Enterprise, and organizers have promised it will do something never before seen Thursday night when Trump is scheduled to accept the nomination. Perhaps, in keeping with the "Star Trek" theme, he'll be teleported into the 24th century?
Before the never-before thing happens (which in this case, no matter what it is, will be redundant), attendees and viewers will be treated to a mix of speakers that looks like something out of a Tony Robbins "Dare to Be Great" weekend, minus (presumably) the fire walk: Trumps, billionaires, reality TV — um — stars, models and professional athletes (none, notably, named Tim Tebow).
The politicians who are scheduled are mostly B-listers, which is what you'd expect when the old guard is avoiding Cleveland like the Browns have avoided the Super Bowl. Of course, that doesn't bother Trumpkins, who blame the old guard for helping get us in the fix we're in. And, while they're at it, "Nyaah."
So here we go. Four days leading to the moment no one would have dared forecast this time last year — balloons and confetti showering Trump — followed by 3 1/2 months of Trump's unlikely boosters — such as economics writer Stephen Moore, former CNBC anchor Larry Kudlow and retired Lt. Gen. Michael Flynn — translating for polite company some of the nominee's wackier utterances.
They are sure to be busy.