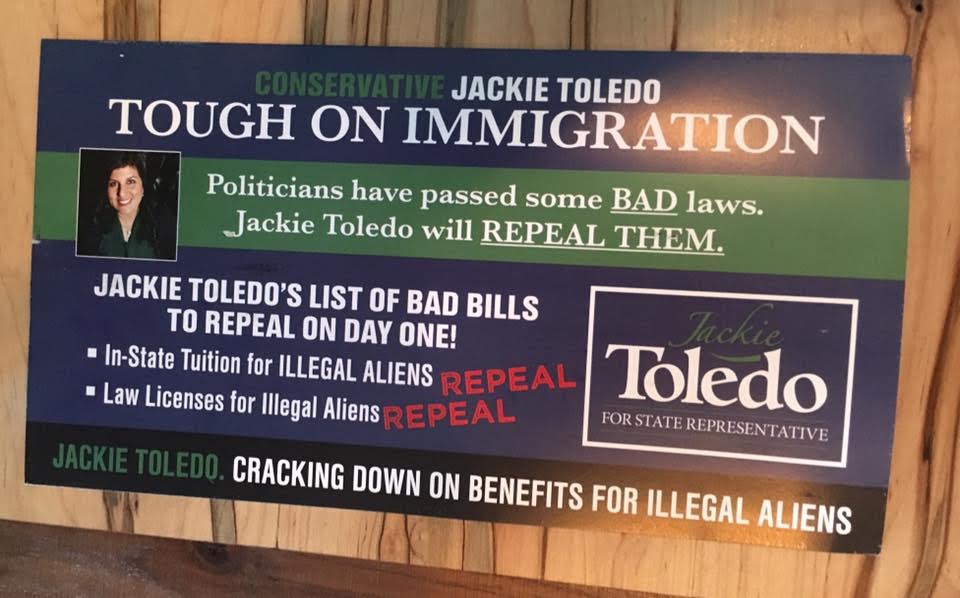 House District 60 Republican candidate Jackie Toledo says if elected to the Florida Legislature, she'd work to repeal two immigration laws passed by the Republican majority in recent years.
Toledo is battling business person Rebecca Smith in the Republican race for the HD 60 seat Aug. 30. In a campaign mailer, Toledo says, "Politicians have passed some BAD laws. Jackie Toledo will REPEAL THEM."
The mailer goes on to say that on Toledo's list of "bad bills to repeal on Day 1" would be legislation that provides in-state tuition and law licenses for "illegal aliens."
Both bills passed in 2014, as Gov. Rick Scott was battling for the Hispanic vote as he faced a tough re-election campaign against Charlie Crist.
HB 851 allows qualified undocumented immigrants to pay in-state tuition rates at public colleges and universities. Previously, Florida students who sought in-state tuition rates were required to provide documentation proving the residency of their parents or legal guardians, which was often impossible for the children of immigrants in the country illegally. The law allows students to pay in-state tuition regardless of immigration status, as long as they have attended a Florida high school for three years, could provide a transcript as evidence they graduated, and enroll in college within two years after graduating from high school.
On the last day of that same session in the spring of 2014, the Legislature passed and Scott signed HB 755, that allowed some illegal immigrants to obtain law licenses from the Florida Bar. Undocumented immigrants who aspire to be lawyers would have to have been brought to the country as minors, have lived in the United States for 10 years, be legally documented workers, have Social Security cards, and be registered with the Selective Service System.
The legislation was inspired by the case of Largo resident Jose Godinez-Samperio, a Mexico native who the Florida Supreme Court had ruled could not legally be admitted into the Bar even though he passed its entry exam in 2011.
"Politicians in both parties pass some bad laws, and Jackie will work with her colleagues in the Legislature to educate them on the need to change these policies," said Ryan Wiggins, a spokesperson for the Toledo campaign. "Her background as the daughter of legal immigrants from Peru makes her uniquely qualified to do so."
Toledo is a native of Lima, who moved with her parents to the United States as a child. Her first foray into electoral politics was a year ago, when she narrowly lost a bid for a seat on the Tampa City Council.
Wiggins said "nearly every voter Jackie talks to is concerned about illegal immigration and its effects on our economic well-being and national security, and rightfully so. Voters are upset that politicians continue to give taxpayer benefits like subsidized, in-state tuition rates to undocumented immigrants, and then passes legislation that allows undocumented immigrants to practice law. It's not fair to hardworking Floridians who play by the rules and follow our laws each and every day."
Smith declined to comment.
The winner of the Toledo-Smith race later this month will face Democrat David Singer in November.