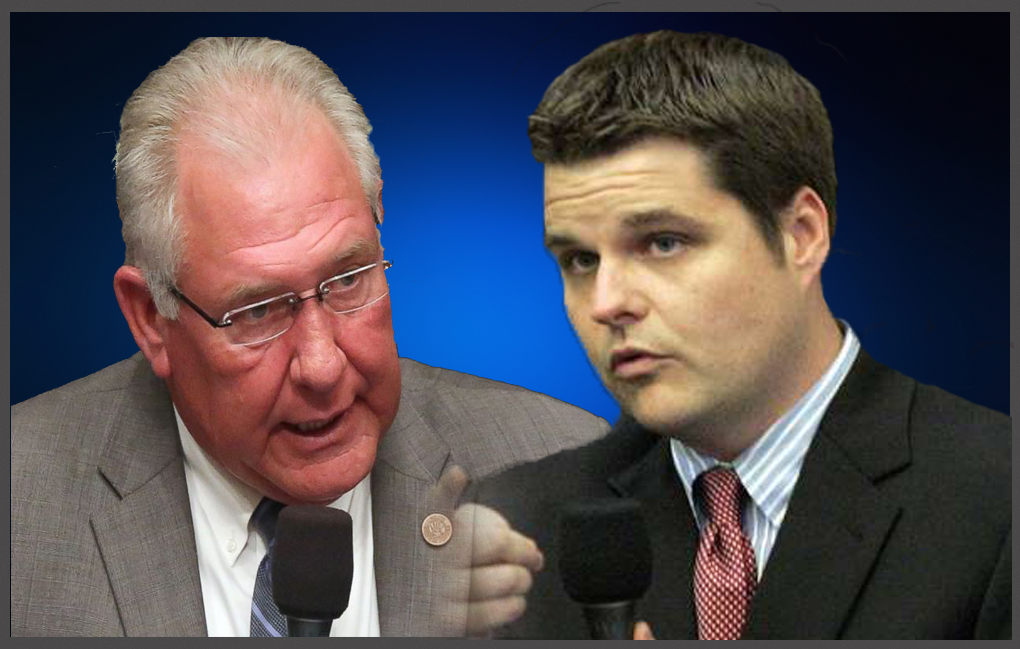 Tuesday's Congressional primary election results suggest that north Florida is about to get redshifted.
State Rep. Matt Gaetz trounced six opponents for the GOP nomination for the 1st Congressional District.
As of 9 p.m., urological surgeon Neal Dunn seemed to eke out a win against state government lawyer Mary Thomas for the Republican nameplate in the 2nd Congressional District.
"Congratulations to our next Congressman Neal Dunn," Thomas conceded in a tweet Tuesday night. "Together we will work to Make America Great Again"—a reference to GOP presidential nominee Donald Trump's slogan.
Both districts are in the state's Panhandle.
With both of those areas now solidly chocked with reliably Republican voters, it's likely the GOP candidates will go on to win in November's general election.
Take the vote count for both parties in the 2nd District (1st District Democratic candidate Steven Specht qualified without opposition.)
At one point, there were 67,925 total votes in the GOP race but only 52,530 for the Democrats. Lawyer Walt Dartland appeared to narrowly defeat tree farmer Steve Crapps in the 2nd District's Democratic race.
U.S. Rep. Jeff Miller's 1st District, home to five military installations and a large population of veterans, has gone Republican since 1994.
Gaetz and state Sen. Greg Evers announced they were running in the Aug. 30 primary after Miller said in March he was retiring after eight terms.
Then began a wild-ride competition for conservative hearts and minds.
In late June, Evers raffled off a semi-automatic rifle among people in the district who "liked" his Facebook page. He said the giveaway was aimed at underlining the importance of the right to bear arms at a time of rising terrorism.
Gaetz, on the other hand, supported Okaloosa County Sheriff Larry Ashley's comments that the Black Lives Matter group is "a terrorist organization."
And he faulted Evers for voting in the state legislature to expand eligibility for Medicaid, a move that would have drawn federal aid linked to President Barack Obama's health care overhaul.
"Thank you to Northwest Florida voters," Gaetz said in a statement. "Our nation is in trouble. We need bold conservative leadership to fight Washington and restore America. I will fight every day for our veterans and military, defend our Second Amendment rights, build the wall to stop illegal immigration, and defeat radical Muslim terrorists."
The recently redrawn 2nd District, now considerably more conservative, is almost assured to flip from D to R.
The seat is now held by Democrat U.S. Rep. Gwen Graham, but was changed after this year's redistricting. Graham has said she will bow out after one term in Congress and consider running for governor in 2018.
Dunn and Thomas attacked each other's ties to former Gov. Charlie Crist, now a Democrat, but both have solidly conservative bona fides.
After a super PAC advertising air war, the deciding factor that put one just over the edge against the other wasn't immediately clear.
"Our win tonight answers North Florida's plea for a conservative leader that has the real-world experience needed to take on Washington," Dunn said in a statement. "I am excited to continue … focusing on issues that matter most, such as enacting measures to strengthen our economy, ensuring our nation is safe and secure, and replacing Obamacare with a system that works."
A third Republican in that race, former federal prosecutor Ken Sukhia, had sterling anti-abortion and law-and-order credentials but gained little traction among the primary voting base.
The Associated Press contributed to this post, reprinted with permission