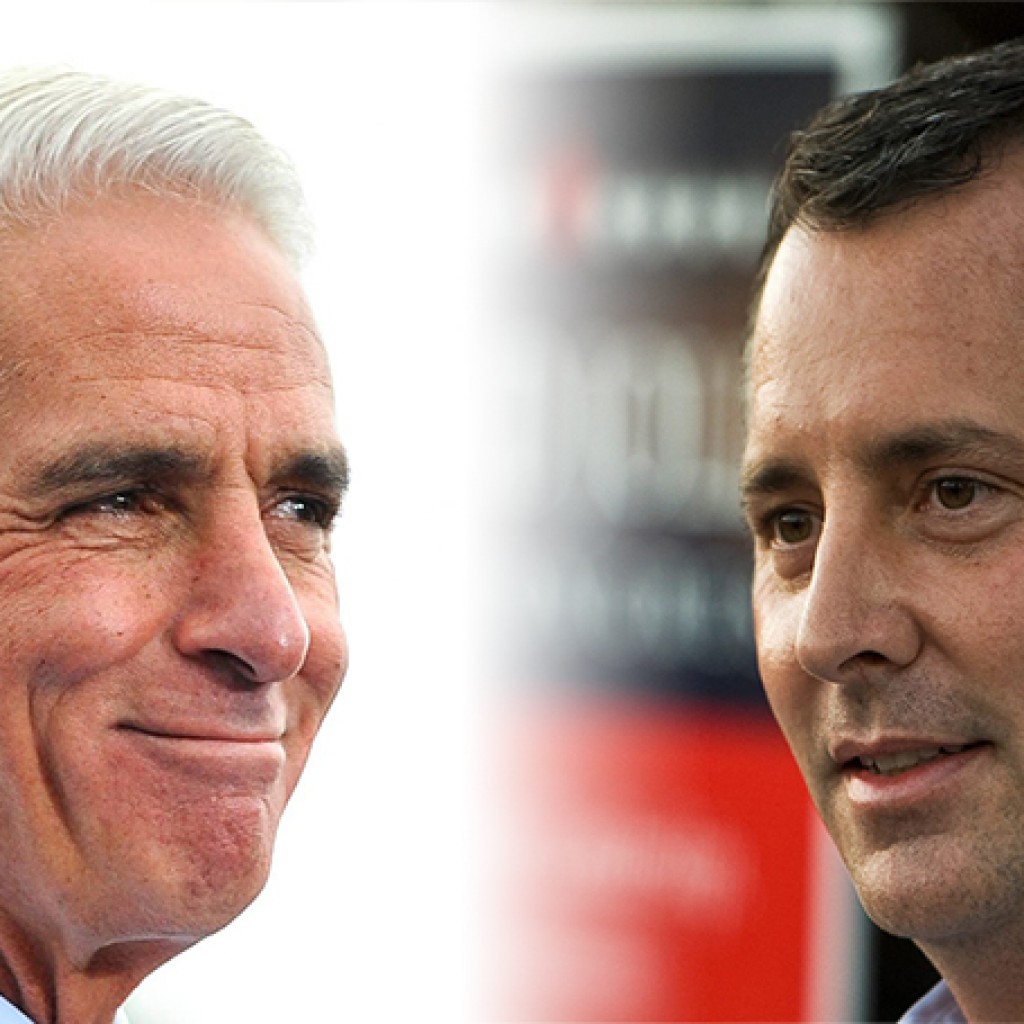 TAKE 1: Who won? I would call it a draw. Both candidates got in zingers at the other and both successfully reinforced the message they are trying to sell to voters.
In Jolly's case, he wants to remind voters he has been a maverick in his two-plus years in the U.S. House of Representatives. That's especially necessary for this race in a newly redrawn district that would seem to favor Democrats.
Jolly made sure to stray from the Republican Party line when asked if he would support the GOP presidential nominee, Donald Trump.
"Donald Trump does not have my support today," Jolly said. "I won't be voting for Secretary (Hillary) Clinton, but I'm not there with Mr. Trump."
He also showed his independent chops by saying, "I have tried to shatter the mold of modern politics."
Crist, on the other hand, was reliably (and cautiously) Democratic in his responses, especially answering "absolutely" when asked if Gov. Rick Scott should push for expanded Medicaid protection in Florida.
Crist was his usual affable self, but Jolly managed to make him play defense a little while avoiding the trap of becoming shrill in the one-hour debate at St. Petersburg College on WTSP–Channel 10. That wasn't easy to do. Breaking even in this tussle might be considered a win for Jolly in a tight race, which has national implications. But Crist didn't do anything I saw that would damage his chances.
TAKE 2: The testiest exchange of the night came when Jolly tried to bring up the image of Crist once embraced as "Chain Gang Charlie" in 1996 when, as a member of the state Senate, he embraced Alabama's practice of shackling prisoners in what was known as a chain gang.
Crist saw it as being tough on crime. Others saw it as hearkening back to the days of slavery, and Jolly went there in this debate.
"When you were in the Florida Senate, you coined yourself as Chain Gang Charlie. You stood on the side of the road over three African-American prisoners in chains on their knees on the side of the road," he said.
Crist counter-punched hard.
"For you to suggest that it had anything to do with race is appalling, and it's beneath you, and I'm embarrassed for you that you would say that about your fellow Floridian," he said.
"The only concern that I had was for the citizens of Florida who were subjected to a violent crime every three minutes and 45 seconds. We were No. 1 in violent crime in America at that time. Some of the measures we took, including the STOP Act requiring 85 percent of sentences (be) served, has made Florida a safer place ever since. And of that, I am very proud."
Jolly: "You cannot be the candidate today who embraces civil justice reform and did not have a second thought with TV cameras and news photographers taking photos that will live forever, that most viewers have not seen until tonight, that had you standing over African-American prisoners."
Crist: "In all fairness, as the governor of the state of Florida, I was asked right before the election in '06, 'Charlie, if you're elected, would you support automatic restoration of rights for former felons who are non-violent?' David, just so you know how I feel, I am compassionate for people who are subjected to crime and I am compassionate to people who deserve to have a second chance. I don't think the two are inconsistent whatsoever."
Winner: Jolly. Bringing up Crist's "Chain Gang" past is fair game, and it would have been nice to hear Crist state flatly that his views have evolved with the changing times. Either way, though, Crist opens himself up to the common charge against him of being a flip-flopper depending on who is listening.
TAKE 3: On the highly partisan question of whether illegal immigrants should have a pathway to citizenship or face, as Trump advocates, deportation with the possibility of returning to the United States through the legal immigration process, there was this exchange:
Crist: "I believe they should get a pathway to citizenship. I think it would be inhumane to take children away from parents and send them to different places. It's unreasonable to deport 11 million people in the first place."
Jolly: "I don't support a pathway to citizenship for people who came here illegally. I do support a pathway to legal status and residency."
Winner: Crist. The idea of deporting millions of people, as Trump champions, is ridiculous and unworkable. So what is left, especially for those who have been here for years and raised families while paying taxes and so on? Crist made the stronger point.
TAKE 4: On the ongoing problem of a massive sewage spill in St. Petersburg in the aftermath of Hurricane Hermine.
Crist: "What I don't understand why our member of Congress, our representative of Pinellas County, which is at the epicenter of this problem, is not advocating day, after day, after day, for federal emergency help to get this cleaned up. Our country has done this for Flint (Michigan). Why can't we do it for Pinellas County?"
Jolly responded: "May I? It is because the mayor who has endorsed you (Rick Kriseman) and oversaw this catastrophe has not asked for it. That's why."
Crist: "If you have to be asked when the people of your district are suffering, something is wrong."
Winner: Crist.
TAKE 5: Line of the night. That goes to Jolly, who got in a great zinger against Crist with this quip: "Charlie, just because you've been a member of both parties doesn't make you bipartisan."
Winner: Jolly.
FINAL NUGGETS: The question that should never be asked goes to co-moderator Mark Rivera of WTSP–Channel 10, who probed deeply to both candidates, "What are your two favorite restaurants in the district?"
They live here. We get it. They don't have to prove it.
On medical marijuana, Crist is all for it, as well you would figure since he is great friends with attorney John Morgan, who is a major advocate for marijuana as medicine. Jolly countered, "Only if the FDA approves it. We don't approve medicines on the ballot. I don't want my niece taking cold medicine or marijuana because voters approved it on the ballot." And finally, the laugh of the night came when Crist said of Hillary Clinton, "I believe she is honest." There was spontaneous laughter from the audience.