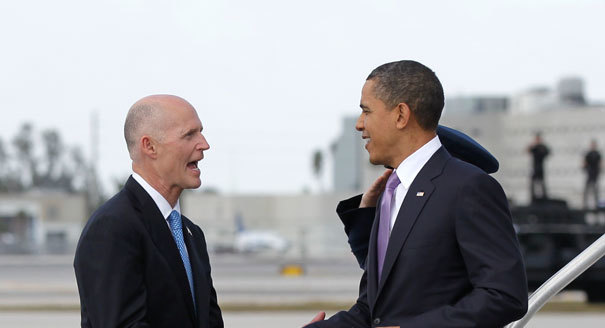 No doubt there is bad blood between the Rick Scott and Barack Obama administrations.
It could be a reason why the Federal Emergency Management Agency (FEMA) has rejected Scott's request for federal assistance for a multitude of bad weather events — as well as requests for federal funds for handling the Zika virus and the Pulse nightclub shooting — over the past year.
But in a letter directed to the President on Tuesday, the governor lays out the case that it's beyond time for the feds to help out the nation's third-biggest state, following the damages incurred from Hurricane Hermine.
In his letter, the governor states there has been more than $36 million in damages due to the hurricane. A presidential disaster declaration would provide federal resources to support recovery efforts in Florida. This request is for both individual assistance for families and public assistance to help state agencies and local governments.
"We must do everything we can to ensure that Florida families and businesses can get back on their feet following Hurricane Hermine," Scott said in a statement issued out Tuesday afternoon. "I have traveled across the state to meet Floridians who have been personally impacted by the storm, and communities are working hard to recover from flooding and damage. The resources and financial assistance from the federal government would support our communities and help them rebuild. We look forward to President Obama immediately issuing a declaration in support of all Florida families and businesses affected by the hurricane."
Florida was rocked significantly by weather events in August and September this year. In his letter to the president, Scott lists the amount of rainfall to specific counties, with Pinellas leading the way with more than 22 inches.
Thirty-eight different counties in the state declared local state emergencies, 39 opened up their emergency operations centers and 34 opened up shelters.
"During the preceding 12 months, the state of Florida experienced repeated emergencies that required the development of significant state resources," Scott writes. "Individually these incidents may not have overwhelmed the ability of the State of Florida to respond. Cumulatively, however, these emergencies significantly impacted the state's capability to provide financial support following Hurricane Hermine."
Scott then indicates how the Federal Emergency Management Agency (FEMA), under the guidance of former Floridian Craig Fugate, has refused to provide any funding from severe flooding from Aug. 1-9 of 2015, nor from the fallout of excessive El Nino-led rainstorms in January and February of 2016, nor from tornadoes that affected several Florida counties, nor to June's Tropical Storm Colin.
Scott also cites the lack of any federal help after the Pulse nightclub shooting in June in Orlando, which led to the deaths of 49 people, the deadliest single-gunman massacre in U.S. history. Nor from the toxic algae bloom that emanated near Lake Okeechobee earlier this summer.
Three weeks ago the White House rejected Scott's last request for a federal disaster declaration for Tampa Bay's August flooding, prompting Scott communications director Jackie Schultz to say, "It's disappointing that the Obama administration denied our request for federal assistance for those impacted by recent floods in the Tampa and west-central Florida areas."
Before he ran for governor in 2010, Scott led a movement to try to bring down what would become the Affordable Care Act (aka Obamacare). He's also sued the Obama administration regarding veterans programs and federal hospital funding, while Attorney General Pam Bondi has joined up with other Republican attorneys general to sue the president over some issues, including his executive orders in late 2014 to shield several million undocumented immigrants from being deported.
In the immediate aftermath of the Hurricane Hermine, Tallahassee-based Democratic Representative Gwen Graham sent a letter to Obama requesting federal assistance. She said today she supported Scott's missive to the White House.
"Hurricane Hermine was the greatest natural disaster our region has faced in a generation," Graham said. "I fully support Governor Rick Scott's request for federal assistance and renew my call on President Obama to quickly approve all available and applicable help for North Florida," Representative Graham said. "North Florida families are as strong as they come, and we will recover from this storm. I'm hopeful the state and federal government will work together, as neighbors worked together after the storm, to best serve the constituents we represent."