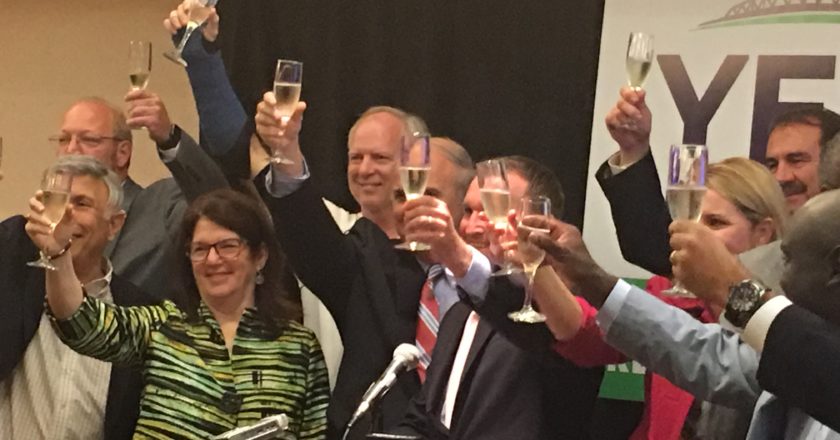 Despite a late-hour amendment taking aim at Lenny Curry's signature social initiative, the rebooted Jacksonville Journey, the office of the Jacksonville mayor issued a press release Tuesday night — dropped just in time for the 11 p.m. newscasts — lauding the spirit of collaboration that brought Curry's second budget from concept to completion.
"The approval of the 2016-2017 budget represents continued momentum that should give the people of Jacksonville renewed confidence about the direction in which our community is headed," said Curry.
"Last month, voters overwhelmingly supported pension reform to help forge a path to long-term financial stability. Now, with the continued support of City Council — our second consecutive year of presenting a balanced budget — we've achieved a budget for the next fiscal year that reflects not only our commitment to fiscal responsibility, but also our determination to improve public safety, enrich our neighborhoods and increase economic opportunities in Jacksonville," Curry continued.
"As mayor," Curry added, "I am incredibly proud and grateful for this level of teamwork and collaboration, and thank Council members for their thoughtful deliberation and work."
From there, the press release enumerated the bigger accomplishments of the budget in bullet points.
These include the following public safety investments: $3.3 million for 40 new police officers and 40 new community service officers; Funding for a body camera pilot program with the Jacksonville Sheriff's Office; $14 million for police vehicles; $7.5 million for fire vehicles; and $122,000 to operate a new Jacksonville Mosquito Control Division helicopter.
As well, Curry's team spotlighted environmental measures: $3 million for ash pollution remediation and $11.5 million to expand the Trail Ridge Landfill, along with $6.15 million for countywide Drainage System Rehabilitation Projects (increased from $6 million in the mayor's proposed budget); $6.8 million for a Lower Eastside drainage project; and $2.2 million for Trout River/Moncrief drainage projects (increased from $2.1 million in the mayor's proposed budget)
And there were infrastructural high points also: $8.5 million for Americans with Disability Act compliance on curbs and ramps (increased from $5.5 million in the mayor's proposed budget); $12 million for road resurfacing; and $2.25 million for countywide Parks and Recreation projects.