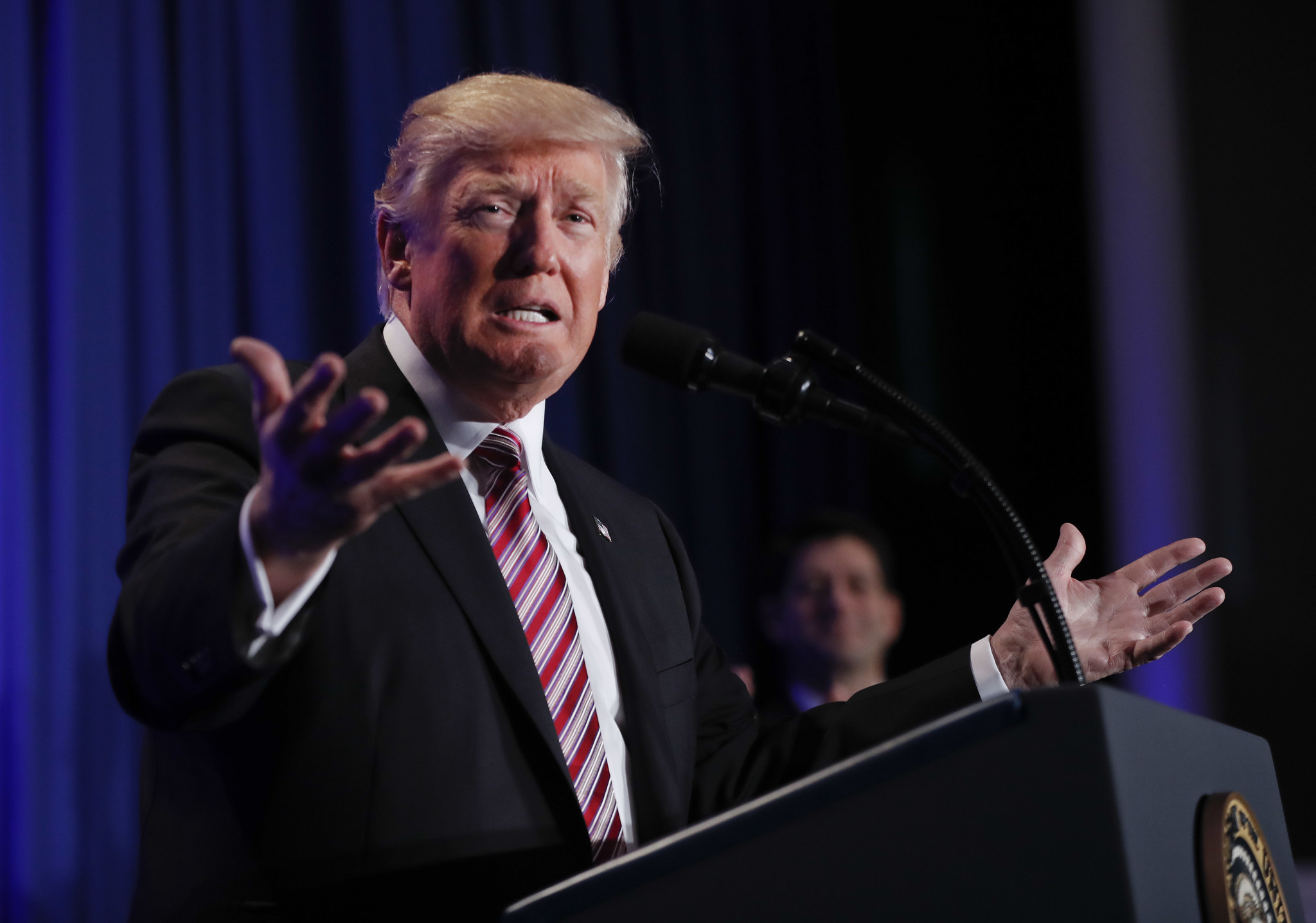 The Latest on President Donald Trump (all times EST):
4:50 p.m.
White House Press Secretary Sean Spicer now says slapping a 20 percent tax on imports from Mexico is just one of several options on the table for paying for a wall along the southern border.
Spicer says President Donald Trump has yet to make a final decision about how the U.S. will recoup the costs of his proposed border wall.
Spicer had said earlier Thursday that Trump wanted to slap a 20 percent tax on all imports from Mexico and predicted the tax would generate $10 billion a year.
He had told reporters on Air Force One that Trump has discussed the idea with congressional leaders and wanted to include the measure in a comprehensive tax reform package.
But Trump's chief of staff Reince Priebus said later that the administration has "a buffet of options" to pay for the wall.
___
4:45 p.m.
President Donald Trump still knows how to win a television time slot.
ABC reached 7.5 million viewers for its Wednesday night interview special of the president speaking to anchor David Muir. It was billed as Trump's first network television interview since his inauguration last week.
The special beat every other program competing at 10 p.m., according to the Nielsen company. CBS' "Code Black" drama came in second with 5.6 million viewers.
___
4:45 p.m.
A Democratic congressman says he got a call from President Donald Trump, who wants to meet with him to discuss the price of prescription drugs.
Maryland Rep. Elijah Cummings said Thursday he received the short but cordial call a day earlier "to my surprise."
Cummings says Trump told him they would not agree on everything, but they could find some common ground on trying to address the rising costs of prescription drugs.
Cummings says he's looking forward to the meeting, which hasn't been scheduled yet.
Cummings also says Trump asked about the congressman's special assistant, Katie Malone, who was injured in a fire at her home this month that killed six of her nine children. Cummings says the president said he wanted to make a contribution to help the family and expressed sincere sympathy.
___
4:40 p.m.
President Donald Trump has signed his first presidential proclamation, declaring this week "National School Choice Week."
The proclamation states that because education is important, parents should have the right to a "meaningful choice" about where their children goes to school.
Charter schools and school choice are expected to be major elements of federal education policy in Trump's administration.
Betsy DeVos, Trump's nominee for education secretary, has spent more than two decades advocating for school choice programs. Such programs provide students and parents with an alternative to a traditional public school education. DeVos is awaiting a Senate vote on her nomination.
The proclamation adds that a renewed commitment to expanding school choice can make a great education possible for every child in America.
___
3:35 p.m.
President Donald Trump wants to pay for his proposed southern border wall by slapping a 20 percent tax on imports from Mexico.
White House spokesman Sean Spicer says Trump has discussed the idea with congressional leaders and wants to include the measure in a comprehensive tax reform package.
Spicer spoke to reporters on Air Force One as Trump flew back from a Republican retreat in Philadelphia. He says that taxing imports from Mexico would generate $10 billion a year and "easily pay for the wall."
Spicer says discussions are continuing with lawmakers to make sure the plan is "done right." But he says it "clearly provides funding" for the wall.
___
3:30 p.m.
President Donald Trump's chief White House strategist says that the media should "keep its mouth shut."
In an interview with The New York Times, published Thursday, Bannon said that the media is the "opposition party" of the new administration and "should be embarrassed and humiliated" by the unanticipated election result.
The article cites Bannon as referring to himself at one point as "Darth Vader."
Asked if he was concerned that press secretary Sean Spicer lost credibility after a forceful opening press conference peppered with false information, Bannon replied, "we think that's a badge of honor."
He adds, "The media has zero integrity, zero intelligence and no hard work."
___
3:15 p.m.
Vice President Mike Pence is offering Republican lawmakers a preview of the upcoming Supreme Court pick. He says President Donald Trump will nominate a "strict constructionist" to the high court.
Pence is speaking to House and Senate Republicans at a retreat in Philadelphia. He notes Trump plans to announce the Supreme Court pick next week and says he can "already tip you off."
Pence says the choice will be a "strict constructionist," or a jurist who supports a narrow reading of the U.S. Constitution.
The vice president says the choice will have a "top-notch legal mind" and a "commitment to the Constitution."
___
2:45 p.m.
The United Nations hopes that any measures President Donald Trump takes on refugees are temporary, citing U.S. leadership in resettling people forced to flee their homes.
U.N. spokesman Stephane Dujarric told reporters Thursday that taking in refugees is especially important when the world has seen the largest movement of migrants since World War II.
He said it's a basic principle of the United Nations that "refugees need solidarity and need help," and at this time there's never been a greater need for their protection.
A draft executive order obtained by The Associated Press shows Trump intends to stop accepting Syrian refugees and to suspend the United States' broader refugee program for 120 days.
According to the U.N., refugees total nearly 21.3 million, half of them under age 18.
___
1:45 p.m.
President Donald Trump is claiming that he and Mexican President Enrique Peña Nieto agreed jointly to cancel their planned meeting over disagreements about who will pay for Trump's promised southern border wall.
Trump says during a Republican House and Senate retreat in Philadelphia that, "The president of Mexico and myself have agreed to cancel our planned meeting scheduled for next week."
Trump says that, "Unless Mexico is going to treat the United States fairly, with respect, such a meeting would be fruitless, and I want to go a different route. I have no choice."
White House Press Secretary Sean Spicer said earlier Thursday that the administration would be looking to reschedule the meeting in the future and would "keep the lines of communication open."
___
1:40 p.m.
President Donald Trump is opening his speech at an annual Republican policy retreat with a familiar tale: his election night victory.
Addressing members of Congress in Philadelphia on Thursday, Trump says "it's nice to win, it's been a while."
He launched into a riff that he used frequently on his postelection thank you tour to some of the battleground states he won in November.
Trump portrayed Pennsylvania as "the one that got away" from Republicans in previous elections and plugged his own victory there.
He then touted how, with Republicans controlling both the White House and Congress, that "now is the dawn of a new era."
___
1:30 p.m.
A Senate committee has again postponed the confirmation hearing of President Donald Trump's nominee for labor secretary.
The Senate Health, Education, Labor and Pensions Committee already has postponed fast food CEO Andrew Puzder's nomination at least twice. A spokeswoman for committee Chairman Lamar Alexander says he pushed it from Feb. 2 to Feb. 7 to give Puzder time to turn in his questionnaire and other paperwork. Puzder is the chief executive of CKE Restaurants, Inc., the parent company of Hardee's, Carl's Jr. and other fast food eateries.
Alexander said he wanted to give committee members time to review the paperwork when it does come in. Democrats complained about another in a series of delays. Trump announced Puzder's nomination Dec. 8.
___
1:15 p.m.
The Republican veterans affairs panel chairmen are calling on President Donald Trump to clarify whether his federal hiring freeze applies to veterans health care.
In a letter Thursday, Sen. Johnny Isakson and Rep. Phil Roe note that more than 6 million veterans rely on VA care. They say Trump's lack of clarity could hamper the VA's ability "to recruit high-quality clinicians" to meet veterans' immediate health care needs.
The freeze has stirred concern among some organizations that question Trump's commitment to veterans.
Acting VA Secretary Robert Snyder says the department intends to hire anyone necessary for "public safety, including front-line caregivers." But the White House has yet to say whether it agrees.
Trump issued the order Monday and the White House has said the freeze applied to the VA.
___
12:55 p.m.
President Donald Trump is holding a joint news conference Friday with British Prime Minister Theresa May, his first Q-and-A with journalists since taking office.
May and Trump plan to answer journalists' questions after they meet for the first time in the Oval Office.
Trump's most recent news conference was in New York on Jan. 11, more than a week before last Friday's inauguration. It turned into a combative and freewheeling affair.
___
12:35 p.m.
White House press secretary Sean Spicer says the Trump administration "will keep the lines of communication open" with Mexican President Enrique Pena Nieto after he canceled a planned visit to Washington.
Pena Nieto tweeted that he was scrapping the White House trip, set for next week. That word came hours after Trump tweeted that their meeting should be canceled if Mexico refused to pay for a border wall.
Spicer says the administration will "look for a date to schedule something in the future."
___
12 p.m.
Mexico's president says he's informed the White House he has canceled a trip to Washington to meet with President Donald Trump amid tension over a border wall.
Trump had tweeted Thursday morning that if Mexico is unwilling to pay for a wall along the U.S. border, "then it would be better to cancel the upcoming meeting."
The developments come the day after Trump said he will jump-start construction of a U.S.-Mexico border wall and cut federal grants for immigrant-protecting "sanctuary cities."
___
11:47 a.m.
President Donald Trump will sign an executive action Thursday to launch an investigation into claims of voter fraud.
White House press secretary Sean Spicer said onboard Air Force One the president will sign the order in the Oval Office. He didn't give more details.
Trump has repeatedly said he believes there was widespread voter fraud in the November election and that scores of people were on voter rolls in multiple states or after they died.
The president also says he believes many voted more than once and that "none" of those ballots were cast for him.
There is no evidence to support Trump's claims.
___
11 a.m.
NASA says it's "business as usual" on social media despite the emergence of a "rogue" Twitter account claiming to have been set up by government workers to speak out about climate change.
The "Rogue NASA" account on Twitter has gained more than 300,000 followers since it began Wednesday. It describes itself as the unofficial 'resistance' team at NASA. Its tweets have focused on climate change and criticism of President Donald Trump.
The account was launched days after tweets related to climate change from Badlands National Park were deleted. The National Park Service says they were posted by a former employee who still had access to the park's Twitter account.
NASA spokeswoman Karen Northon says the agency has "heard nothing" from the Trump administration regarding social media use.
___
9:28 a.m.
President Donald Trump says NAFTA "has been a one-sided deal" with jobs and companies suffering as a result.
The president's tweet early Thursday is directed at Mexico and comes one day after he said he would jump-start construction of a U.S.-Mexico border wall and cut federal grants for immigrant-protecting "sanctuary cities."
Trump referred to a meeting he has planned next week with Mexico's president, saying, "If Mexico is unwilling to pay for the badly needed wall, then it would be better to cancel the upcoming meeting."
Trump also says he wants to renegotiate the NAFTA trade deal with Mexico and Canada. He said Thursday the deal has resulted in "massive numbers of jobs and companies lost."
___
8:19 a.m.
President Donald Trump says it's "terrible" that convicted Army leaker Chelsea Manning "is now calling President (Barack) Obama a weak leader." But that is not what Manning said.
In an opinion piece published Thursday in The Guardian, Manning says Obama's biggest shortcoming was a tendency to compromise, because opponents would call him weak.
Manning writes, "what we need is an unapologetic progressive leader."
She says, "We need someone who is unafraid to be criticized, since you will inevitably be criticized. We need someone willing to face all of the vitriol, hatred and dogged determination of those opposed to us."
Trump reiterated his belief Thursday that Manning "should never have been released from prison," calling her an "ungrateful traitor."
Obama commuted Manning's prison sentence in his final days in office.
___
7:14 a.m.
A top aide to President Donald Trump is asserting that his critics are "cherry-picking" in questioning his claims of election fraud last November.
"I hardly think it's an ego issue," senior adviser Kellyanne Conway told NBC's "Today" show Thursday.
Trump has repeatedly argued that as many as 3 million to 5 million votes in the presidential contest were cast fraudulently. Earlier this week, he said he's seeking an investigation into possible fraud.
Trump won the election by collecting 306 Electoral College votes, well above the 270 needed, but he lost the popular vote by nearly 3 million votes to Hillary Clinton.
"I think everybody's cherry-picking to call this an ego trip," she said. "Why not have an investigation. What's everybody afraid of?"
___
7:10 a.m.
A senior adviser to President Donald Trump says White House officials are looking forward to meeting with Mexican leaders next week to discuss U.S. plans to build a wall on the U.S.-Mexico border.
Kellyanne Conway concedes in an interview on NBC's "Today" show that details on financing the project remain unclear. But she said that Trump won't likely provide that in advance of the get-together.
A senior administration official said that Trump's announcement Thursday has led his Mexican counterpart to reconsider the visit.
Conway said Trump is holding back on some specifics of his plan until the U.S.-Mexican meeting.
"He wants to give deference to his meeting with the Mexican president and other Mexican officials before she announces that," she said.
Conway said that in pressing forward with immigration changes, the president "made good on a centerpiece of his campaign for the White House." —Julie Pace
___
7:00 a.m.
Former Secretary of State Madeleine Albright says she is ready to register as Muslim in a show of solidarity.
Albright tweeted Wednesday: "I was raised Catholic, became Episcopalian & found out later my family was Jewish. I stand ready to register as Muslim in #solidarity." Albright also tweeted Wednesday that "America must remain open to people of all faiths & backgrounds."
President Donald Trump during his campaign proposed a temporary ban on foreign Muslims entering the U.S. and at one point suggested requiring Muslims already in the country to register. While those proposals evolved, Trump never explicitly took a Muslim ban off the table.
Albright served under President Bill Clinton. She didn't say where or how she would register as a Muslim.
___
6:30 a.m.
President Donald Trump is expected to turn back to the economy Thursday, signing a notice to Congress that he plans to start bilateral trade negotiations with most of the countries in the Trans-Pacific Partnership pact. That's according to a White House official. On Monday, Trump moved to pull the U.S. out of the 12-nation Pacific Rim agreement, which he said would be damaging for American workers. Instead, he said he wanted to negotiate with countries individually.
The official insisted on anonymity in order to confirm the executive action ahead of Trump's announcement.
— Julie Pace
___
6:00 a.m.
President Donald Trump is making his first flight on Air Force One Thursday.
Trump is traveling to Philadelphia to address Republican lawmakers gathered for a party retreat. Vice President Mike Pence will also attend the GOP event.
Trump flew to Washington for the inauguration on one of the government's blue and white planes. But the planes are only considered to be Air Force One when the president is on board.
Republished with permission of The Associated Press.