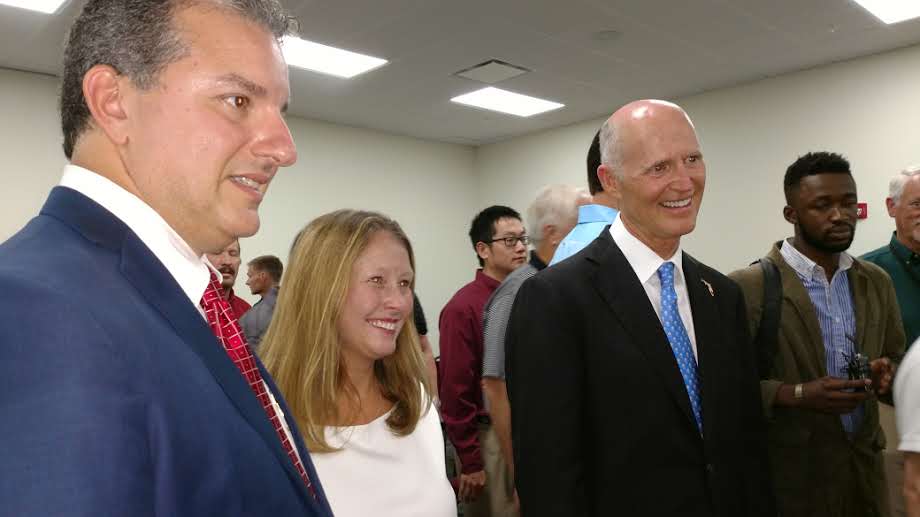 Rick Scott heads to Washington D.C. this week, ostensibly to meet with members of the Florida GOP congressional delegation regarding the health care bill unveiled last Thursday by Senate Republicans.
What Scott thinks of the bill, or what changes he believes are warranted, remains a mystery.
"I want to thank President Trump; he's absolutely committed to repealing and replacing Obamacare. I think that's positive," the governor declared to a small group of reporters Monday afternoon.
The comments came after Scott introduced former state Representative and Public Service Commission (PSC) member Jimmy Patronis as Florida's new Chief Financial Officer during an event in the new offices of Aero Simulation, located near I-4 and U.S. 301 in East Tampa.
The governor kept it vague when asked to specify his exact concerns about the new bill, which was just published Thursday and may (or may not) come before the full Senate by the end of this week. When looking at the legislation, Scott said he is guided by two main thoughts: One, Florida is treated fairly in the process; two, that everyone has the right to choose the most suitable health care plan.
"We all pay our own taxes; we should be treated fairly in how those dollars come back to our state," Scott said. "You should have the right to choose the insurance that fits you and your family."
Critics of the GOP proposals in both the House and the Senate focus on the more than $800 billion in proposed cuts to Medicaid, which go toward fulfilling their stated mandate to repeal and replace the Affordable Care Act.
In Tampa, Congresswoman Kathy Castor said earlier Monday that those cuts would be devastating to Floridians, with so much of those funds being used to keep seniors in nursing homes.
"What's important to be me is that Florida [is] treated fairly," Scott reiterated in response to those concerns.
"As you know when I came in, our Medicaid program had been growing way faster than our general revenues," he said. "We came up with a better way of doing it. We've seen a reduction in the cost per capita of our Medicaid population. It's very important that people have access to good quality health care at a price. Whether you're paying for it, your employer's paying for it, or your government's paying for it. Somebody's paying for this. We've got to find a way to reduce the cost of health care. The problem with health care is that it cost too much."
When asked again if he had specific issues with the bill, whose contents have been argued about nationally in the past few days, the governor chose to ignore the question.
"We know that President Trump inherited a mess," he responded. "Obamacare was spiraling out of control. The costs were skyrocketing, they've gone up way too fast."
Every governor in the country is obviously concerned with what will transpire out of Washington on health care.
But for Scott, the interest is intense. Before becoming governor seven years ago, the most important part of his resume was in the 1990s, his years as the head of the massive Columbia/HCA hospital chain.
It was at that time, Scott led the private sector activism against Hillary Clinton's attempt to remake health care.
After leaving HCA/Columbia in the late 90s (where it incurred the largest Medicare fraud in U.S. history, totaling $1.7 billion), Scott again resurfaced as the face of the opposition to a Democratic Party-based plan to again reform the health care system, this time under Barack Obama in 2009.
That's when Scott formed Conservatives for Patients Rights, a vehicle designed to stop Obama's Affordable Care Act.
"I used to run the largest hospital company in the country, that's very important," Scott told reporters Monday. "So I'm going to keep fighting for the things that I believe in."
(Shortly after the governor's news conference, the Congressional Budget Office announced the Senate's bill would increase the number of people without health insurance by 22 million by 2026.)
Scott was in Tampa Monday afternoon for the third of three scheduled stops where he was traveling with Patronis, an earlier Scott appointee to the PSC and the Constitution Revision Commission in March.
In becoming CFO, Patronis resigned from both of those positions.
Speaking with reporters, Patronis begged off any discussion that he might be thinking about a CFO candidacy in 2018.
"They'll be plenty of time to talk about politics later, right now I'm just really focused on getting up to speed on the job duties of the CFO's office," he said, adding that he'll sit down with outgoing CFO Atwater Tuesday to learn more about the position.
"I wanted somebody who really cared about the state, he understands business, he understands the impact that taxes have, that regulations have, he's served in the Legislature," Scott said. "What I can tell you about Jimmy Patronis is he'll always try to do the right thing. I look forward to working with him at the Governor/Cabinet meetings, because I know he'll always show up and be thoughtful about the decision-making process."
Among those attending the news conference were Tampa Bay-area Republicans Tom Lee, Wilton Simpson, Chris Latvala and Shawn Harrison. Patronis' former PSC colleague Julie Brown was also there.