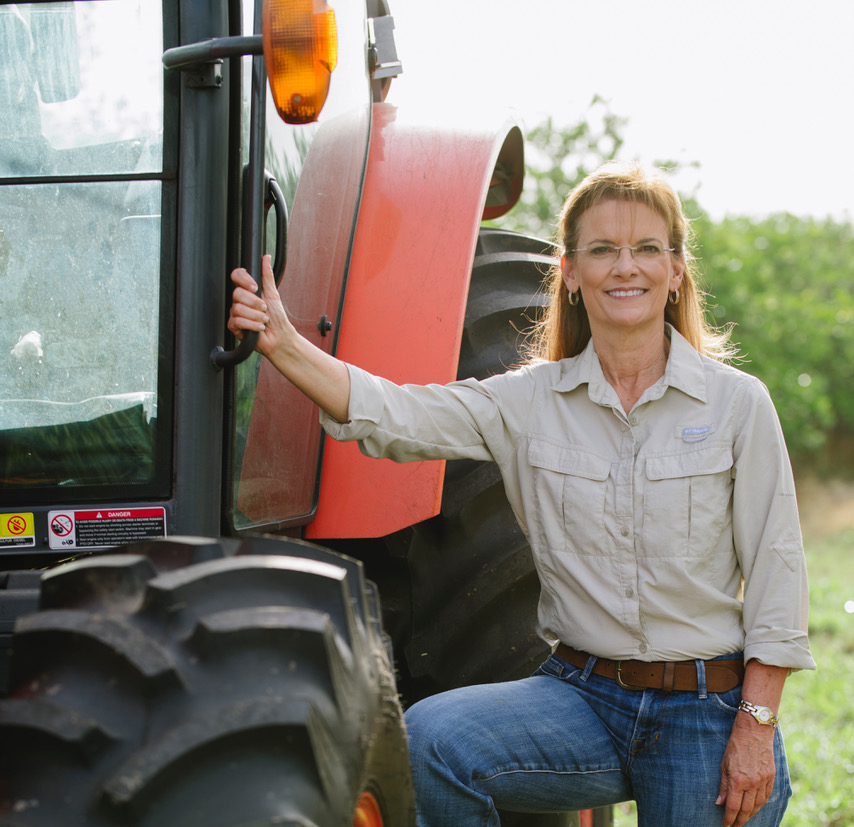 If you would have told Denise Grimsley in December she was about to launch a run for statewide office, she probably wouldn't have believed you.
It wasn't something she was thinking about back then. She had already filed for re-election in the Florida Senate, but was starting to think about whether she wanted to run again.
"In December, I had spent a lot of time with my family, and I had pretty much decided I'm walking into the end of my political career," she said. "I have a great job. I have two grandkids I adore that I want to spend more time with. I was starting to give some thought to not running for re-election."
Then in January, she was chatting with friends in the citrus and cattle business and one suggested she run for Agriculture Commissioner. She gave him every reason why she shouldn't, but he told her just to think about it. A few weeks later, when Rep. Steve Crisafulli announced he wasn't going to run, her friends once again suggested she jump in the race.
This time, she didn't brush it off so quickly.
"I took a week and I prayed about it. I talked to my family. I talked to my employer … and in about a series of three days, all of my reasons not to went away," she said.
Grimsley, a Sebring Republican, officially launched her bid for Agriculture Commissioner in February, becoming the first candidate in what is becoming an increasingly crowded race to replace Agriculture Commissioner Adam Putnam in 2018. Grimsley is one of four Republicans battling it out for their party's nomination, but her early entry into the race came with some big name support.
JD Alexander, the former state senator who had been rumored to be considering a run, threw his support behind Grimsley back in February. The host committee for an early fundraiser read like a who's who of the agriculture industry, including Bob Behr, the former commissioner and CEO of Florida Natural; Marty McKenna, the former president of Florida Citrus Mutual; and John Barben, the current president of Florida Citrus Mutual.
A fifth generation Floridian, Grimsley said her background makes her uniquely qualified to be Agriculture Commissioner. While she currently serves as a hospital administrator for Florida Hospital Wauchula and Lake Placid, she also served as the vice president and chief operating officer of her family business, Grimsley Oil Company.
She has also been involved in her family's citrus business, which Grimsley said her grandfather started with 10 acres of growth. Her father has added to it over the years, and Grimsley has had a hand in the family's agriculture business over the years.
That combination of experience, Grimsley said, is what will distinguish her from three other Republicans — Rep. Matt Caldwell, former state Rep. Baxter Troutman, and Paul Paulson — vying for their party's nomination.
"As Agriculture Commissioner, I think you need three things to be qualified. You need to some agriculture background for one," she said. "I think it's extremely important to have executive experience. It's a $1.7 billion budget with 3,800 employees. I have that from running our company and running the hospitals that I have now. You need a financial background, and I think you need it in the public and the private sector. I have it in the public sector, (from) being the Appropriations chairman for two years in the House … and I have it in the private sector as well."
For Grimsley, the next 13 months means spending lots of time on the road, meeting with voters and possible backers. She said she's trying to share her message with as many people as she can, and explain to them why she'd be the best woman for the job.
"I think you need to take that agency and you step it up to the next level," she said. "Statewide water policy is important; and the consumer service part of that department is very important. It (handles) things like concealed weapons permits, your 'no call' list, pest control, security guards, gas pumps, foods service. It's everything and most of those, at some point in my life, I've been regulated by, so I understand what it's like to be that consumer."
Grimsley said she is hopeful her record in the Legislature will show she's willing to work hard for Floridians. She said she's strived throughout her time in the Senate to get into the communities she represents to "let people how how we can help," and that's something she wants to continue doing if elected Agriculture Commissioner.
"So many people go through this whole government bureaucracy, in any state agency no matter how good they are they all have it somewhere," she said. "I try to let my constituents know we're here to help you, we can help you navigate the process."