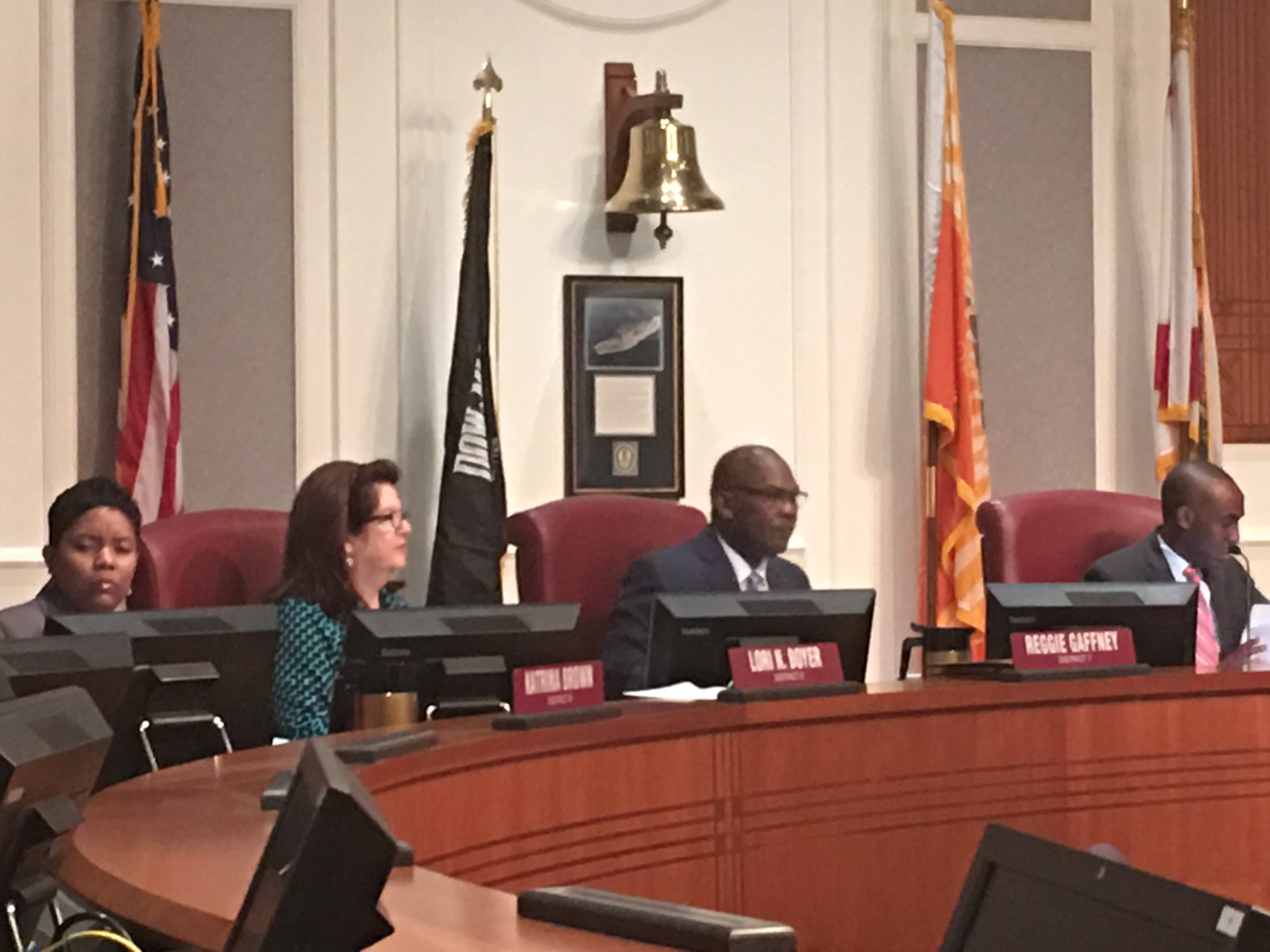 Nothing like starting off a new committee by voting to gut term limits. Yet that's what the Jacksonville City Council Finance Committee did Tuesday.
Tuesday saw the newly-reconfigured Jacksonville City Council Finance Committee approve a bill that would authorize a 2018 referendum to give City Councilors, constitutional officers, and School Board members a three-term limit.
The bill, as currently written, would include current office holders.
The bill (2017-358), introduced and carried by Finance Committeeman Matt Schellenberg, has been a priority of his for over a year; Schellenberg's take is that Jacksonville voters are deprived of "institutional knowledge" if their Council members were restricted only to two four-year terms, as has been the case since the 1990s.
The "institutional knowledge" argument was neatly undercut during the committee agenda meeting, highlighted by a shambolic discussion between Chairman Garrett Dennis and Committeewoman Katrina Brown of the merits of deferring a bill that had been deferred in a committee yesterday. (Dennis wanted to defer; Brown wanted to "discuss" the measure.
From there, an hour-long discussion on a $60,000 appropriation for a children's program — another demonstration of "institutional knowledge" — followed, setting the stage for the Schellenberg bill.
Councilwoman Lori Boyer wondered if the bill applied to current seated people; Schellenberg said it did.
"Do you think it would have a higher chance of passing if it didn't include current people," Boyer asked. "I'm just concerned that we're setting ourselves up for failure."
Councilman Reggie Brown, termed out like Schellenberg and Boyer in 2019, said that people in his district have no objection to relaxing term limits.
"They're more concerned about who's going to lead them," Brown advised. "Twelve years is not guaranteed. The problem years back is that people lost confidence. Things are coming back now."
"There's no guarantees that I'm running for re-election, because I'm looking at other options as well," Councilman Brown noted, advising colleagues to "reach into the bowels of [their] district … and groom someone for politics" to replace them.
Schellenberg then waxed rhapsodic about people who had "a little more institutional knowledge," saying "we will be more competitive when we run for the second term and really the third term."
In other words, despite lobbyist money and relationships entrenched over time, extending the tenure of elected officials is "good for democracy."
Councilwoman Katrina Brown is willing to do three terms, she said, saying that those who did not want to do so "just don't run."
"I know on the Council we look at things in terms of what are citizens going to think, so we don't look some kind of way," Brown said, but she's backing the bill anyway.
"If they don't want to run, don't run," Councilwoman Brown said.
There was some pushback.
Councilman Reggie Gaffney balked at the concept, calling it "self-serving" given that it would "look like something we were doing so that we could serve again."
Visiting the committee: Councilman Tommy Hazouri, who said the bill was wrong, and — to quote Tillie Fowler — "eight is enough."
"I definitely don't support us grandfathering ourselves in," Hazouri said, promising a floor amendment next week at Council to change that contentious condition.
However, Chairman Garrett Dennis — speaking in support of the bill — asserted that term limits removing the experienced council members led to the city's pension crisis.
The bill passed 5-2, with Gaffney and Councilman Danny Becton the no votes.
Rules mulls the measure Tuesday afternoon, the final committee stop for this measure before the full City Council deliberates it next week.