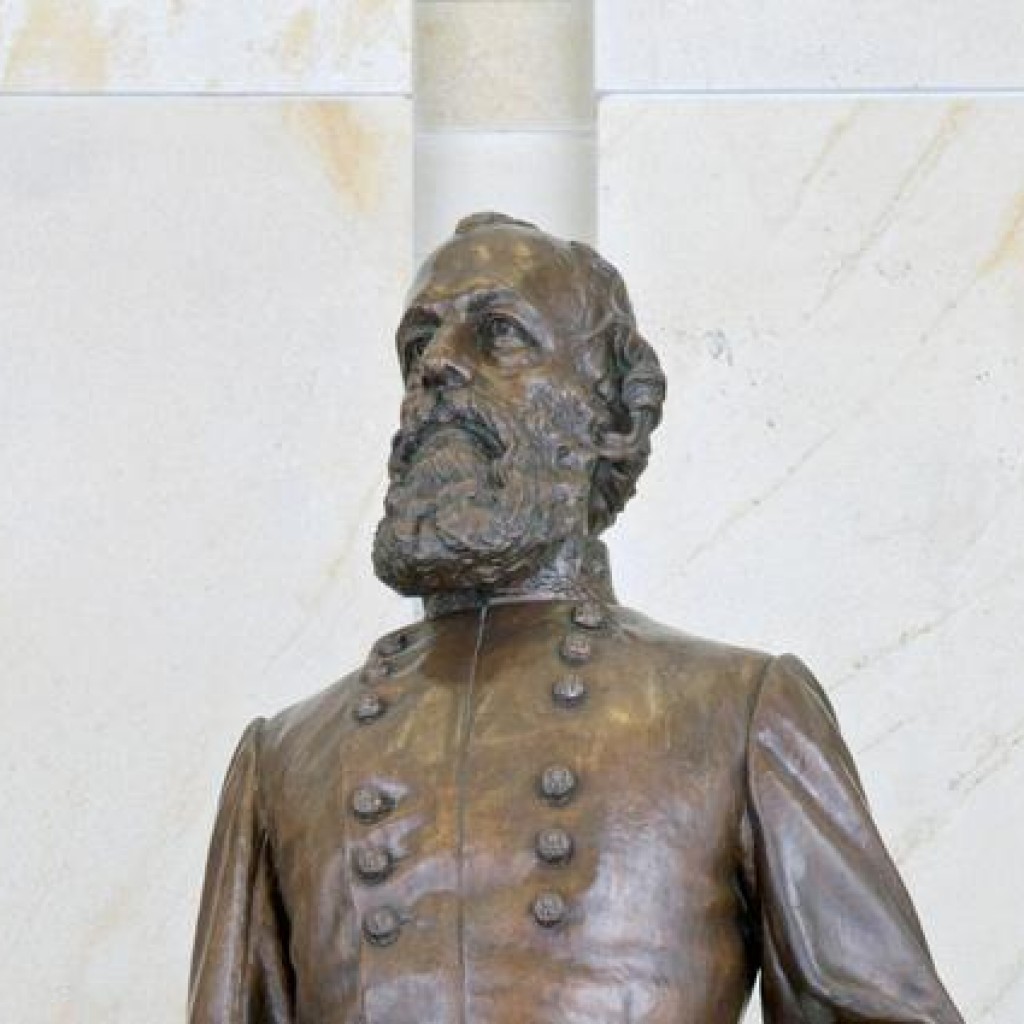 U.S. Rep. Debbie Wasserman Schultz now has gotten the other ten Florida Democrats in the U.S. House of Representatives to join her call for a one-day Florida Legislature special session to replace Confederate General Edmund Kirby Smith's statue in the U.S. Capitol.
"We must denounce symbols of what supremacy and stand up for love and compassion – not just with words, but with our deeds," state letters from the 11 Florida Democratic members of Congress to Gov. Rick Scott, Senate President Joe Negron, and House Speaker Richard Corcoran. "As the third largest state, and easily one of the most diverse in our nation, Florida has an opportunity to send a defining message."
Wasserman Schultz first called for such a special session on her own, on Aug. 15.
The issue involves one of Florida's two state representation statues in the U.S. Capitol. In 2016 the Florida Legislature voted to replace the Smith statute, but in 2017 was unable to agree on a replacement, so the statue remains.
The new congressional letter calls for Scott, Negron and Corcoran to act immediately, "in the shadow of Charlottesville," to "stand at a crucial moment when leaders and institutions must confront hate and violence without ambiguity."
A spokesman for Scott's office expressed confidence that the legislature would take care of the matter as soon as possible. In January. When the regular 2018 Legislative Session convenes.
"In 2016, Governor Scott signed a bill that replaced this statue at the U.S. Capitol. A committee was quickly convened, public input was gathered and three names were submitted to the Legislature for consideration for a replacement. It is now up to the Legislature to decide how to resolve this issue and Governor Scott hopes they do so when they convene in January," McKinley Lewis said in a statement.
The offices of Negron and Corcoran did not immediately respond to an inquiry about the letter.
When Wasserman Schultz first made her call two weeks ago, Corcoran responded by accusing her of being out of touch and grandstanding, noting that the Florida Legislature already had voted to replace Smith's statue and was working on picking a replacement.
The latest letter was signed by the 11 Democrats Florida has elected to the U.S. House, Wasserman Schultz of Weston, Kathy Castor of Tampa, Charlie Crist of St. Petersburg, Ted Deutch of Boca Raton, Alcee Hastings of Miramar, Darren Soto of Orlando, Frederica Wilson Miami Gardens, Val Demings of Orlando, Al Lawson of Tallahassee, Lois Frankel of West Palm Beach, and Stephanie Murphy of Winter Park.
"The legislature's inaction leaves in place of honor, a symbol that represents a painful and horrific period in American history for so many Floridians and Americans," the letter states.
"No family visiting our nation's Capital should have to explain to their child that the statue representing our state honors someone who fought for a philosophy built on hatred, inequality and oppression.
"We urge you to take immediate action by calling a one-day special session during the Florida House and Senate's upcoming interim committee meetings that already are scheduled in Tallahassee and finish this important and historic work."