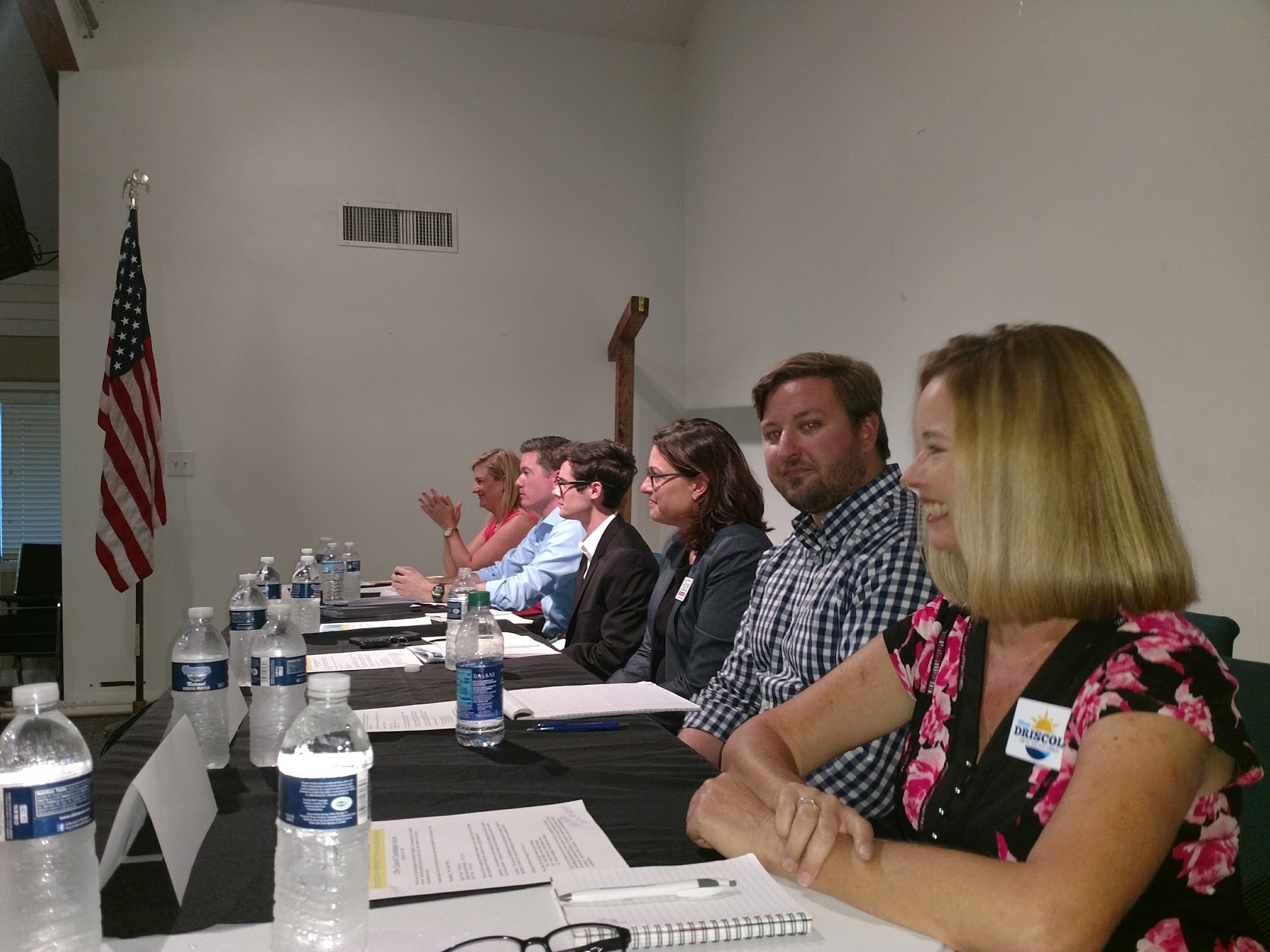 St. Petersburg City Council hopeful Gina Driscoll doesn't think much of the service offered by the Pinellas Suncoast Transit Authority (PSTA) to those needing transportation in the 'Burg.
"We need to look at the bus system that we already have because it's broken, it doesn't work for most of the people who have to use it," the District 6 candidate said at a forum hosted by the Disston Heights Civic Association Tuesday night (moderated by this reporter).
Driscoll, the president of the Downtown Neighborhood Association, decried how it can up to two hours for a passenger to travel to the same place that would require only a twenty-minute commute by motor vehicle.
"I think that's mediocre and unacceptable for a city of our size," she said, adding that any future transportation projects would need to include a comprehensive plan to overhaul the city's bus system.
PSTA has one of the lowest budgets in the country for a transit agency of its size, as does the Hillsborough Area Regional Transit Authority (HART), its sister agency across Tampa Bay. The combined budget for the two systems is $141 million, similar to smaller cities like Buffalo, New York, which has 1.5 million fewer people.
Driscoll raised the subject of buses when the six candidates for the three City Council seats up for election in St. Petersburg next month were asked if they would theoretically support a transit measure on the 2018 ballot similar to the 2014 Greenlight Pinellas initiative.
Greenlight Pinellas was the unsuccessful one-cent transit tax to pay for expanded PSTA service and a 24-mile light rail link from St. Petersburg to Clearwater.
"I voted for it in the voting booth," Driscoll said. "And I would vote for it again."
Justin Bean, her opponent in the District 6 race, would definitely consider supporting a similar measure, but he said the city and region needed to look beyond light rail and embrace other technologies such an autonomous vehicles.
Darden Rice, a former chair of the PSTA Board and a strong public transit advocate, would not support a Greenlight-type referendum next year. She said that other transpiration agencies in the Tampa Bay area needed to work with Pinellas to identify the best corridors which would move the most people, as well as look at what the best modes of transportation to do so.
Jerick Johnston, Rice's opponent in her bid for re-election to District 4, would not support another Greenlight style initiative, saying that everyone needed to be brought back to the drawing board to decide on what would be for the region moving forward.
District 2 candidate Barclay Harless agreed all modes of transportation need to be on the table, but emphasized that any such conversation must be regional in scope, and not limited to within the St. Petersburg city limits. "For us to have this discussion in a vacuum is fool's gold," he quipped.
Brandi Gabbard, facing Harless in District 2, is a strong supporter of the 2014 ballot measure, and said she believes in a referendum for transportation funded by sales taxes, and not ad valorem taxes. She agreed a regional approach was needed, saying she had faith that St. Petersburg could be a leader in such a discussion.