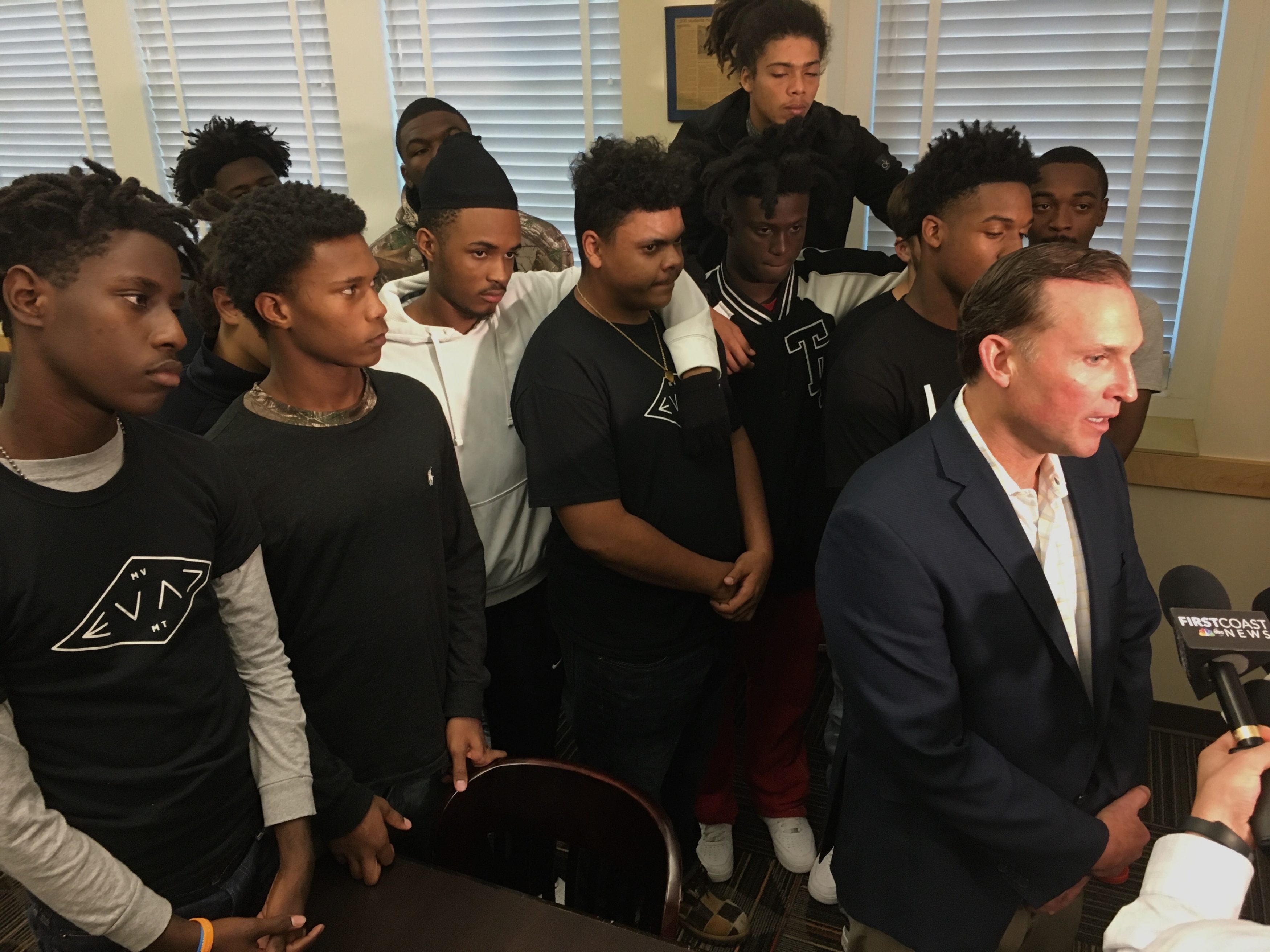 One of the signature legislative pushes of Jacksonville Mayor Lenny Curry's administration — the Kids Hope Alliance (KHA) — was passed by the City Council this month.
The KHA, a new seven-person board that will replace the Jacksonville Children's Commission and the Jacksonville Journey, will command a roughly $35 million budget for services the mayor calls "at-hope kids,"  handling oversight of various programs.
Curry's vision is beginning to take shape in important ways. The first nominees for the board will be advanced in November, Curry said.
And — perhaps more importantly — Curry is leaning on a group of young men at a local high school called the EVAC Movement, a group that he has repeatedly credited with opening his eyes about the potential of what the mayor now calls "at-hope youth."
At Jacksonville's Lee High School Tuesday, Curry showed up with suite passes for the young men to upcoming Jaguars home games — appropriate, given that more than a few of them play high school football.
But he had an ask as well — and that ask was tied into his comprehensive reform of children's programs locally.
Curry asked the young men to address the future board members, once they are finally in place.
"Come and talk to them," Curry said. "Be real with them and tell it like it is."
What it is, of course, is an everyday struggle: one of trying to walk a path toward success that requires sidestepping myriad hazards, the kind seen in many Jacksonville communities.
"We are going to invest money into young people," Curry said, and the mayor wanted the young men to provide insight into how those investments are to be programmed.
He sees EVAC as one model.
"You guys are getting it right with little to no resources," Curry said.
"These young men are the example of what works," Curry told media. "This is the model … they've lived it and are living it, they are pursuing their dreams. They are the reason in this city that we are going to use at-hope instead of at-risk."
As the Florida Times-Union (which has offered the most detailed coverage of the program) reported, there have been year-to-year changes in the program.
What hasn't changed: the need for a program like this, one that provides structure and guidance to ensure that people who could fall into traps that are all-too-easy to fall into avoid them.
Curry found his voice on the subject of "at-hope" youth during the 2015 campaign, especially when he started engaging more heavily with neighborhoods like Grand Park.
Discussing kids getting shot, Curry posed a question those on hand at one campaign stop didn't expect to hear.
"How many more kids have to die?"
Fast forward to Oct. 2017.
Curry was asked about more shootings in Jacksonville in recent days as well on Tuesday — even with the high school students flanking him.
Law enforcement, said Curry, had been "gutted" by the previous administration — and Curry noted that his administration had worked to add 180 new police officers and 80 community service officers.
"It's going to take us time to get those boots back on the ground," Curry said. "I've been in office for two years. Close to 150 cops have been cut by those before me."
"We're digging our way out of the hole," Curry said.
The Kids Hope Alliance, which brings together the prevention and intervention pieces, is intended to work with a more robust law enforcement presence.
Will it work?
That's the hope.