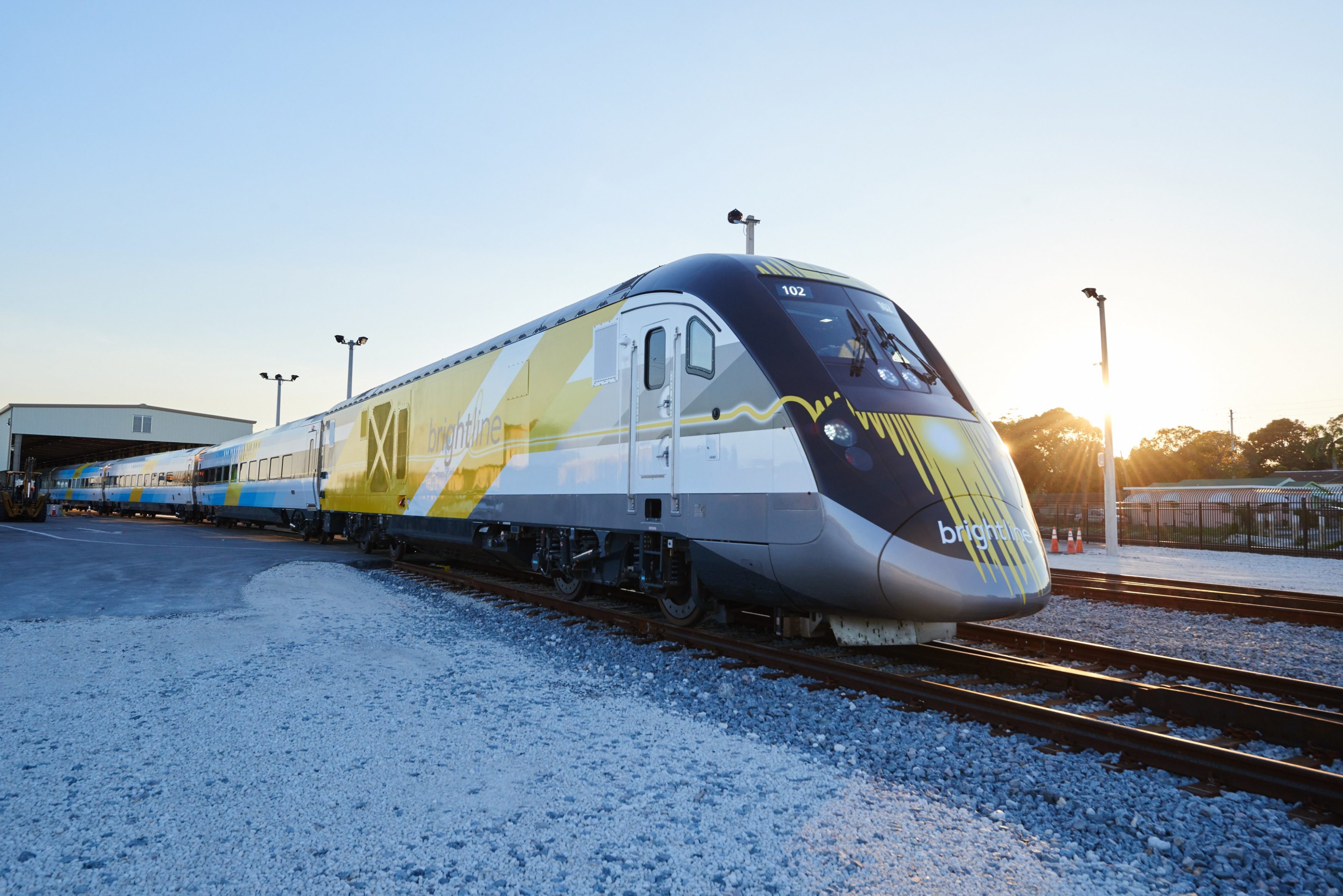 All Aboard Florida received its final federal approval Friday to build and operate a private, high-speed passenger train system connecting Orlando and South Florida, U.S. Reps. Darren Soto and Mario Diaz-Balart announced.
The announcement was quickly followed announcements from All Aboard Florida and the Federal Railroad Administration.
The administration's Record of Decision, released Friday after years in the waiting, essentially clears the rails for All Aboard Florida to begin construction of the critical Phase II of its plan to run private passenger trains between South Florida and Orlando.
The company intends to begin service of its Brightline trains on its Phase I route, connecting Miami, Fort Lauderdale, and West Palm Beach in a matter of weeks. That construction is virtually finished. The West Palm Beach to Orlando phase has been tied up in financing and litigation issues, and awaiting final federal approval for environmental impact, before the first dollar could be spent on construction, or the first shovel turned. All Aboard Florida has won all the lawsuits and has the financing lined up.
"This is the most critical and final step in the extension of Brightline's service to Orlando, and we are excited to move forward with Phase 2," Brightline CEO Dave Howard stated in a news release issued by the company. "This was a great year for us as we completed construction on two of our major stations and rail infrastructure, successfully presold tickets and corporate packages to individuals and businesses throughout the region and priced $600 million in Private Activity Bonds to fund Phase 1. We look forward to launching service to Miami and starting construction north to Orlando in the first quarter of 2018."

There still remains strong and committed opposition to the train project, centered in the communities along Florida's Treasure Coast that contend they face considerable safety and environmental risks, but none of the benefits, because there are no plans for the train to stop anywhere between West Palm Beach and Orlando International Airport.
In addition to opposing the federal permit and the $1.1 billion in private activity bond financing, which still awaits approval from the Florida Development Finance Corporation, the opposition coalition also is pushing for legislation in the Florida Legislature to require more stringent safety and environmental regulations for the train, which would cross hundreds of at-grade crossings and numerous waterways.
Those opponents are led by the Coalition Against Rail Expansion in Florida and including St. Lucie, Martin, and Indian River counties.
"The health, safety and environmental issues regarding the railroad will be subject to judicial review. USDOT's [U.S. Department of Transportation] actions providing funding and rushing to authorize these bonds will be evaluated by the court,"  CARE Fl attorney Steve Ryan said in a written statement late Friday.
The stations in West Palm Beach and the Orlando International Airport are essentially finished, awaiting trains and passengers. The train will use the old Florida East Coast Railway tracks, and they have to be double-tracked and upgraded, including over numerous bridges. That gets the train from West Palm Beach to Cocoa. From there, new tracks and bridges will have to be built to connect to Orlando, mainly along the corridor of State Road 528, the Beachline Expressway.
"I am ecstatic to see this project advance," Soto, the Orlando Democrat, declared in a press release that noted he had sent a letter to U.S. Transportation Secretary Elaine Chao just last week expressing support for the project and arguing that it will be important to Florida..
"We are one step closer to a historic high-speed rail service that would not only ease travel from Central to South Florida, but will also connect businesses and boost our tourism industry," Soto stated. "As one of the fastest growing regions in the country, I am proud that Brightline has chosen to make Central Florida a model for cutting edge high-speed transportation technology."
Diaz-Balart, a Miami Republican, chairs the House Transportation Appropriations Subcommittee.
"I am extremely supportive of the advancement of new transit options, and am anxious to see the positive impact Brightline will have on our state's economy," he stated in a news release. "Brightline's first phase, which is set to begin full service in the coming days, will showcase an alternative and efficient mode of travel for Floridians and visitors alike. Connecting South and Central Florida passengers via rail offers expanded business and leisure opportunities, and I am glad that DOT acknowledges the potential in the future of our state's transit."
The  company declared its project "is moving full speed ahead." Over the next few months, Brightline will finalize the design for the rail infrastructure and the 70-acre Vehicle Maintenance Facility that will be located on Orlando International Airport property.
Brightline will announce the launch date for the start of introductory service between Fort Lauderdale and West Palm Beach soon. The company expects to become fully operational and extend service into downtown Miami in early 2018.