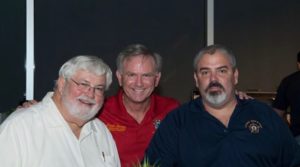 Sen. Jack Latvala is no longer a factor in Tallahassee; his resignation Wednesday sealed that, ending what accusers in two separate independent reports called "decades" of sexual harassment and quid pro quo coercion.
However, Jacksonville politics saw prominent players on both sides of the Latvala scandal – and those players will have to deal with each other in official capacities in 2018 and beyond.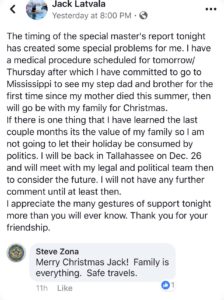 Just hours before Latvala resigned, local Fraternal Order of Police President Steve Zona — whose state union endorsed Latvala for Governor, and has yet to walk back the endorsement — wished Latvala well in his travels over the Holidays, after which Latvala was to confer his decision as to whether to step down from the Senate or not.
"Merry Christmas Jack! Family is everything. Safe travels," Zona posted to Latvala's personal Facebook page, a reply to a post bemoaning "special problems" created for Latvala by the special master's report.
The special master's report, made public Tuesday afternoon, found Latvala "on multiple occasions" offered to trade his vote for sex with a female lobbyist.
That report raised the possibility that law enforcement — ironic, given the FOP endorsement — should investigate the quid pro quo.
Of course, the special master's report wouldn't have happened in the first place had it not been for one brave whistleblower.
Rachel Perrin Rogers, a top legislative aide to future Senate President Sen. Wilton Simpson, charged Latvala of sexually harassing her and assaulting her over a period of years.
Rogers, of course, is the wife of Brian Hughes. And Hughes is poised to become Mayor Lenny Curry's chief of staff in January; he is not on the job yet.
In recent weeks, Hughes has unstintingly advocated for his wife — and for other women subject to ritual degradation in the process of doing their jobs — with the same intensity he once brought to advocating for political candidates.
His current pinned tweet: "I am more proud of my wife today than any one I've ever known. She has faced an all out assault on her character and integrity. She is a warrior for truth and should be celebrated for doing what others didn't have the courage to do. I love you RPR."
In the context of Zona's assertion that "family is everything," the potential conflict between Zona and Hughes here is obvious.
Florida Politics asked both men if they could work together in an official capacity as soon as next month.
"It's easy to separate personal life from business. I'm sure Brian can do the same," Zona asserted.
Hughes had an interesting response when told of Zona's comments.
"Hard to imagine law enforcement officers continuing to associate with a corrupt sociopath," Hughes said of Zona and Latvala, "but their choices won't influence my work for Mayor Curry."
Hughes was even more blistering on Twitter: "Defiant, sociopathic, serial abuser and 'likely' criminal piece of sh*t still attacks accusers and plays victim on his way out. But he's out, so good riddance."
When Hughes was in the political sphere handling communications for State Attorney Melissa Nelson in her 2016 campaign to replace Angela Corey, he and Zona clashed on occasion.
But those clashes were in the realm of primary election roughhousing. Corey was the darling of the police union; Hughes was undermining her case for re-election.
If "family is everything," one wonders what it will be like the first time Zona and Hughes look across a table and see each other in their official roles… perhaps at a collective bargaining session.
Will tensions cool? Will "personal life" be discrete from "business"?
Time will tell.