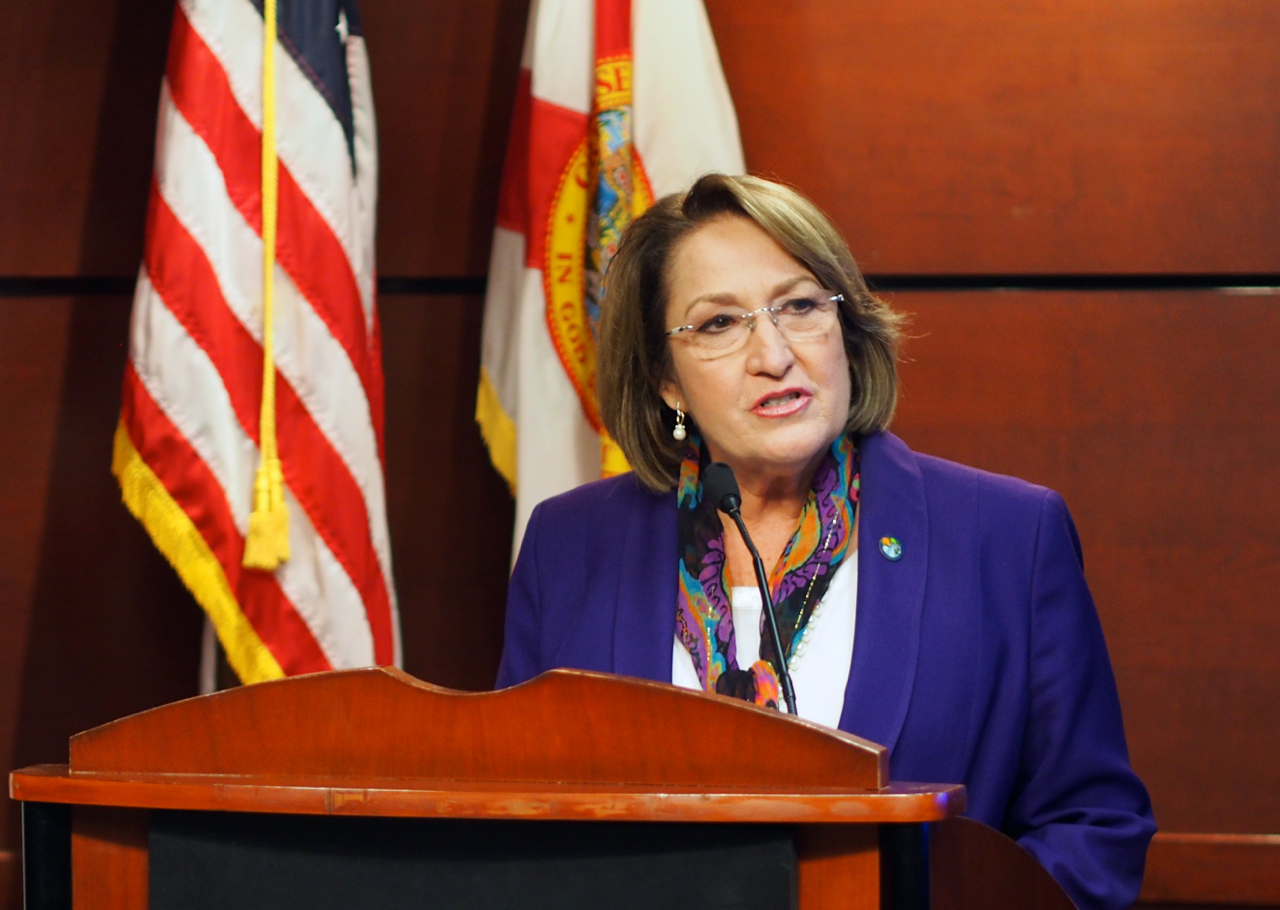 A three-year fight over non-partisan elections in Orange County may be headed for the Florida Supreme Court — with the prospect of affecting county elections throughout the state.
Orange County Mayor Teresa Jacobs announced Monday she wants the state's high court to consider whether Orange County — and other charter counties like it — can decide to make key county-wide elected offices such as sheriff, tax collector and property appraiser become non-partisan in elections.
Under Jacobs' direction, Orange County tried to do so, twice, with county-wide charter amendment elections in 2014 and '16. Both times voters overwhelmingly agreed with her effort to take partisan labels out of elections for those offices.
But the courts, most recently Florida's Fifth District Court of Appeals last month, held against the results of those charter amendment elections. The courts ruled that Orange County does not have the authority to take offices initially created as partisan-election offices by the state, and transform them into non-partisan, even by asking voters.
On Monday, in announcing she and Orange County were appealing to the Florida Supreme Court, Jacobs said she was pursuing "the will of the voters;" and also fighting for county rights, for Orange County and other charter counties that already have taken, or might wish to take, partisan divides out of county-office elections.
"What's at stake if we let that [appeals court] decision stand? Well, first and foremost, at stake is a very clear and decisive will of the [Orange  County] electorate, expressed by an overwhelming 70 percent, not once, but twice in the last three years, will not be honored, will not be upheld," Jacobs said. "Second, the citizens of Orange County and other counties in this district will have less rights of self government than all other charter counties in the state of Florida. How can that possibly be right?"
Her appeal is a bit of a gambit that could have statewide ramifications: There currently are several charter counties that have what Jacobs wants in Orange County. None of them, however, is in the jurisdiction of Florida's Fifth District Court of Appeals. If the Florida Supreme Court rules against her and upholds the lower courts' decisions against Orange County, the ruling could make law affecting all Florida counties.
Jacobs insisted, as she has all along, that she is not fighting a partisan battle. Rather, she has insisted she wants to ensure that county voters can fill county-wide offices without partisan races, which she insists makes local government less-partisan in its approach to both elections and day-to-day governing. In Orange, the mayor's office and those of county commissioners are non-partisan, as are municipal offices, school board offices and others. County-wide offices for sheriff, tax collector, property appraiser, clerk of courts, and supervisor of elections are partisan, typically pitting Democrats and Republicans in elections.
On Monday Jacobs also went to lengths to talk about the rising prominence of independent voters, who now make up more than 30 percent of the county's voting base. She insisted she is fighting to make sure voters don't have to consider parties when voting, something apparently more and more popular among voters.
Yet the fight has very real partisan overtones, and Jacobs' opponents insist it's been partisan from the beginning. Jacobs is Republican, and Republicans controlled both the County Commission and the Orange County Charter Review Commission when those boards decided to ask voters to make the county-wide offices non-partisan.
They did so during an era when Orange County Republicans are losing their voting base, and Democrats are gaining. Today the county's voter rolls are 42 percent Democrat, 31 percent independent or "other," and 27 percent Republican.
Before the questions could even appear on the ballot, first in 2014, then in 2016, Democrats in several of the affected offices, who saw the effort possibly as a Republican way to make them more vulnerable in future elections, sued to stop the charter amendment elections. When the charter-amendment elections went forward anyway, they continued to pursue the cases to overturn the results, contending the questions should never have appeared on the ballots. Specifically, Sheriff Jerry Demings, Tax Collector Scott Randolph, and Property Appraiser Rick Singh sued.
Randolph called Jacobs' decision Monday to appeal to the Supreme Court "a bad decision and a shame, just like when she appealed it the first time. I think we fully expect the Supreme Court to rule just like the other two courts have on that issue.
"Trust me, this has nothing to do, in her mind, with voters," Randolph alleged. "This is about protecting the Republican Party's chances of winning races in Orange County.
"But at the end of the day the charter amendment is unconstitutional. It should have never been put on the ballot in the first place. And at the end of the day, even the mayor has to follow the law," he continued.