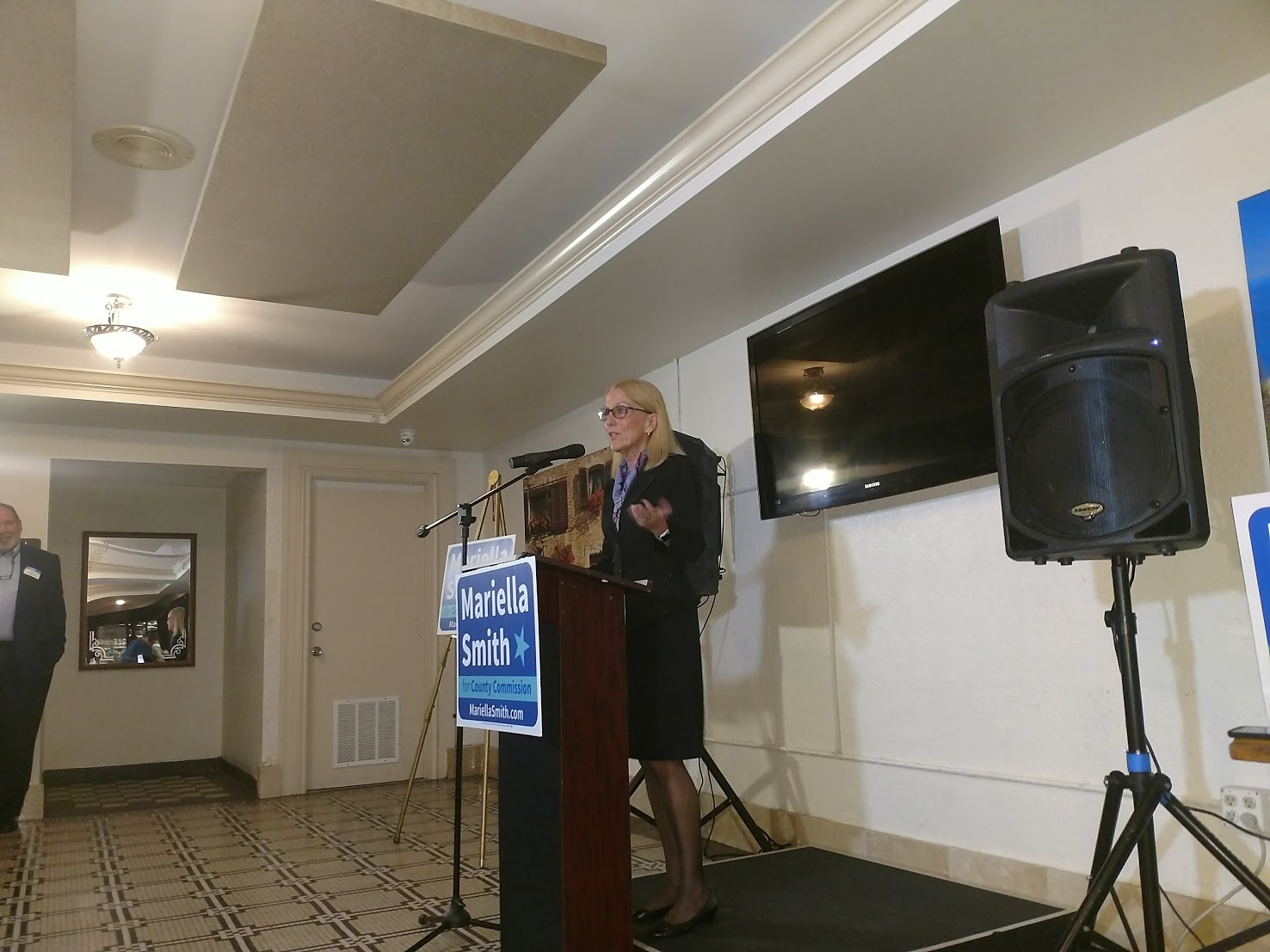 Five Democrats have already filed for the Hillsborough County Commission District 5 seat, but there's no doubt the Party establishment is putting all their chips behind community activist Mariella Smith.
Congresswoman Kathy Castor, former Education Commissioner Betty Castor and current County Commissioner Pat Kemp were part of Smith's kickoff event Tuesday night.
An audience of around 200 people filled the basement of the Italian Club in Ybor City to hear the Ruskin-based Democrat formally jump-start her first run for public office.
"I'll be a commissioner who works for the citizens and not corporate cronies," Smith said to cheers (while acknowledging she doesn't even have corporate cronies). She added her campaign would be a battle between a grassroots candidate against a "corporate-backed politician."
That last bit was a nod to Victor Crist, the most prominent Republican name to enter the race, which is considered an open seat.
Crist said the comment is "untruthful and deceptive" saying that his career has been spent operating an advertising agency for the past 35 years. He calls his 25 years in public office in the state Legislature and county commission his "passion."
Term-limited in his current District 2 seat, Crist is now hoping for another four (or eight) years on the board in District 5, where his only Republican competition is Tea Party activist Tim Curtis.
The District 5 incumbent, Ken Hagan, is also term-limited, which is why he intends to also extend his political career with another run for the northern Hillsborough District 2, a seat he formally held from 2002-2010.
As for switching of seats between the two Republicans, Smith said it was "time to stop the musical chairs of career politicians who are more interested in deals for special interests than in serving us citizens."
Crist pushes back on that as well, saying he never heard Smith complain when Democrats like Jan Platt moved from a single district to a countywide seat.
As a two-decade community activist, Smith said she'd learned plenty about zoning, the county's comprehensive plan, the urban service boundaries, its transportation plan and its environmental resources. Smith declared she's now "ready to take that hard earned knowledge and experience and put it into work on the county commission working for us citizens."
Smith says that one distinct difference between her and Crist is how she would have handled the Confederate monument decision.
Crist was one of four Republicans on the board to initially vote to keep the monument in place, a surprise decision in comparison to what other communities in the South have decided on the controversial artifacts from the Civil War. The vote made national headlines, and the board chose to reverse its position and month later by voting to remove it (a vote that Crist did not cast as he was out of the state at the time).
In August, commissioners then reversed themselves once again, voting to keep the monument in place if the private sector couldn't come up with half the costs ($140,000) for moving it to a Brandon cemetery.
Citizens, joined by the business community, rallied to raise that money in less than 24 hours.
Smith blasted Crist's role in the monument debacle.
"I think he made a mess of the Confederate monument," Smith said Tuesday. "Rather than  leading the community to a resolution, he fostered and churned up more divisiveness than needed to be by first voting against it and then bringing up a ridiculous idea of the mural and another statue."
Initially voting to keep the monument, Crist also proposed the board pay for another memorial, located behind the controversial statue, that would highlight the diversity in Hillsborough County. That plan never got off the ground.
"They just kept opening up the wounds," Smith said of the monthslong saga. "That was poor leadership."
"She is certainly entitled to her opinion, as incorrect and unfactual as it may be," Crist responded. "It is obvious that she lacks the skill, knowledge and experience to handle the explosive, divisive and dangerous issues to make those kinds of comments."
Crist added that he accurately predicted during the board's third vote on the issue that the private sector would raise the necessary funds within 24 hours. "That's because I had already made phone calls and already knew in advance that the private sector was ready to step up to the plate and cover the tab." He went on to say that the board handled the issue "extremely well, and brought this entire issue to an end, and we did it safely."
Smith still has a long way to become the party's nominee, however. Mark Nash, Jae Passmore, Elvis Pigott and Corey Reynolds are also Democrats vying to compete in November.
What those candidates don't have, however, is the star power of Congresswoman Kathy Castor and her mother Betty in their corner.
"I think her strong views on planning, land growth and on environmental issues and the fact that she's come up through the grassroots and has a lot of support in South County, I think that's good," said Betty Castor, who became the first female elected to the Hillsborough Board of County Commissioners in 1972.
"There is no one like Mariella that I know that is more qualified, has a bigger heart and is more determined to make things right here in Hillsborough County, " said Kathy Castor, adding that she leaned on Smith to educate her on some issues back when she served on the board more than a decade ago.
It is a countywide seat, and Hillsborough is a large county, Kathy Castor told the audience.
"It's time to start having events, organizing them all across the county with your friends from New Tampa to Citrus Park to Westchase to South Tampa to Dover," she said. "They need to meet her. They need to contribute to her. You've gotta walk door to door, and you've gotta write checks. This is a big county and to get the message out without the Tampa Tribune anymore, people not reading the newspaper like they used to. It's time to have a little shoe leather."
Smith even received a quasi-endorsement (of sorts) from one of her opponents.
"I like Mariella, and if she were to beat me in this race, I think she could do a good job. I respect her for the work she's done, and if she beats me, she beats me," said activist George Niemann, who is running as a write-in candidate in District 5.
Democratic activist Shelley Reback is running Smith's campaign. She's worked on previous countywide runs with Kemp and Mary Mulhern, and says several other people have campaign experience helping right now.
At some point, Reback said the campaign could decide to bring in someone with more professional experience, but everything in the early going appears to be working pretty well.
Smith says if the election this fall is between her and Crist, it will be a "David vs. Goliath fight."
"Which is my favorite kind of fight," she said in her concluding remarks. "Many of you have worked with me on many David vs. Goliath fights. If I'm your county commissioner, we're going to win a lot more."