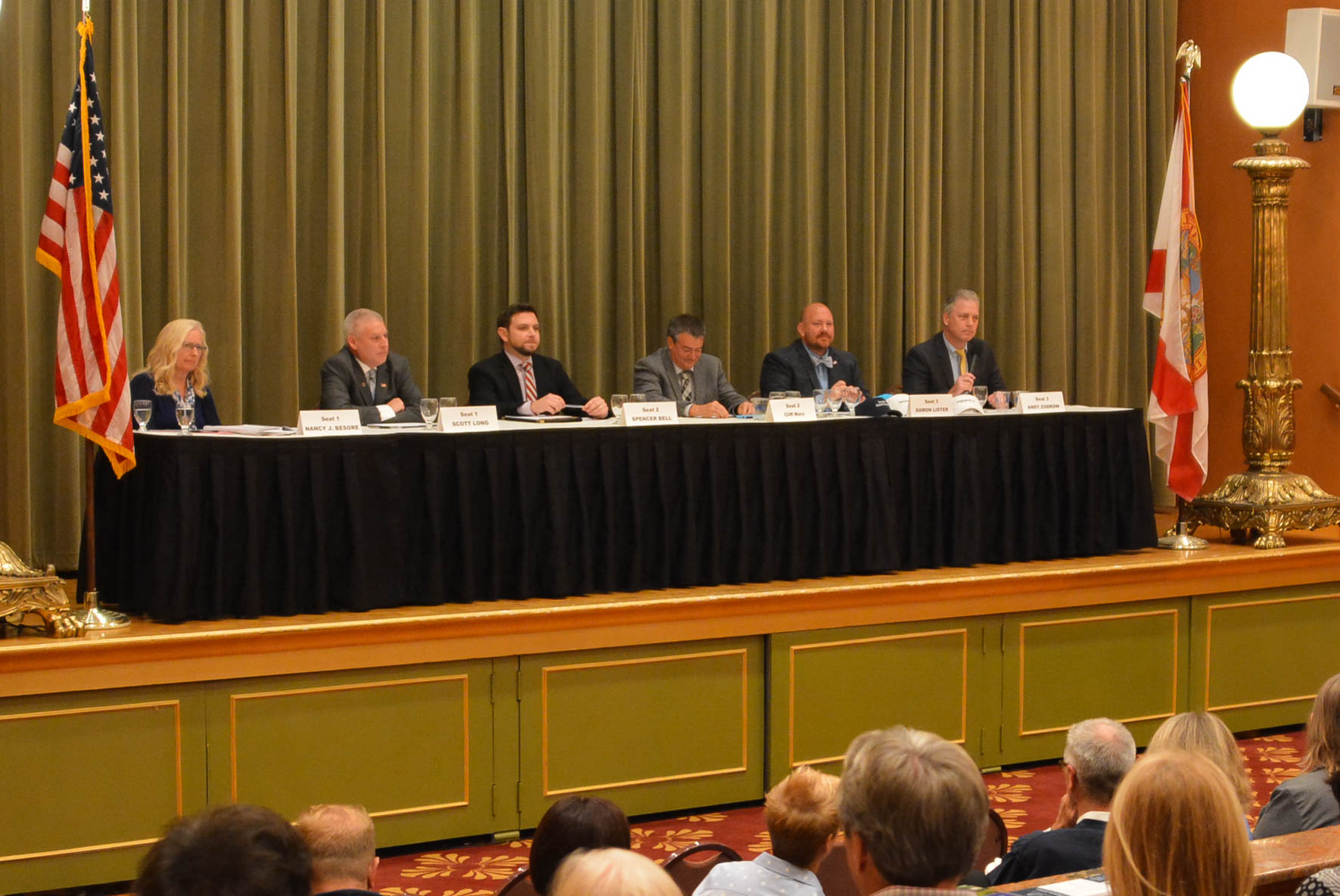 Six candidates vying for three open Safety Harbor City Commission seats March 13, had the opportunity to present their views on to the public Thursday night during a candidate forum at the Safety Harbor Resort and Spa.
The large field led to a change of venue as well as a tweak to the traditional question and answer format, which saw the two opponents for each seat answering one question before the moderators from the League of Women Voters of North Pinellas County moved on to another.
The result was a well-run yet somewhat choppy event that allowed each candidate to speak in two-minute bites about the issues affecting the city today, including parking, downtown development and the future of the Waterfront Park.
"I got to know the candidates, for sure," resident Natalie Barone said after the two-hour event, which was held in the Spa's spacious Baranoff Theater.
"With an event like this, you get to know their strengths and weaknesses, and I want somebody who is going to have the best interests of all of Safety Harbor in mind, not just the people who vote for them."
The evening kicked off with each candidate making an opening statement, and then the questions came flying.
With the moderators flipping signs that read "1:00" and "STOP" at the candidates to help keep them on track, each contender had the opportunity to express their thoughts and beliefs about how the city should be managed moving forward.
Many questions dealt with economic development, including the possible creation of an economic development director position.
"This is a critical issue and it's something we're going to have to look at very hard during the upcoming budget process," Seat 1 incumbent Scott Long said.
He noted the city worked on five site plans in the last year—more than the past five years combined—and they had 30 permit requests in one day recently, creating an extra burden on city staff and employees.
"A lot of growth is happening, and that means we do need to add staffing to handle it, or be creative in how we do it," Long added.
However, Long's opponent, Nancy Besore, said she wasn't in favor of spending a reported $100,000 to hire a full-time EDD.
"That salary was going to represent, if we got it, a third of the pay raise for the entire city staff and employees," she said.
Parking, or the perceived lack of it downtown, was also a hot topic, with Seat 3 candidate Damon Lister saying he doesn't believe there is a parking problem.
"I think the parking question is one of perception," Lister said. "It's a couple days a year challenge in our city.
"I don't think we have a parking problem, he added, noting he recently reached out to local school officials about operating shuttles from their lots during some special events. "I think we need to be walking more, I think we need to be riding bikes more."
While the forum was mostly full of facts, opinions and political-speak, there was one humorous moment when Seat 3 incumbent Andy Zodrow, an environmental attorney, was asked a question about trimming mangroves.
"I'd be happy to comment on that. That's what I've been dealing with for, literally, 25 years," Zodrow replied.
When it came time for his opponent to respond, Lister got off this quip.
"OK, so Andy, he's a mangrove expert," he said to a round of laughs and applause. "I am not!"
The forum wrapped up with closing statements, with each candidate making their pitch for why they should be elected.
Longtime Seat 2 incumbent Cliff Merz said he has interacted with many residents over his six years in office, and he hopes to continue serving the community after Election Day.
"I take this position very seriously, and I look forward to continuing to work alongside my fellow commissioners in addressing the ever-changing needs of the city," he said.
His opponent, Spencer Bell, a newcomer to the local scene with a long history of contributing to other campaigns, urged everyone to vote and participate in the process.
"I, myself have worked everywhere from the U.S. House of Representatives to the state to local level and down," he said. "I know that everybody can feel disenfranchised about the system. But's that's why you must stay engaged, you must vote, you must come out you must get the change that you require, that you want, that you need."
"With that being said, I hope that I am the individual that you choose to represent you."
After the event, Bell spoke about his first foray into the Safety Harbor political scene.
"I think it went well," the 33-year-old said. "It feels better not having to hold an opinion back or cater to a platform you're representing. I've been in front of five thousand people before, but I was regurgitating information about someone else that's been given to me. To be able to think of my own responses is refreshing and scary."
Safety Harbor Mayor Joe Ayoub also weighed in on the proceedings.
"It was great to see such a good turnout," Ayoub said.
"I enjoyed hearing everyone's thoughts on the issues and I thought there were a lot of good ideas that were presented."