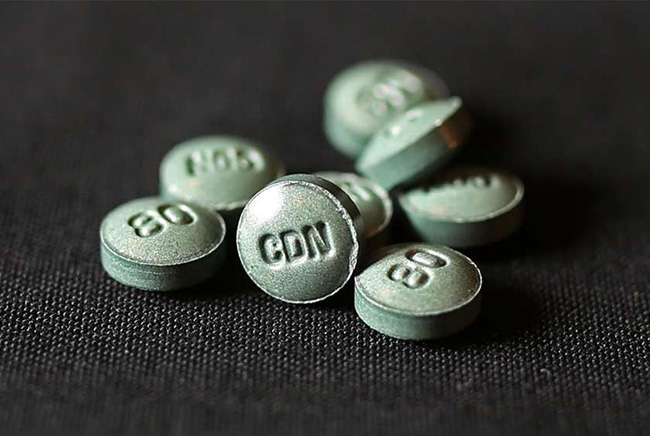 People with cancer or terminal illnesses and certain trauma patients would be exempted from opioid-prescription limits being considered by lawmakers, under a bill approved Wednesday by a House health-care panel.
Members of the House Health & Human Services Committee unanimously approved the bill (HB 21) after tagging on a 161-page amendment. Bill sponsor Jim Boyd, a Bradenton Republican, said he worked with the Senate and Gov. Rick Scott's office for the past three weeks on the amendment.
The amended bill would limit to three days opioid prescriptions for patients suffering from "acute pain," which is defined as the "normal, predicted, physiological, and time-limited response to an adverse chemical, thermal, or mechanical stimulus associated with surgery, trauma, or acute illness."
Physicians could prescribe up to seven-day opioid supplies if they determine three days would be inadequate. They would be required to write "acute pain exception" on the prescriptions.
Unlike an earlier version of the bill, the latest iteration includes exemptions from the limits for cancer patients, people who are terminally ill and those who are receiving palliative care. Trauma patients who meet certain criteria for severity of injuries also would be exempt from the limits.
Despite the changes, the bill continued to face concerns from doctors.
Florida Orthopaedic Society lobbyist Toni Large said orthopedic surgeons are aware of opioid abuse problems but maintain that the proposed fix goes "a step too far."
Large said the House proposal would exempt certain trauma patients from the restrictions but wouldn't provide a similar exemption for people who undergo scheduled "major surgery."
"My orthopedic surgeons want you all to understand that when you go back after this bill passes that you are going to have patients and loved ones and constituents that we are no longer going be able to effectively manage their pain," Large told the House committee. "And we don't want you to vote on this bill today without us getting that message across."
She also warned that requiring patients to go back to surgeons after seven days to get additional prescriptions could make it more difficult to see orthopedic surgeons.
"It's hard for many of you sitting here to get an appointment with your orthopedic surgeon today, it's going to be twice as hard after this bill is passed," she said.
While the bill passed unanimously, several members of the committee had concerns with parts of the amendment.
Rep. Gayle Harrell, a Stuart Republican, said she was worried about the lack of an exemption for patients who have undergone surgery. She told the committee that if her husband would have been required to revisit the surgeon seven days following a procedure, she "would have had to get an ambulance."
With the annual Legislative Session slated to end March 9, lawmakers and Scott have been trying to reach agreement on a plan to help stem an opioid epidemic that has led to widespread overdoses. Legislative proposals largely focus on trying to prevent addiction to prescribed painkillers, which can lead to people taking street drugs such as heroin and fentanyl.
The House bill would require every physician registered with the U.S. Drug Enforcement Administration and authorized to prescribe controlled substances to take a two-hour continuing education course.
Rep. Cary Pigman, an Avon Park Republican who is a physician, said the requirement was so broad that it would impact the 44,000 physicians who are licensed in the state.
Pigman also noted that the bill was specific about which organizations could offer the continuing education requirements.
Boyd said that only the Florida Medical Association and the Florida Osteopathic Medical Association would qualify to offer the courses under the amendment. Pigman, who has been at odds with the Florida Medical Association in the past for his support of bills that would increase the scope of practice for nurses, asked about the fiscal impact on physicians who would have to take the class every other year.
Pigman, who has taken continuing education courses from the organizations in the past, suggested that the associations charge members $100 for such courses and non-members $200.
"What we are saying is (the associations) will get revenue of $4.4 million to $8.8 million every two years, which is probably why they support this bill. So when we vote for it with this piece in it, that's what we are voting for," Pigman said.
Boyd denied that any "deal' was made with either of the associations.
"This whole process is give and take, and those are things we just kind of negotiate along the way," Boyd said. "It's something that made sense to us when we did it."
Florida Medical Association General Counsel Jeff Scott called Pigman's assertions "absurd."
"We have significant concerns with the bill," Scott said adding that the organization believes the Legislature should address the opioid "crisis" but has concerns with the limitations being imposed.
Moreover, Scott said, despite Boyd's comments, other medical groups qualify to offer the course.
As for Pigman's claims about upward of $8.8 million in revenues, Scott said, "Pigman can do math all day long. He has no idea what's going to be charged. We don't either. We just saw the amendment, so we haven't contemplated that."