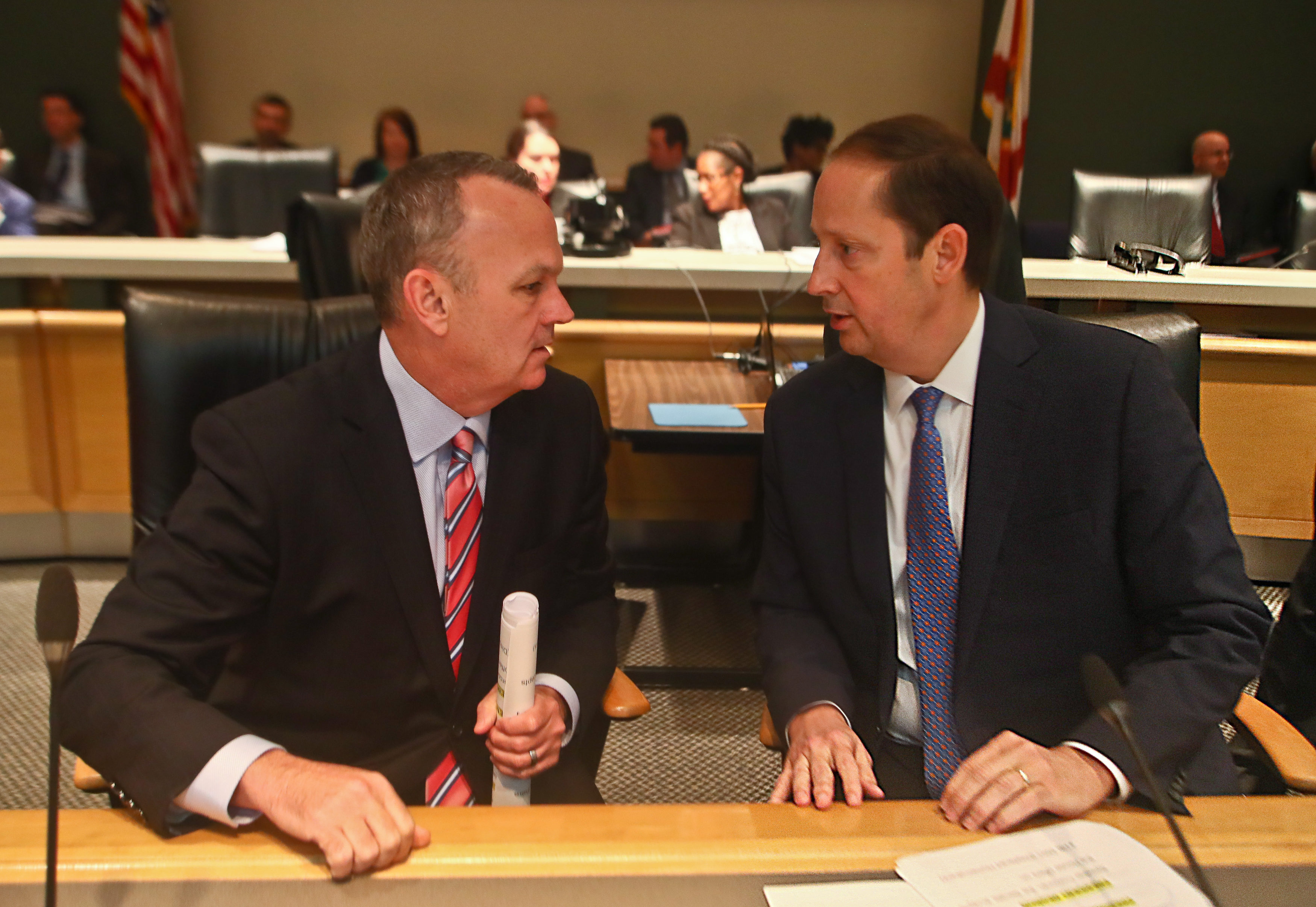 House Speaker Richard Corcoran and Senate President Joe Negron on Friday released what they called a "sweeping new school safety reform package."
"I was moved by my conversations with some truly brave and remarkable students this week," Corcoran, a Land o' Lakes Republican, said in a statement. "Their commitment to ensuring no school ever endures another tragedy is inspirational.
"The school safety reform package we introduce today is a game changer. We bring consistency to firearms law, invest heavily in early detection and mental heath, bring common sense protections to our schools, and learn lessons from past mistakes to fix going forward.
"I want to thank the young people of Marjory Stoneman Douglas High School as well as many of our Democratic colleagues for their courage and good faith in this vital work."
Added Negron, a Stuart Republican: "It has been one week since I visited Stoneman Douglas High School, but the scene of horror that we viewed was so troubling, it feels like we were there earlier today. I cannot imagine how those who survived the attack must feel as they face the vivid memories of that day.
"Earlier this week, I had the opportunity to celebrate the life of Peter Wang and to learn about his hopes and dreams to one day serve our country as a member of the United States Army," he added. "Those dreams, and the hopes and dreams of each person senselessly murdered last week will never be realized because of the criminal acts of one person.
"Nothing we will do in the Legislature will fill the void created in the families of the victims, their school, or their community, but we can honor their memory by taking the appropriate steps at the federal, state and local levels to help reduce the chance that a tragedy like this could ever happen again."
Here are highlights of the legislative response to the Parkland shooting:
School Safety
— Improve school security capabilities through additional school resource and security officers, school hardening, programs.
— Establish safe school and security standards, review school safety and security plans, implement a school safety specialist training program, and update risk assessment procedures.
— Require training for school safety specialists as well as students and faculty.
— Require emergency drills for active shooter and hostage situations involving students, school personnel, and law enforcement experts.
— A "marshal" program to enhance safety and security in schools through the use of law enforcement trained and screened school personnel who function as part of school security teams.
Firearm Safety
— Establish new restrictions on purchase and ownership of firearms (all types).
— Increase the minimum age for purchasing a firearm to 21 years except for persons in law enforcement and active military personnel.
— Establish a 3-day waiting period for purchase of firearms except for concealed weapons permit holders or persons who complete a 16-hour hunter safety course approved by the Fish and Wildlife Commission. Provides time for criminal history checks.
— Ban bump stocks.
— Enhance restrictions for persons subject to involuntary examination and commitment (Baker Act).
— Provide law enforcement and the court with the tools to enhance public safety by temporarily restricting firearm possession by person who is undergoing a mental health crisis and when there is evidence of a threat of violence.
— Prohibit a person adjudicated mentally defective or committed to a mental institution from owning or purchasing a firearm or obtaining concealed weapon license. (Current law prohibits purchase, but does not limit possession.)
Mental Health
— Improve responses to students presenting a danger to themselves or others.
— Codify and enhance the activities of the multiagency network for students with emotional and behavioral disabilities (SEDNET).
— Require each school district to designate a school safety specialist and each school to establish a threat assessment team to provide a coordinated approach to evaluating and responding to students who pose a threat of violence.
— Remove barriers preventing school district and law enforcement authorities from referring students appropriately to mental health services or law enforcement.
Last updated on February 23, 2018