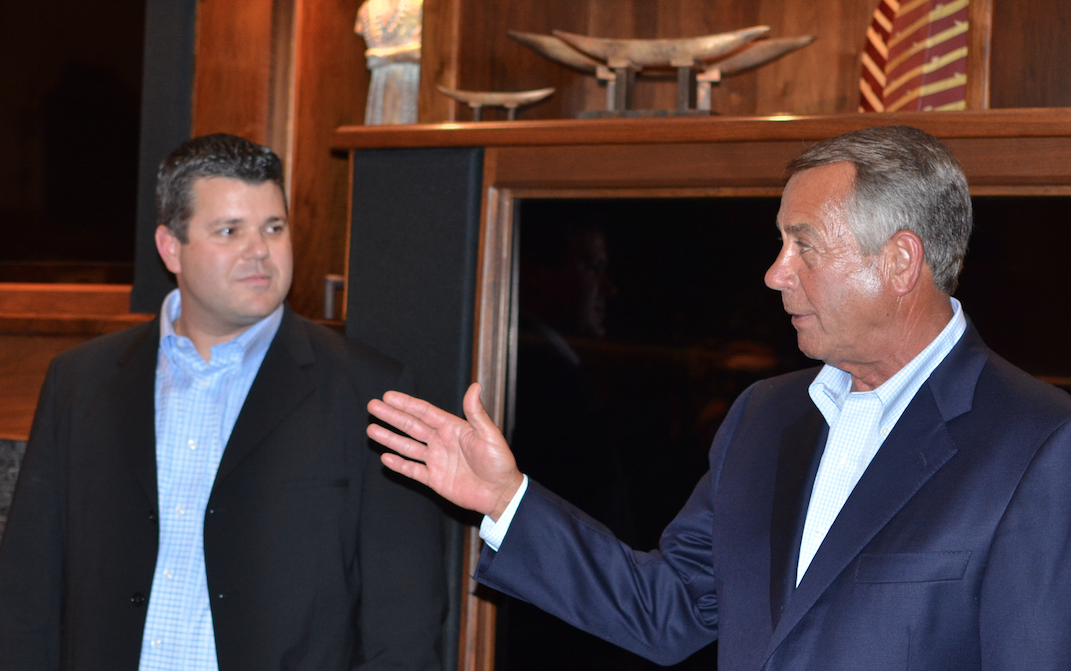 Congressional candidate Scott Sturgill and picked up an endorsement from former U.S. House Speaker John Boehner during a March 1 campaign fundraiser.
The ex-politician promised to keep his endorsement short, telling the crowd at the event "as Elizabeth Taylor told her fifth husband, 'don't worry honey, I won't be here long.'"
The former Ohio congressman then outlined his support for Sturgill, who is running for Florida's 7th Congressional District. The Central Florida seat is currently held by freshman Democratic U.S. Rep. Stephanie Murphy, but Republicans are aiming for a flip in the fall.
"Scotty was a big help to me when I was trying to become speaker of the House back in '09, '10, and was there during my time as Speaker helping me do what I needed to do to raise money to re-elect a Republican majority," Boehner said.
"And so, when Scotty and I ran into each other and he told me he was running for Congress, I went 'WHAT!'"
"I think you had a few other adjectives," Sturgill joked.
"I'm here tonight because Scotty's a great guy, and I just want to say this: Elections are won and lost not based on what the polls say, not based on anything else other than who shows up to vote and how they vote," Boehner said.
Boehner then recounted his longshot first campaign for Congress, and encouraged the crowd to open up their pocket books to give Sturgill a boost in the CD 7 Republican Primary, where he faces state Rep. Mike Miller as well as Patrick Weingart and Vennia Francois.
"The best way for him to win is to clear out the field," Boehner said. "If he raises enough money, these other people will just go away. So, I would just urge all of you to step up and write the big check, get on with it, cause you're going to do it sooner or later."
Also attending the fundraiser were former U.S. Rep. Sandy Adams, Seminole County Republican State Committeewoman Susie Dolan and businessman and philanthropist David Maus.
Sturgill leads his primary opponents in the money race as of the end of 2017. His year-end report showed about $309,000 raised and $266,000 on hand compared to $220,000 raised and $185,000 on hand for Miller. Weingart and Francois have not yet filed their first campaign finance reports.
Murphy leads the overall field with $1.36 million raised and $973,000 on hand. Her primary challenger, Chardo Richardson had $8,700 in the bank at the start of the year.
Video of Boehner's endorsement is below.