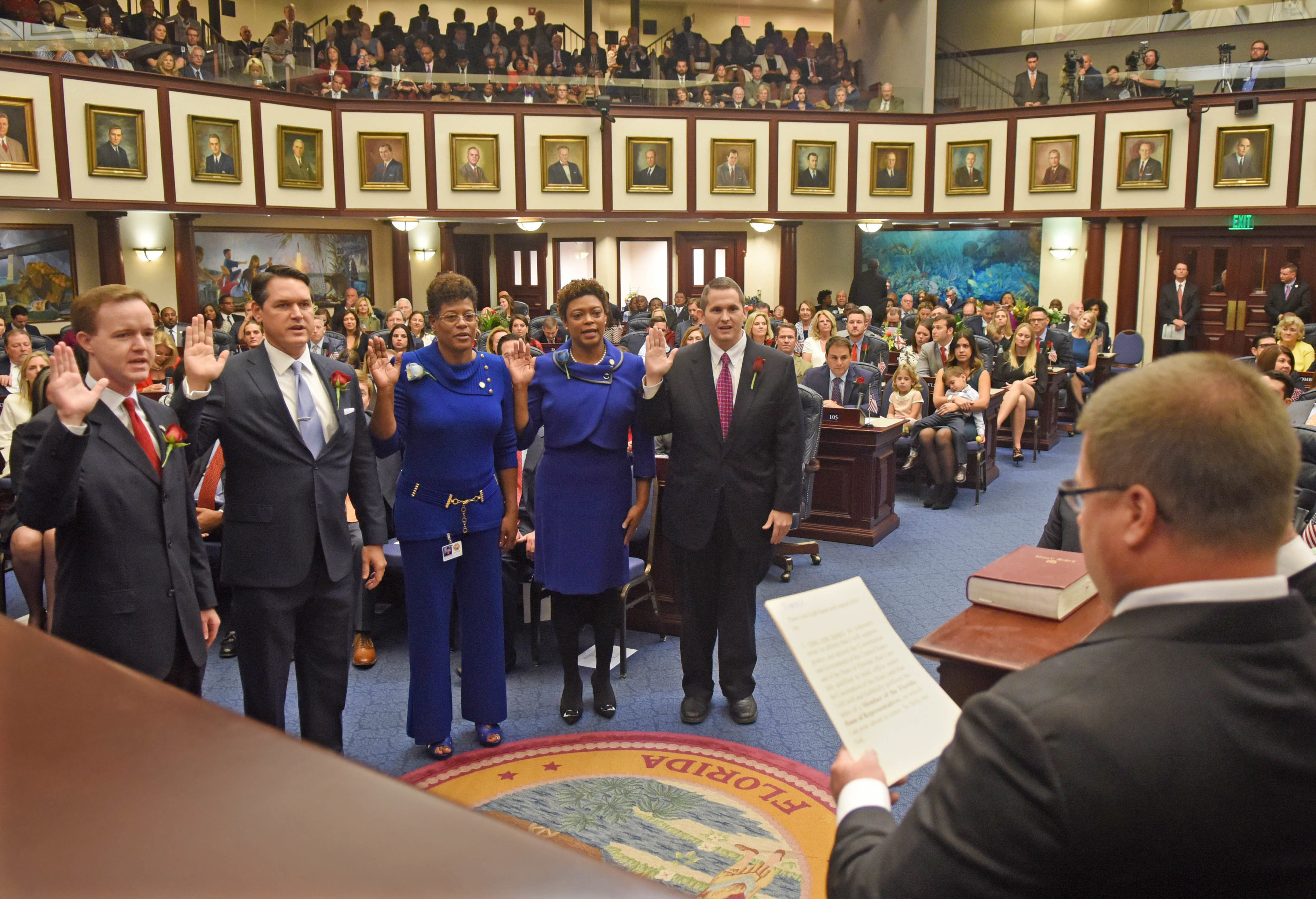 Wednesday saw HB 7026 pass the Florida House by a 67-50 margin.
The $400 million gun and school safety proposal will fund demolition of a building at Marjory Stoneman Douglas High School in Parkland, where 14 students and three teachers were gunned down on Valentine's Day. It also includes gun-control provisions banning the sale of bump stocks and raising the legal age to buy an assault rifle from 18 to 21.
The bill passed in spite of a lack of support from the Duval delegation; in fact, only Rep. Kim Daniels, a Democrat, voted for the measure.
Meanwhile, Democrat Tracie Davis opposed the bill, as did Republicans Cord Byrd, Clay Yarborough, Jay Fant, and Jason Fischer.
Davis opposed the bill for different reasons than the Republicans.
"Each and every day, black and brown boys and girls face the threat of gun violence whenever they leave their homes," Davis said.
"This issue affects our communities in a way that some in this chamber will never understand," she added, "while we are having this debate, I ask that we keep their lives in mind, their futures in mind, their dreams in mind, because too often, this Legislature has not."
The Republican opposition to the bill was rooted in what legislators saw as abrogations of constitutional rights.
Byrd, an attorney with a deep interest in gun issues, asserted that he "could not vote for legislation that has serious constitutional infirmities infringing upon the Second, Fourth and Fifth Amendments."
"The gun control measures in SB 7026 would not have prevented the Parkland tragedy. The desire to 'do something' cannot serve as the rationale to infringe upon the rights of law-abiding 18-20-year-olds," Byrd asserted, adding that he backs the extra funding "to improve our mental health system, harden our schools and increase the presence of school resource officers."
Yarborough "could not support it because concerns in the legislation outweigh what is good about it," he said, though like Byrd he will be "voting in favor of our budget as it will contain funding for school security measures as well as mental health provisions that I hope will stop the next person who wants to terrorize our schools."
Fant, running as the most Second Amendment-friendly candidate in the Attorney General race, likewise was a hard no: "We can protect our students without taking away the rights of law-abiding citizens. ‬When I'm AG, I won't make 'judgement calls' on your Constitutional rights – I'll defend and protect them in every scenario."‬
Meanwhile, Rep. Paul Renner of Palm Coast — a legislator with deep Duval ties, who lost a primary to Fant by just two votes in 2014 — went with Speaker Richard Corcoran and voted for the bill.
"This bill represents a bipartisan effort that focuses on bolstering school safety, increasing funding for mental health, and denying dangerous individuals the means to harm others. Public safety is government's first priority. The Florida Legislature delivered on thoughtful and responsible reforms to promote public safety and ensure that the tragedy at Marjory Stoneman Douglas High School will never happen again," Renner asserted.
Material from Florida Politics' James Rosica was used in this post.