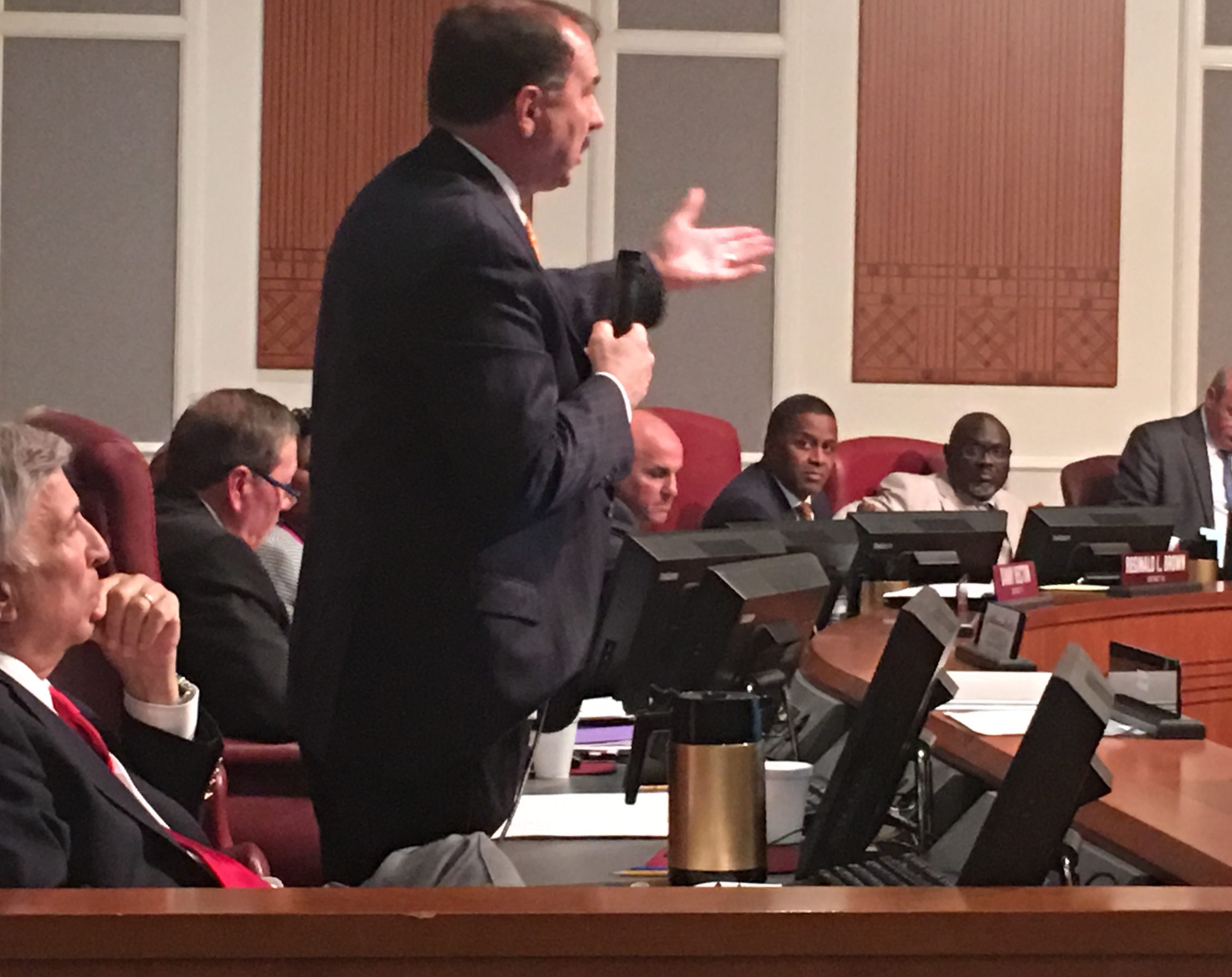 The Jacksonville City Council voted Tuesday evening to maintain the JEA Special committee, but not until after a heated debate that exposed historic fissures and spoke to the eternal struggle between the Council President and the Mayor's allies.
After a compromise motion to kill the committee's subpoena power failed after a reconsidered vote, the Council backed its President by a 10-9 vote and kept its JEA Committee … with a subpoena looming over JEA CEO Paul McElroy Thursday.
The subpoena is still valid. But McElroy will not have to be under oath. And if McElroy no-shows, he can't be re-subpoenaed.
Then, after that motion failed, came a proposal via Council VP Aaron Bowman to expand the committee to a full 19 person committee, removing subpoena power and the oath requirement.
That motion passed.
Here's how they got there.
_____
Councilman Matt Schellenberg, a committee opponent, floated a motion to get a majority vote and shut the panel down. Schellenberg, the Council liaison to JEA, felt "disenfranchised" by not being on the committee, and thought subpoenas and other mechanics of the committee were "unnecessary political games."
Schellenberg also contended that the pitched politics of the committee were devaluing JEA and putting the utility's bond rating at risk.
"I hereby move to terminate the special committee," Schellenberg said, dropping the mike.
Councilman Bill Gulliford, an ally of the Mayor Lenny Curry administration and no friend of Council President Brosche, seconded the motion.
"We've tasked a five-member committee with this significant issue," Gulliford groused. "The most regrettable part of this is we don't have all the facts … [regarding] deregulation, revenue projections going downward … these are all factors that should be considered."
Now that five-person panel won't be a worry.
____
Other Council members had different takes.
Councilman Tommy Hazouri noted that the question of selling JEA would have to be "decided sooner or later, or maybe never. Until [there's] legislation, why are we sitting here battling windmills," Hazouri asked rhetorically. "This bickering's got to stop. It doesn't help us; it doesn't help the mayor's office."
"You chose that, Madame President? I would vote with Councilman Schellenberg," Hazouri said, opening up an old animus with Brosche.
Councilman Jim Love said he'd introduce a resolution "saying we want to keep JEA," urging the end of the special committee also.
"Why are we looking at this? I say we stop it," Love said. [Councilman Reggie Gaffney said he'd support the bill, as representatives from the mayor's office looked on impassively. Soon after that, John Crescimbeni got a city lawyer to announce a resolution was essentially meaningless.]
Crescimbeni took the mike, responding pointedly to Hazouri and Love, noting that a special committee doesn't mean there needs to be legislation.
"In my inbox, I haven't gotten any email saying 'there's nothing strange going on in Jacksonville. It's perfectly normal' … when you run for re-election, you're going to get questions about why you pulled the plug," Crescimbeni thundered.
Councilman Garrett Dennis said: "The last three years on Council, we have deferred our authority to the executive branch, and that is wrong."
"I believe this will be on every forum, every candidate questionnaire," he continued. "To try to kill [this] is wrong, a slap to the citizens' face."
Then Dennis defended subpoenas, as a reaction to people "not wanting to take the oath," before saying that opponents of the committee were "on the wrong side of history."
The back and forth continued on the propriety of killing the committee. Councilman Danny Becton, a committee member, said the panel had "shifted its focus to fact-finding" rather than political squabbles.
As Becton said that the school board would not get more money if the utility were privatized, Jacksonville CFO Mike Weinstein said "that's not true at all" from his seat in the front section of the auditorium.
____
Council President Anna Brosche called the timing of Schellenberg's motion "ironic," given it seemed reactive to the subpoena of JEA CEO Paul McElroy for Thursday's meeting.
"He didn't take the oath. He wasn't comfortable for whatever reason," Brosche said.
Brosche defended the committee's actions in toto, noting that discussions of JEA sale have recurred over the years.
"We've had a history of big decisions where there's nothing to see, and BOOM, a decision has to be made very quickly. I wasn't going to put us in that position," Brosche said, opposing the motion to kill the committee.
Gulliford fired back, repeating his points about how the committee "started off badly" and calling for a committee of a whole … a concept that Councilman Al Ferraro backed, saying it was time for a "reset."
"I think this committee has gone in a different direction than what was stated … I'm going to support [the motion]," Ferraro, an ally of the Mayor's Office, said.
Council VP Aaron Bowman, who has 13 pledges for his bid for the top job, noted that there could be positives and negatives to a sale.
"We started off with a board at JEA saying they're going to take a look at it," Bowman said, "and we've jumped in the middle of it."
Bowman believes the process will be a long one and urged killing the committee.
Dennis tried again to thwart opponents to the committee, saying he "would not let anyone steal JEA and our kids' future." Councilwoman Katrina Brown questioned the motives of those who would kill the committee.
"I think it's unfair to come tonight and say you want me to vote to disband the committee," Brown said.
____
Councilwoman Lori Boyer railed against the "inconsistency after inconsistency" in the debate, saying that there are issues with "giving up the opportunity to gather facts," and floated her ultimately doomed substitute motion revoking the subpoena power of the committee.
"I think it's important to gather the facts," Boyer said, saying she would support Love's no-sale resolution.
Schellenberg objected, saying the five-person committee didn't reflect the Council, and calling for a committee of the whole; Boyer fired back, saying that she was allowed to speak at the committee, which doesn't "preclude our participation."
In the end, the Boyer motion failed.
And so did the motion to kill the committee.
Each by one vote.
____
The motion to expand the committee to 19 led to a vociferous objection from Dennis, who said: "Why not make every committee a committee of a whole?"
Councilwoman Joyce Morgan also objected on similar grounds to what she voiced earlier in the evening.
"This is no longer reasonable. If you want to be on the committee, come," Morgan said.
These objections were for naught. At long last, those who objected to the five-person JEA junta found their way to destroy it.
____
The drama went beyond the 19-person Council. Between agenda and the council meeting, JEA Special Committee head Crescimbeni had an animated conversation with Curry's chief administrative officer, Sam Mousa. That ended when Curry's Chief of Staff Brian Hughes let Mousa know the Mayor was on the phone.