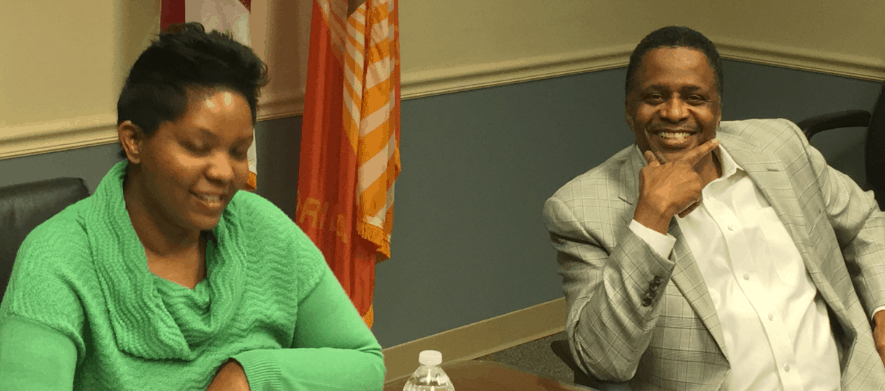 Less than a week ago, Gov. Rick Scott suspended two Jacksonville City Council members who face 38 federal counts in a scheme to defraud local and federal taxpayers.
That suspension created two vacancies that, as of Friday afternoon, have 29 applicants.
The replacements for suspended Democrats Katrina Brown and Reggie Brown will be picked by Scott. They would serve until/unless the individual Council members are exonerated, or the installation of 2019 electeds on July 1 — whichever comes first.
And, as of Friday afternoon, what was clear was that Scott will have a lot of candidates from which to select.
The list: Darrin Williams, Terrance Brisbane, Brenda Priestly Jackson, Ju'coby Pittman, Tameka Holly, Celestine Mills, Terry Fields, Angela Nixon, Christopher Pendleton, Jean Tranquille, Randolph Hall, Charles Barr, James Greiner, Keshan Chambliss, Rahman Johnson, Clarence James, Dwight Brisbane, Niki Brunson, Ralph Chavers, Cornelius Cox, Theresa Graham, King Holzendorf, Kevin Monroe, Latangie Williams, Chandra Griffin, Charles Barr, Ralph Chavers and Pat Lockett-Felder.
A number of these candidates are familiar to Jacksonville political watchers.
Priestly-Jackson was a former School Board chair. Pittman: a former 2015 Council candidate. Holly: a current candidate in District 8. Mills: a past and present candidate in District 10.
Fields was a former state Representative and a 2015 City Council candidate. Nixon: a well-known political operative for Democratic candidates. Johnson: a former Soil and Water board member.
Brisbane: an operative/consultant. Brunson and Graham: former candidates for Council. Monroe: current candidate for Council in District 10.
Lockett-Felder, who lost narrowly to Katrina Brown in District 8's 2015 race, was the biggest name candidate to indicate interest Friday, as part of a group of six new hopefuls.
Expect more names to show interest; the Governor's Office is still accepting applications.