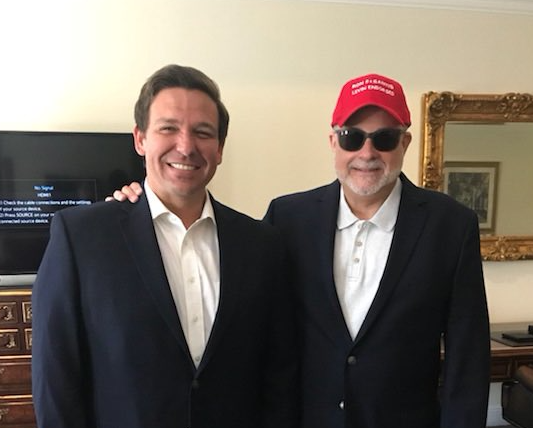 Gubernatorial candidate Ron DeSantis on Saturday added Fox News personality Mark Levin to the list of conservative commentators campaigning on his behalf.
On Saturday, Levin spoke at a campaign event for DeSantis in Jupiter.
"Ron DeSantis didn't ask me to campaign for him," he told a crowd gathered at the Trump National Golf Club. "I asked Ron DeSantis if I could campaign for him."
DeSantis, a Ponte Verde Republican Congressman, has appeared as a guest on Levin's Sunday show "Life, Liberty & Levin" on Fox News, most recently June 10.
During his speech, Levin told the crowd they were lucky to have DeSantis on the ballot.
"You are very fortunate here in Florida," he said. "And I have a home here in Florida too. This matters to me."
DeSantis' bid for governor has leaned strongly on his endorsement from President Donald Trump, but the arrival of other national figures has also served to energize his base. Fox News' top-rated personality, Sean Hannity, campaigned for DeSantis in Fort Myers earlier this month. And Donald Trump Jr., the president's son, will campaign with DeSantis in Orlando on Wednesday.
"Mark is somebody who is a friend of mine," DeSantis told supporter, "and his support for me means an awful lot."
DeSantis and Levin were joined at the Saturday stop by U.S. Rep. Matt Gaetz and by conservative commentator Dan Bongino.
Gaetz during his time on stage stressed the importance of having a governor closely aligned with the White House.
"If the governor in Florida has a strong and trusting relationship with the president, it really advances our opportunity to get ahead of those liberal blue states that are always wanting to raise taxes.
And DeSantis also threw barbs at primary opponent Adam Putnam, whom he labeled a "transactional Republican supported by all the good old boys and insiders in Tallahassee."