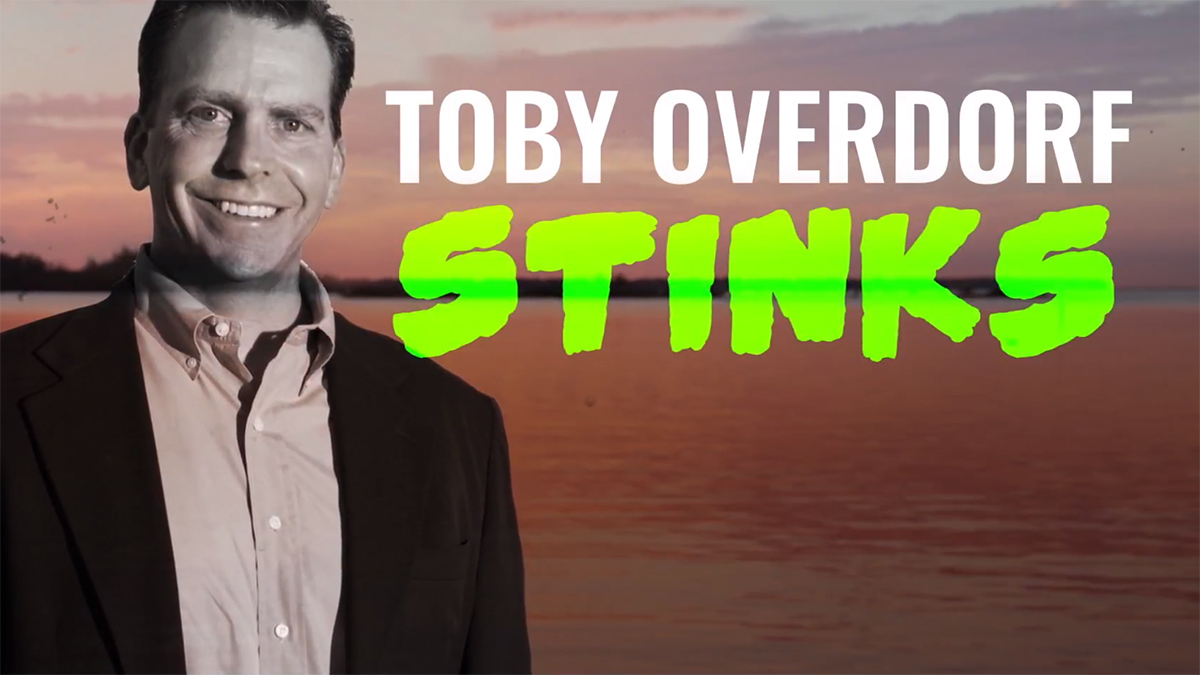 A new ad attacking Republican Toby Overdorf is hitting the airwaves in the Treasure Coast's House District 83.
The 30-second spot, titled "Toby Overdorf Stinks," comes off like a greatest hits list of the attacks levied against Overdorf thus far in his primary battle with Port St. Lucie attorney Sasha Dadan.
"Something about Toby Overdorf just plain stinks. Overdorf, a paid lobbyist, pushed a plan to dump 40 million pounds of human waste next to the St. Lucie River. Eww," the ad narrator says, as insects crawl across the screen.
"Then Overdorf tried to raise taxes by over $80 million while refusing to pay his own. Yuck. Then Overdorf trashed President [Donald] Trump on Twitter, calling him 'not so Presidential.' Gross," the ad says. "Overdorf: Higher taxes, anti-Trump, bad for the river. Toby Overdorf just plain stinks."
A watermark for BadBiologist.com is displayed in the bottom-right corner throughout the ad. The simple text-only web page hits Overdorf again for the biosolid lobbying, and offers a couple attacks on his environmental record — that he's "paid by developers to remove gopher tortoises from their natural habitat" and that he "testified in favor of eliminating small wetlands in Martin County so developers could pave them over."
The ad and website are attributed to Build Trump's Wall, a political committee chaired by Lauren Pardo. Wednesday FCC filings indicate the committee is spending about $30,000 to run the ad on cable within the district, with another $3,500 spent by the committee for airtime on two talk radio stations in the area.
Overdorf and Dadan are competing for the Republican nomination to succeed state Rep. Gayle Harrell, who is term-limited and running for state Senate. The winner of the Aug. 28 primary election will face Jensen Beach Democrat Matt Theobald in the Nov. 6 general election.
HD 83 covers parts of Martin and St. Lucie counties and has a Republican lean. In 2016, Harrell won re-election over her Democratic challenger with 54 percent of the vote, while Trump snagged a 10-point win in the same area.
The ad is below.