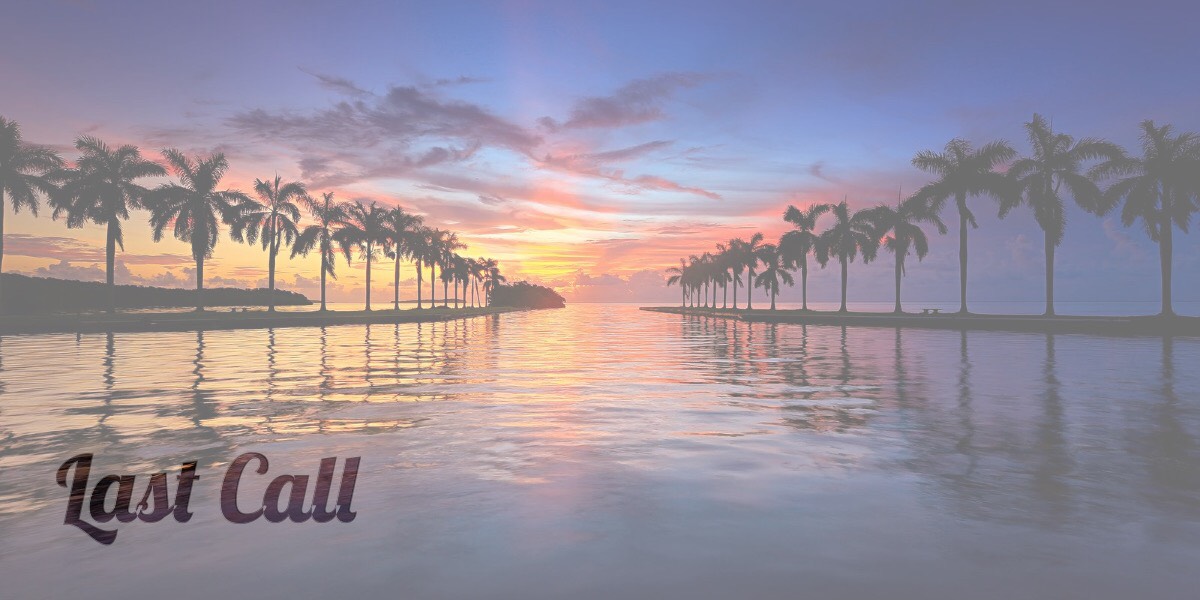 Last Call – A prime-time read of what's going down in Florida politics.
First Shot
The Democratic primary election for Attorney General is back on.
On Monday, the 1st District Court of Appeal issued a stay of a lower court decision striking Ryan Torrens from the ballot.
That means Democratic voting for A.G. will take place Tuesday as if nothing happened in the courts. Otherwise, remaining Democratic candidate Sean Shaw would have won the primary without opposition.
At a news conference Monday at his Tampa law office, after he which he took no questions, Torrens said: "The court's negative words had the effect of spreading a very negative view of my campaign throughout the state, despite the very positive, solution-oriented campaign that I have run."
Last week, Circuit Judge Karen Gievers of Tallahassee ordered Torrens out of the race, saying he "clearly acted contrary to the law" when he qualified in June to run.
Torrens appealed that decision Saturday, saying Gievers unfairly removed him on a "contribution law technicality."
Shaw, a former state Insurance Consumer Advocate and current House member from Tampa, had filed the complaint that led to Torrens' getting booted. He claimed Torrens, a Tampa consumer affairs attorney, qualified to run only because he improperly transferred money into his campaign account.
Gievers agreed, finding Torrens essentially pulled a fast one so he would have enough money to cut a check for the $7,738 qualifying fee.
In a statement, Shaw's campaign said: "We'll let Judge Gievers' words speak for themselves. We're proceeding as we have been with the assumption that we're going to be the nominee."
But by day's end, Department of State spokeswoman Sarah Revell had issued a statement: "The Democratic Primary for Attorney General will proceed as normal."
Evening Reads
"Donald Trump announces preliminary NAFTA deal with Mexico" via Sabrina Rodriguez and Megan Cassella of POLITICO
"'It is the era of Trump': How the President is remaking the Republican Party" via Janet Hook of the Wall Street Journal
"How the environment has become a key factor in Florida's elections" via Lissette Rodriguez of ABC News
"New ad buy blames Rick Scott for algae, red tide" via Bruce Ritchie of POLITICO Florida
"Democrats fret Bill Nelson is choking in Florida Senate race" via Burgess Everett and Marc Caputo of POLITICO
"Mr. President is on the line for Florida GOP primary voters" via Adam Smith of the Tampa Bay Times
"'Sick of Losing,' Democrats race to the end of a wild Florida primary for Governor" via Patricia Mazzei and Jonathan Martin of the New York Times
"Here's Gravis Marketing's final poll of the primaries for Governor" via Scott Powers of Florida Politics
"Fact-checking the Florida primary candidates for governor" via Amy Sherman of PolitiFact
"Will Tuesday be Tallahassee's day? Here are keys to victory for Gwen Graham, Andrew Gillum" via James Call of the Tallahassee Democrat
"Gwen Graham committee gets late cash infusion" via the News Service of Florida
"Swastikas painted on Philip Levine's campaign signs in St. Pete" via Zachary Sampson of the Tampa Bay Times
"Denise Grimsley releases hype reel ahead of GOP primary for Ag. Commissioner" via Drew Wilson of Florida Politics
"Eleventh-hour push poll spreads false claims about Bilirakis challenger Chris Hunter" via Tracey McManus of the Tampa Bay Times
"Is Pam Bondi auditioning for Fox News while still working for Florida taxpayers?" via Steve Contorno of the Tampa Bay Times
"A primary season so nasty, the local GOP leader takes to Facebook: 'STOP NOW'" via William March of the Tampa Bay Times
"Bad news for U.S. papers, but tariffs are paying off for One Rock Capital" via William Mauldin of the Wall Street Journal
Quote of the Day
"Congressman Ron DeSantis is a special person who has done an incredible job. He is running in Tuesday's Primary for Governor of Florida … Strong on Crime, Borders and wants Low Taxes. He will be a great Governor and has my full and total Endorsement!" — President Donald Trump, tweeting Monday.
Bill Day's Latest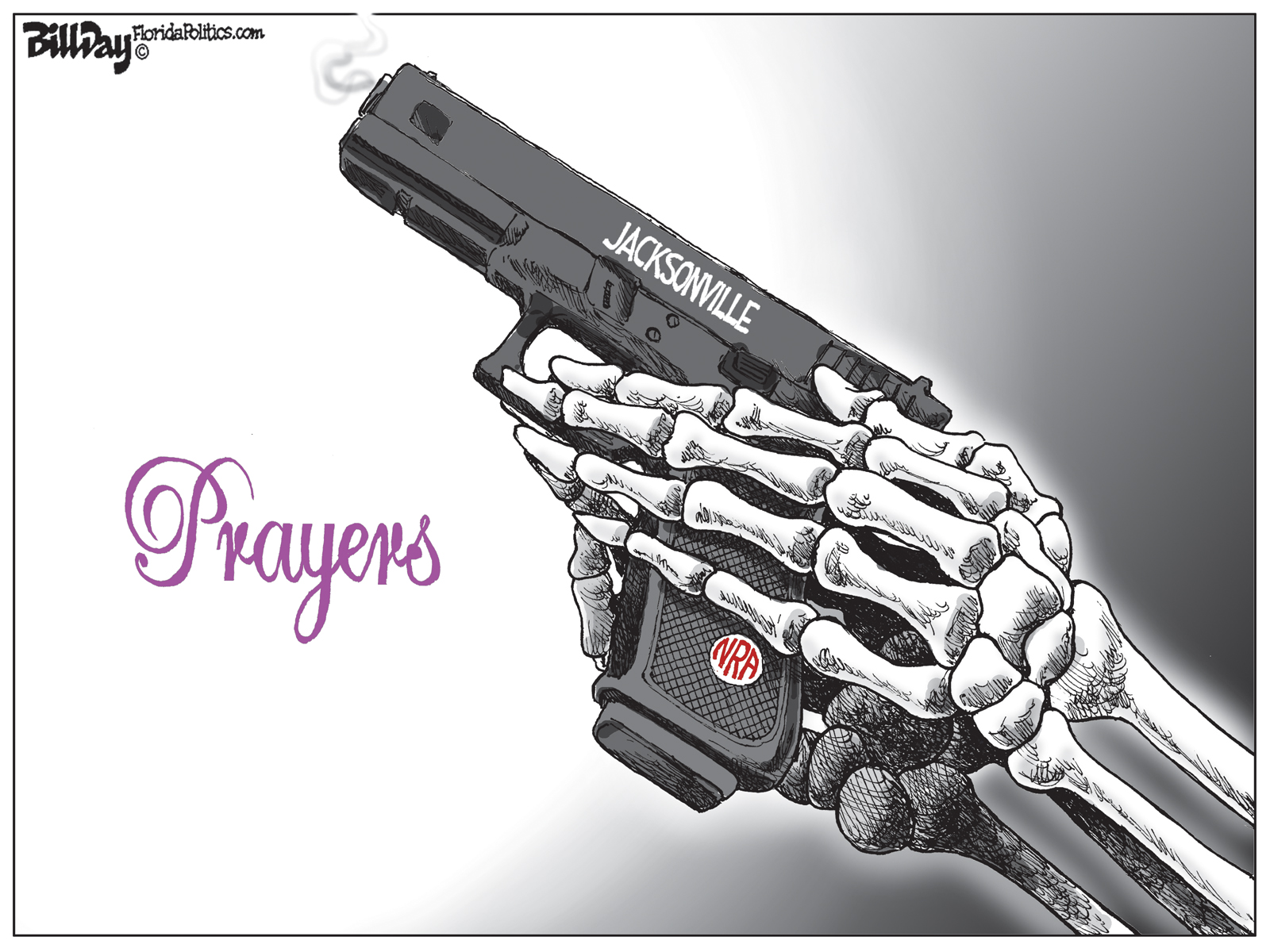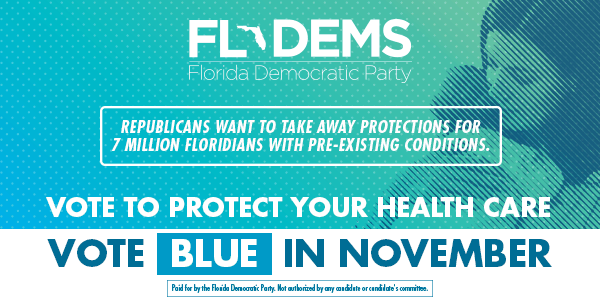 Breakthrough Insights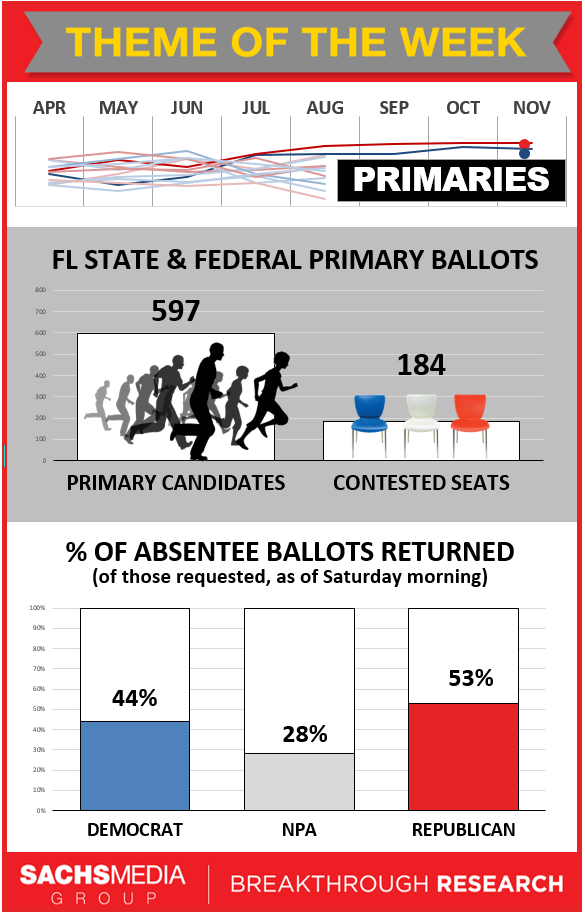 Wake Up Early?
Primary elections will be held for governor, attorney general, agriculture commissioner, dozens of legislative and congressional seats and hundreds of local offices. Polls will be open from 7 a.m. to 7 p.m.
The Florida Supreme Court will hear arguments in four cases, including a dispute about whether a Broward County sheriff's deputy Peter Peraza can use the state's "stand your ground" self-defense law after being charged with manslaughter in an on-duty shooting. That's at 9 a.m., Florida Supreme Court, 500 South Duval St., Tallahassee.
Democratic gubernatorial candidate Chris King will vote and later hold an election-night party. Voting at 10 a.m., Glenridge Middle School, 2900 Upper Park Road, Orlando. Also, party at 6:30 p.m., The Alford Inn, 300 East New England Ave., Winter Park.
Democratic gubernatorial candidate Andrew Gillum will vote in Leon County and later hold an election-night party. Voting at 11 a.m., Good Shepherd Catholic Church, 4665 Thomasville Road, Tallahassee. Also, a party in the evening at Hotel Duval, 415 North Monroe St., Tallahassee.
Democratic gubernatorial candidate Jeff Greene will vote in Palm Beach County as well as hold other events. Voting at 11 a.m., Palm Beach Central Fire Station, 355 South County Road, Palm Beach. Also, ice cream social at 12:45 p.m., Oceanway Community Center, 12215 Sago Ave. W., Jacksonville. Then, a rally at 2:30 p.m., Caribbean Sunshine Bakery, 2528 W. Colonial Dr., Orlando. Later, a rally at 4:15 p.m., 175 Fontainebleau Blvd., Ste 1-N6, Miami.
Republican gubernatorial candidate Ron DeSantis will hold an election-night party in Central Florida. That's at 6 p.m., Rosen Shingle Creek, 9939 Universal Blvd., Orlando.
Ashley Moody, a Republican candidate for Attorney General, will hold an election-night party. That's at 6 p.m., Floridan Palace Hotel, 905 North Florida Ave., Tampa.
GOP U.S. Rep. Brian Mast will hold an election-night party in Martin County. That's at 6 p.m., Flagler Place, 201 S.W. Flagler Ave., Stuart.
Republican gubernatorial candidate Adam Putnam will hold an election-night party in Polk County. That's at 6:30 p.m., The Terrace Hotel, 329 East Main St., Lakeland.
Democratic gubernatorial candidate Philip Levine will hold an election-night watch party. That's at 7:30 p.m., Levine campaign headquarters, 2215 N.W. First Place, Miami.