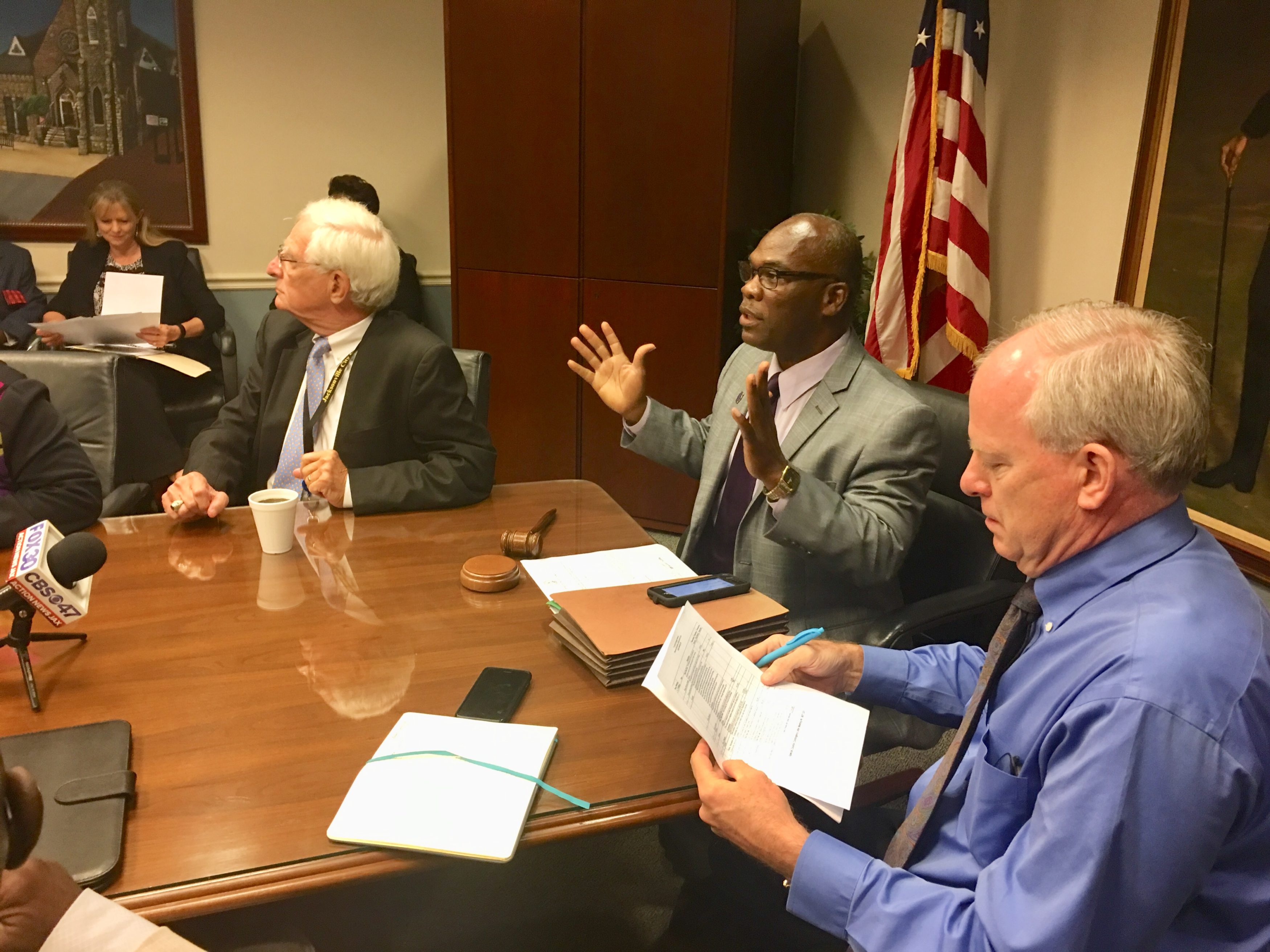 After a weekend bookended by high-profile mass shootings after a high-school football game and a Madden video game tournament, Jacksonville leaders are looking for solutions.
One such solution was advanced Wednesday in a meeting of City Council members and non-profit leaders: budget enhancements in the form of grants for organizations devoted to prevention and intervention.
The Mayor's Office already devoted $50,000 to crime reduction earlier in the week; Councilman Reggie Gaffney wanted to move $300,000 into the same, to "reach out" and "partner with the faith-based community and other non-profits not receiving money from the city."
"It's just a drop in the bucket," Gaffney cautioned, "but you have to start somewhere."
Mayor Lenny Curry wants the money in the new budget, Oct. 1, Gaffney said. Gaffney gave no indication as to whether this would be one-time or recurring money.
But no matter.
Over half the Council showed up to lend support. The crowd spilled over into a second conference room.
Colleagues, including Jim Love, Joyce Morgan, and Terrance Freeman spoke in support, with Freeman noting that a lot of "mom and pop organizations" had "a huge impact with limited dollars" during the Jacksonville Journey era.
Councilman Sam Newby echoed Freeman.
Councilwoman Lori Boyer, calling the initiative "critically important," noted that the Council had prioritized addressing violent crime in the city months ago.
"The mayor is fully behind this," noted Council President Aaron Bowman, who wants the business community to engage.
Bowman, an officer at the Jacksonville Chamber's business recruitment wing, is uniquely positioned to make that happen.
Myriad community members, including leaders of non-profits and churches, have yearned for city support — and ironically, a weekend of violence may lead to help for those who are "boots on the ground," including afterschool programs.
For Gaffney, there is political provenance for this meeting. In an election with myriad challengers, reaching out to the faith community helps to blunt challengers who say he's not doing enough.
And for the city, there may (or may not, who knows) be some surcease from the kinds of killings that are getting Jacksonville noticed again globally.
Not everyone thought the money was enough. Activist Denise Hunt said it was "appalling" that given an ever-increasing Sheriff's Office budget, only $350,000 was being pitched.
But for those leading non-profits with needs, it was better than zero.
It will take more than money, said Councilman Bill Gulliford.
"It's a community issue, because nothing prevents that violence from going from one area to another area. It spreads. It's already spread," Gulliford said.
Gaffney noted that anytime a kid is shot, the mayor calls him to talk "solutions."
Speaking of solutions, Kids Hope Alliance head Joe Peppers noted his group, which will have a $41 million budget next year, has been involved in community discussions, and is moving toward better "merging" services with those who need them.
"We're looking for sustainable solutions," Peppers said, and a "collaborative spirit" — a potential challenge when there are more asks than funds available.
"We've got to start changing the narrative … telling the stories of our babies and you all, who are out there fighting the fight," Peppers said.
KHA will also have $50,000 in fines and forfeiture money, and the total $400,000+ will allow "microgrants" starting at $5,000 and moving up, Peppers said.
Whether the money goes to alternative schools or church programs ultimately will be subject to future negotiations, Council President Bowman said.
"I really need measurable successes, and I will go after the business community," Bowman said, pledging to be "unmerciful" in harvesting that money.
Meanwhile, a Jacksonville City Councilman's wife has a concept to pitch, that was slated to come up in this meeting, but didn't.
Dr. Ceil Pillsbury-Schellenberg observed in an email that "Jacksonville has NO comprehensive, coordinated, research-based, strategically-designed, operationally-detailed plan to stop the blood of JAX youth in our streets."
To that end, she had a pitch: MOBLZE. And jargon to go with it.
"Moblze's heavy lifting occurs though entrepreneurial mindset saturation—utilizing the global gold standard curriculum of the Network for Teaching Entrepreneurship (NFTE pronounced nifty).  My City Connected, Jacksonville's brand new high tech weapon, allows us to literally saturate our poverty-stricken areas with the entrepreneurial mindset and facilitate funding to make ideas blossom into family-supporting revenue streams for the entrepreneurs who emerge.  For the first time in history, we can scientifically tell you, in advance, who they are likely to be so we can make efficient use of scarce resources," Pillsbury-Schellenberg asserted.
"Success in the fight against poverty has to come from people of color challenging themselves to reach the potential within.   Black politicians and pastors can only do that to a certain extent because they have to rely on others for their livelihood and watch what they say," Pillsbury-Schellenberg related.
She was unable to pitch her idea at the meeting, which was regrettable, as she may have gotten interesting responses from those in the room.