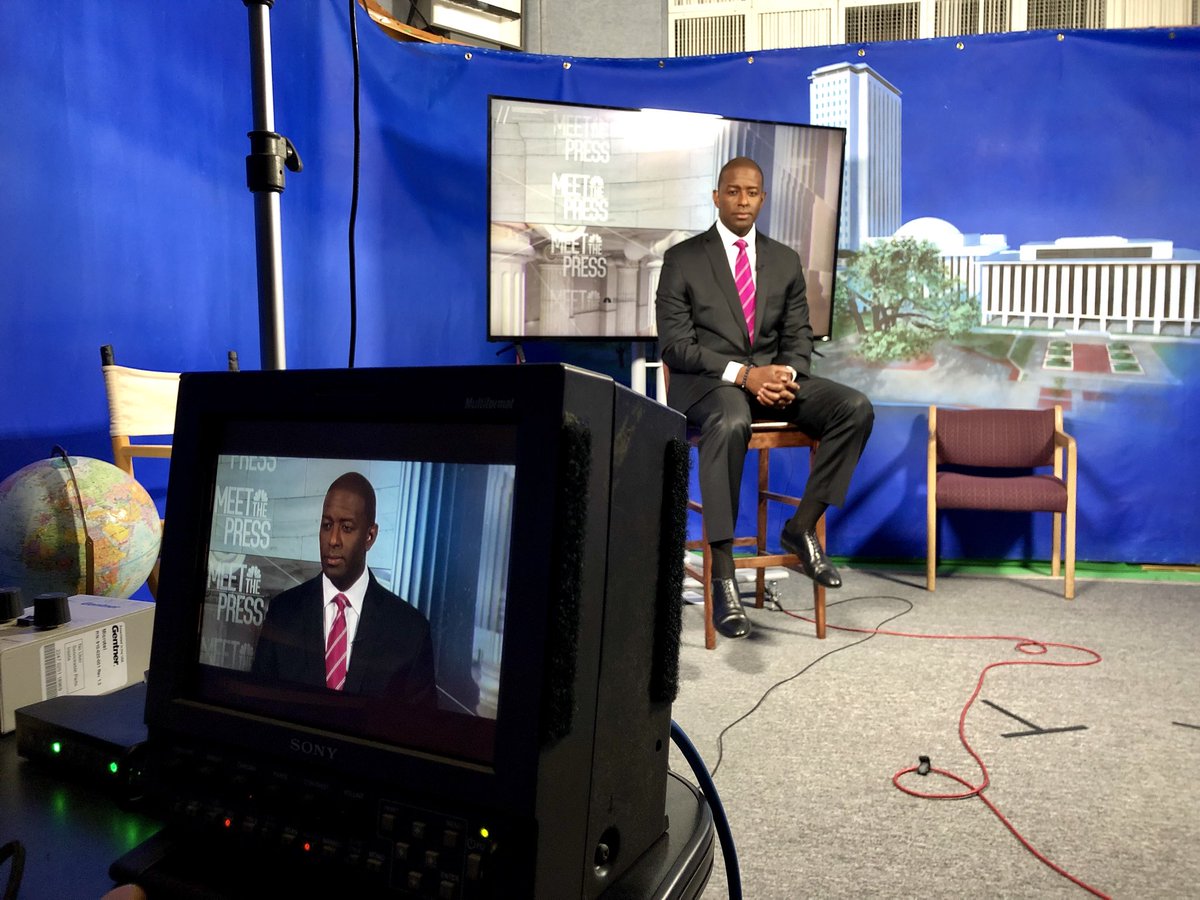 Andrew Gillum, the Democratic gubernatorial nominee, announced on Wednesday a second series of hires for his general election campaign.
Eleven more Gillum staffers and consultants are officially on board, the campaign announced Wednesday. The campaign earlier this week unveiled a 19-person leadership team.
Familiar names — like staffers from unsuccessful primary campaigns and from other Democratic politicians and groups — fill out the squad. There are also carryovers from Gillum's primary team.
At the helm of operations is Brandon Davis, the newly named campaign manager. Davis fills the vacancy created by the firing of Brendan McPhillips, who was let go shortly after Gillum's upset primary victory. Davis is a decorated Democratic strategist. He served nearly a decade in leadership positions at Service Employees International Union and in 2016 was the chief of staff at the Democratic National Committee.
"The enthusiasm and activism of so many Floridians over the last two weeks has been inspiring, and this campaign isn't letting up for a moment — we are going to take our message to every corner of the state," Davis said in announcing the slate of new hires.
Among the updated list of outside consultants to the campaign is Millie Raphael, who will advise on statewide Hispanic outreach. Hava Holzhauer will focus on Jewish outreach.
Taking over political operations for Gillum is Roosevelt Holmes, who worked for President Barack Obama's election campaign in 2008. Holmes also successfully helped Orange County Sheriff Jerry Demings ascend to the county's mayoral post in August. Holmes will now oversee Deputy Political Director Philip Jerez, who ran the political shop for Gillum during the primary.
From the now-shuttered Philip Levine campaign comes Courtney Whitney, a Democratic fundraiser, and Christian Ulvert. Ulvert, who was a senior adviser to Levine, will handle Spanish-language media for Gillum. Manny Orozco–Ballestas, also a Levine alum, will handle youth outreach for Gillum. 
Pollster John Anzalone, who formerly worked with Gwen Graham, will handle surveying for the Gillum camp.
Zach Learner is the deputy manager for the campaign and comes over from Chris King's team. King is on the ticket as a Lieutenant Governor hopeful.
Carlie Waibel, who had earlier this year worked for Sen. Bill Nelson's re-election campaign, now is the deputy communications director for Gillum. On Wednesday, the campaign also announced Johanna Cervone and Kirsten Allen as new comms hires. Joshua Karp, who handled comms for U.S. Rep. Patrick Murphy's failed U.S. Senate bid in 2016, and Doug Thornell, of SKDKnickerbocker, round out the comms staff.
Former communications director Geoff Burgan is now working with CATECOMM, the communications and consulting firm that's long been favored by Gillum. Kevin Cate, owner of CATECOMM, will handle paid media for Gillum.
A complete list of team Gillum is below.
Senior strategic advisers: Scott Arceneaux, Sharon Lettman-Hicks, Omar Khan and Sean Pittman.
Senior Staff: Cesar Fernandez, Deputy Campaign Manager for Political; Joshua Karp, Deputy Campaign Manager for Communications; Zach Learner, Deputy Campaign Manager for Operations; Roxey Nelson, Deputy Campaign Manager for Organizing; Courtney Whitney, Deputy Campaign Manager for Finance; and Carlie Waibel, Deputy Communications Director.
Staff: Roosevelt Holmes, Political Director; Johanna Cervone, Communications Director; Kirsten Allen, Deputy Communications Director; Philip Jerez, Statewide Deputy Political Director; Susannah Randolph, Statewide Constituency Outreach Director; Juan Cuba, Hispanic Outreach Director; Alicia Stallworth, African American & Caribbean Outreach Director; Manny Orozco–Ballestas, Youth Outreach Director. 
Consulting team: Jon Adrabi, Senior Advisor; Karen Andre, Senior Advisor; John Anzalone, Polling; Kevin Cate, Paid Media; Mattis Goldman, Paid Media; Jim Kottmeyer, Digital; Doug Thornell, Communications; Ed Peavy, Direct Mail; Christian Ulvert, Spanish-Language Media; Millie Raphael, Statewide Hispanic Outreach Consultant; Hava Holzhauer, Statewide Jewish Outreach Consultant; Omar Khan, Senior Advisor.