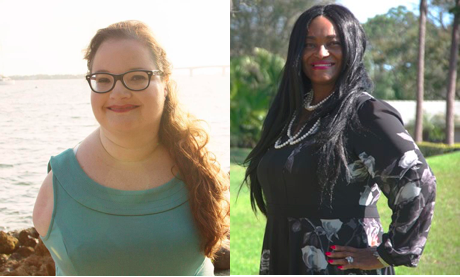 Faith Olivia Babis and Kathy Lewis attended the same conferences for advocates for the disabled before either became a political candidate.
Now the two hope to join forces in the state Senate.
They face long odds — both Democrats running in heavily Republican districts — but a challenge never stopped these women before.
"People tell me this is hard," Lewis said. "Try getting out of poverty. That's hard. This? You just have to believe you can make a difference in your child's life and the lives of others."
Now groups like 90 for 90, dedicated to empowering disenfranchised populations attain public office, hope to provide the lift these advocates need.
A flawed bureaucracy
Babis, a peer mentor at the Suncoast Center for Independent Living, hopes to make history this year as the first physically disabled person elected the Florida Legislature.
"This entire community doesn't have a voice in the government," she says.
Born without arms, Babis lives a productive adult life but knows many others in the disabled community who are less fortunate.
Lewis, a Wesley Chapel mother, knows them too.
Her 21-year-old autistic daughter Remi lives at home and sleeps only an hour or two every night. Meanwhile, Lewis says keeping up with the benefits bureaucracy for her daughter has become a full-time job.
Babis and Lewis now are the only candidates for Senate to list disability rights as top priorities in their campaign platforms.
And both note the same issue as the catalyst inciting them to run: Mishandling of the Medicaid Waiver lists.
States use these lists to provide Medicaid and other health funding for patients with a variety of ailments not automatically covered. While Florida in the past had several lists for different patients, the Legislature in its most recent budget winnowed that down to two: Florida Long-Term Managed Care and Florida Non-Emergency Transportation Services (NEMT).
Now patients suffering from brain trauma share a list with adult Cystic Fibrosis and HIV patients, creating tremendous wait times for services.
And that, according to Babis, is after 6,500 individuals in 2016 died while waiting for services.
"These are programs for patients whose needs are not being met by any other programs," Babis says. The funding helps provide new treatment, or it can pay for caretaker and life coach services.
Babis works professionally with many clients waiting to access services, and hates telling people how long it can take before care comes available.
As a mother, Lewis refused to wait. When her daughter turned 18 and needed adult benefits, she found out it took 15 months to qualify. Moreover, it fell on the patient to navigate the government bureaucracy, rather than trained caseworkers.
Lewis says her daughter's case stayed under state review for four months before the mother couldn't take it anymore. She started sending 75 emails a day to all levels of state and federal government.
When she decided to send an email to then-Health and Human Services Secretary Tom Price, her personal story got the federal official's attention. He helped get the Lewis family services within two days.
The mother was grateful, but also "incredibly angry."
"Why should I have to write to Washington, D.C. to get Florida to do their jobs?" she says.
Through her daughter's life, Lewis became increasingly involved in advocacy as a volunteer. Babis, as a disabled professional, also committed herself to the issue. Lewis attended a conference last year where Babis served as one of the speakers.
But the two got to know each other better as they both chose the same route to problem-solving — running for a seat in the Florida Legislature.
Political solutions
After state Sen. Greg Steube, a Sarasota Republican, resigned his seat in state Senate District 23 to run for Congress, Babis became the only Democrat to file in an election scheduled this November.
She faces state Rep. Joe Gruters, chairman of the Sarasota County Republican Party, in a district where Republican Donald Trump beat Democrat Hillary Clinton 55-41 in the 2016 presidential election.
Lewis won a Democratic primary in state Senate District 20 over Joy Gibson, but now faces former Senate President Tom Lee in a district that Trump won 52-44.
Still, the candidates feel hopeful. Babis felt encouragement this month when a Change Research poll found, once voters heard positive bios of candidates, she led Gruters by 3 points.
But neither candidate enjoys fundraising traction yet. Gruters raised about $266,000 compared to Babis' $28,000 through mid-September. Lewis raised more than $17,000 to Lee's $139,000.
Babis just released an online video touting her history-making candidacy. Lewis says it's essential both win their races.
Ferguson Reid Jr., of advocacy group 90 For 90, sees hope in the two candidates. The organization promotes candidates representing minority groups, including the disabled, and especially likes stepping in for those second- and third-tier candidates running in seats not "easily flippable."
"We try and make sure candidates who get ignored to some extent have some mechanism of support," Reid said.
Lewis and Babis fall into that category, and 90 For 90 has tried to connect the candidates with civil rights-oriented and progressive groups like Equality Florida and the Sierra Club.
"Olivia and Kathy have a beautiful story that deserves to be heard statewide," he said.
Babis says the two also joined the Democratic Disability Caucus of Florida, an organization she'd like to see grow. Sarasota doesn't have its own chapter yet, she notes, but the message deserves attention in every county.
"Florida ranks low when it comes to accessibility," she says. "These issues have been ignored, and we're really trying to promote them."
And while the road ahead seems daunting, Kathy, who grew up poor in Baltimore but got a degree from Johns Hopkins University, says an uphill election should be nothing.
Right now, the two candidates hope to have more debate opportunities and a chance to interface with their opponents. Widening understanding of the challenges faced by the disabled community might be a win in itself.
But they also want to win. Nothing beats the knowledge of personal experience.
"If don't have a loved one facing these challenges, it simply isn't a priority for you," Lewis says.