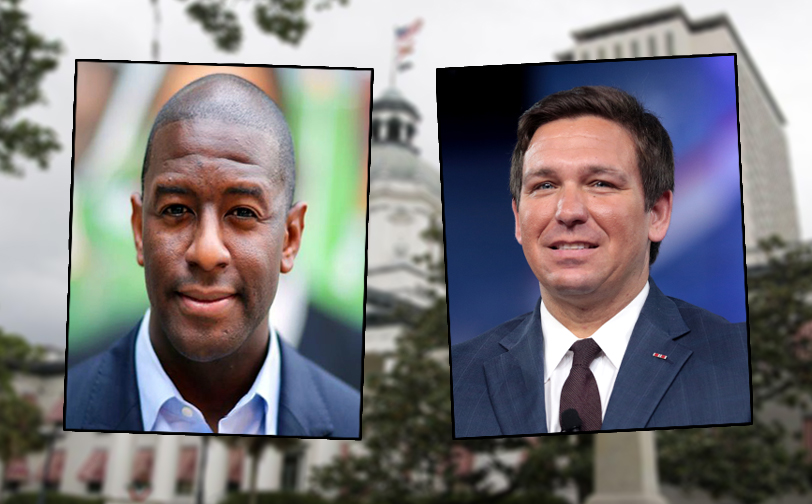 Gubernatorial candidates Ron DeSantis and Andrew Gillum continue to be the biggest recipients of the state's matching-funds program, which sent out more than $320,000 to five statewide candidates on Friday.
Gillum, the Democratic candidate, got $233,765 and DeSantis, the Republican nominee, received $79,484, according to figures posted online by the state Division of Elections.
The program, which matches individual contributions of $250 or less, has now distributed $5.68 million to nine candidates for governor and Cabinet positions, including four candidates who lost in primary elections.
Gillum has received a total of $854,396 through the program, and DeSantis has pulled in $1.23 million.
In the race for attorney general, Democrat Sean Shaw got a check for $6,333 on Friday and has received $239,426 from the program. Republican Ashley Moody received $1,511 in matching funds on Friday and has received $382,446 from the state.
In the race for state chief financial officer, incumbent Republican Jimmy Patronis received a check for $455 on Friday. Patronis has received $309,760 through the program. Democratic CFO candidate Jeremy Ring has not taken part in the voluntary program.
The candidates remaining in the race for agriculture commissioner, Republican Matt Caldwell and Democrat Nikki Fried, have not tapped the program.
DeSantis and Gillum have also funneled millions of dollars to the state Democratic and Republican parties this month, according to their new reports.
The Gillum committee, known as Forward Florida, sent $2 million to the Florida Democratic Party in a transaction dated Sept. 12, while the committee Friends of Ron DeSantis contributed $2 million to the Republican Party of Florida on Sept. 13.
The Gillum committee reported collecting $1.77 million in contributions from Sept. 8 through Sept. 14, with $1 million of that amount coming from the Democratic Governors Association.
The DeSantis committee reported raising $2.6 million during the same period, with $1.5 million coming from Palm Beach County resident Laura Perlmutter, the reports show.