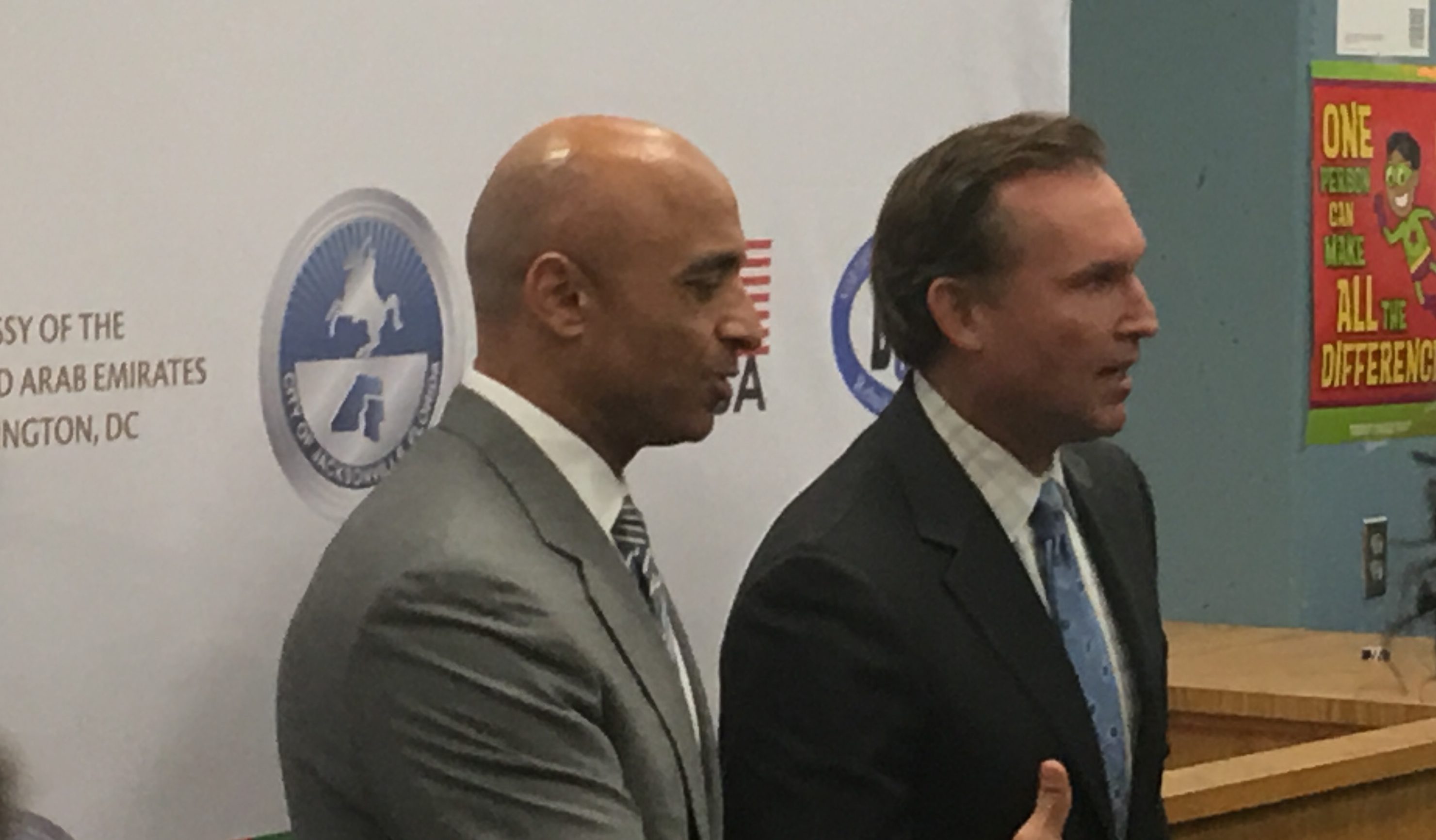 On Monday, Northside Jacksonville's A. Philip Randolph Career Academies saw Jacksonville Mayor Lenny Curry receive the U.S. Ambassador from the UAE, Yousef Al-Otaiba.
Money was on the line. $2.775 million, to be exact (part of a $10 million grant to be divided between several cities hit hardest by Hurricane Irma.)
Indeed, portions of this grant have already been delivered to Florida, with Collier County receiving its $2.7 million cut in August.
While local leaders appreciate revenue, there is a parallel story to the check: the UAE's distressing and worsening human rights record.
The UAE has made a longstanding practice of storm relief, and there are those who believe it is a distraction from the regime's human rights record, which is in keeping with the non-Democratic states of the Middle East.
Human Rights Watch spotlights imprisonment of political dissidents and a "sustained assault on freedom of expression and association since 2011," which includes the death penalty for people who are determined to have worked to "undermine national unity or social peace."
Definitions for that are subjective.
The UAE also actively participates in the ongoing war in Yemen, a proxy battle between the Saudis and Iran; its role, on the Saudi side, includes helming counterterrorism ops and running detention centers.
Furthermore, HRW charges the UAE with detaining and disappearing political prisoners (similarly to the disappearance of journalist Jamal Khashoggi after a visit to a Saudi consulate this month), exploiting migrant labor, and systemic discrimination against women (facilitated by Sharia Law).
In the context of an erosion of human rights backdropped against a wave of post-storm generosity, we asked the Ambassador and the Mayor if such donations were intended to gloss over a record not in accordance with the mores of liberal democracies.
When we asked about the imprisoned political dissident Ahmed Mansoor, locked up as of this writing for 10 years for tweeting criticisms of the regime, the Ambassador smiled.
"We're here to talk about our gifts to Jacksonville," Al-Otaiba asserted. "If you want to ask me a question about what our laws are, we're happy to address that. But that's not why we're here today."
Curry spotlighted the "two-million dollars, invested in vulnerable populations in Jacksonville."
Regarding "foreign policy," Curry said "there's experts in Washington, elected leaders in Washington who handle our foreign policy," before pivoting to thank the Ambassador once more.
Applause filled the room, followed by stern looks from the Ambassador's handlers, and a conversation with a plainclothes member of law enforcement who questioned whether this reporter was a real member of the media.
From there, Curry and Al-Otaiba toured the school. Media was invited along until the two went through a door, at which point reporters and cameramen were told to wait for a post-event availability.
Time passed, and three SUVs (two attached to the Ambassador, and another for the Mayor) departed the premises.
The money will be used for various expenditures, including computer labs for Raines and Ribault High Schools, restoration of a local park, purchase of mobile medical units, with approximately $1.45 million going to projects in the Ken Knight Road area, which was among the slowest in the city to recover from Irma.