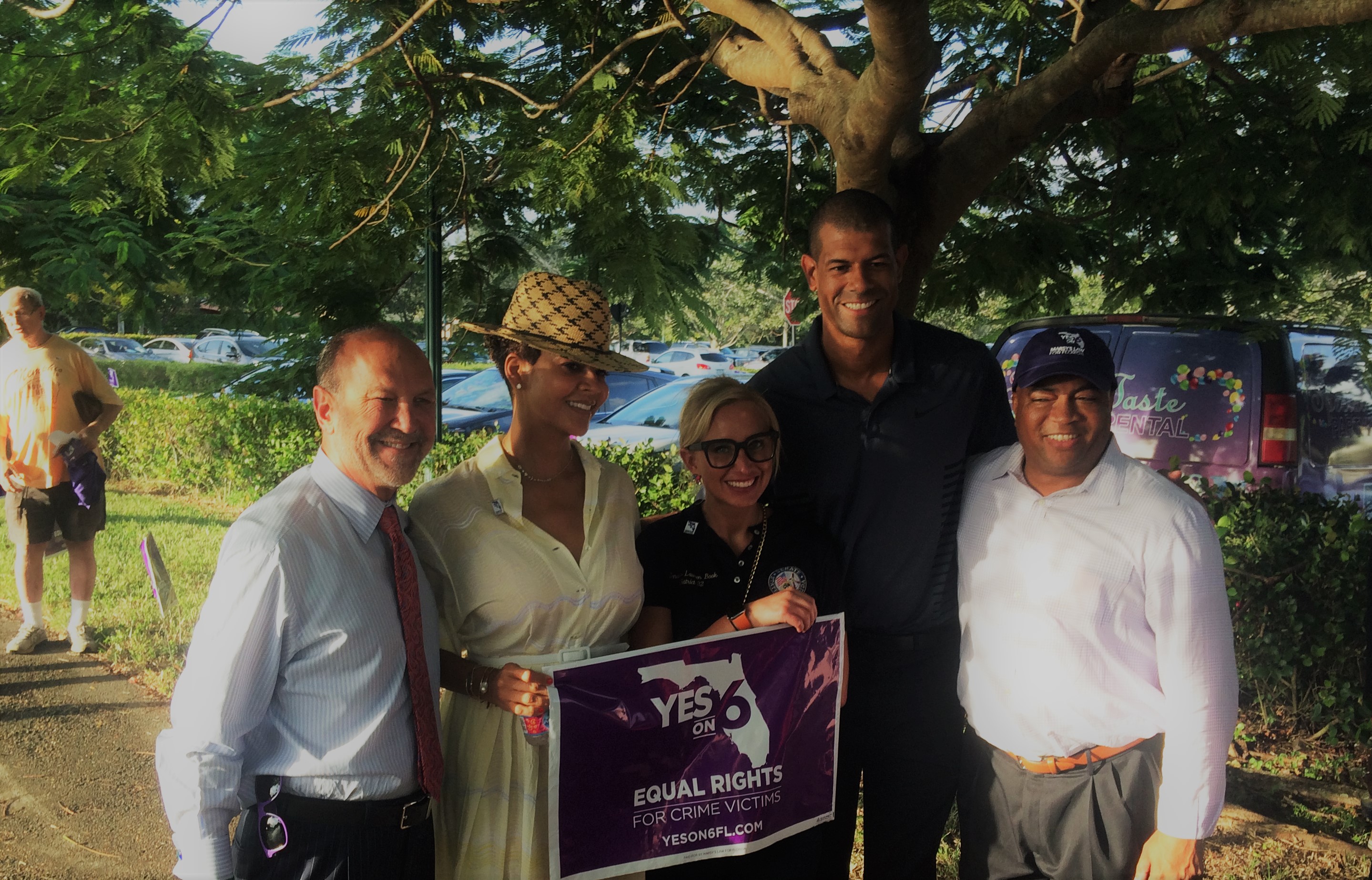 Former Miami Heat player Shane Battier, state Sen. Lauren Book, and other high-profile supporters of Amendment 6 were on hand Monday evening to highlight an Early Voting event and help advocate for passage of Florida's own "Marsy's Law."
Amendment 6 would establish a so-called "bill of rights" for crime victims. The measure was modeled after California's Marsy's Law. Advocates say it would guarantee victims' ability to be notified of important benchmarks in the case, participate in case proceedings, and prevent disclosure of victims' information, among other benefits.
Monday's event was held at the Miramar Branch Library in Broward County, and was hosted by Marsy's Law for Florida, a group advocating for approval Amendment 6.
Book, a survivor of childhood sexual abuse, is passionate about the measure. Before serving as a state Senator, she established "Lauren's Kids," a nonprofit aimed a stopping the abuse of children and setting up a help network for survivors.
"Our constitution is sacred," Book began.
"I do believe that. And when we stand for those who are most vulnerable among us, I think that says a lot about who we are. So I'm very hopeful in asking people across our state to support this measure and give victims equal rights."
Battier said his reasons for supporting the amendment were straightforward.
"So often you look at a ballot, especially when there's a constitutional amendment, and it's really difficult to decipher," Battier said.
"When I learned about Amendment 6, I said this is a common sense change. If you're the victim of a crime, you should have rights and you should be able to participate in the trial."
He also says the past success of similar measures across the nation convinced him to come out in favor.
"California has had this law enacted for the last 10 years. Other states have gone toward this. So when I saw a common-sense measure on the ballot, I said, 'How can I get involved?'"
Tracy Mourning, wife of former Heat player Alonzo Mourning, was also on hand to show her support for the event as a way to educate voters.
"I know a lot of people, just like me, we hear about these different amendments and different things that are going on and we don't know a lot about it. And this is a way to find out more for people to understand what equal rights for victims means."
Battier, Mourning, and others in attendance join Emmy-winning actor Kelsey Grammer in pushing for passage of Amendment 6. Grammer was featured in a 30-second spot last week, detailing the death of his father and sister at the hands of criminals and speaking out for increased rights for victims and their families.
But critics argue Florida law already adequately protects victims and the new constitutional rights could end up superseding defendants' rights.
Nevertheless, Amendment 6 backers are standing behind the measure, pouring in $30 million to a campaign to secure passage.
And former state Sen. Chris Smith says he was similarly skeptical about the measure, before eventually coming out in support after changes were made to get it to its current form.
"After hearing about the story of Marsy, and really looking at the different parts of it, I became a supporter," Smith noted.
"I'm a vote that they earned."
Monday's event also featured impassioned messages from victims who say they saw the problems with the current criminal justice system firsthand.
Shannon Taylor told her story of being raped at knifepoint, only to see her attacker go free. She says even though she utilized a rape kit after the attack, no charges were ever filed and no one communicated to her about why that decision was made.
She says her pain intensified when she began seeing her attacker from time to time around her community.
"How traumatizing the rape itself, then the rape examination, then seeing him in my neighborhood and nothing was ever done," Taylor recalled.
"I was never protected. I was never informed."
In order to pass on Nov. 6, the measure needs 60 percent of voters to approve it.
But regardless of where one stands on the many amendments on the ballot, all in attendance Monday agreed on making your voice heard as early as possible.
"Things always come up last minute," Mourning said, urging people to get out and vote early.
"There are always excuses or reasons why, so any opportunity you can take advantage of to be heard and have your voice heard and to be a part of this community."
Book also pushed people to take advantage of the opportunities to vote early, noting "life gets crazy."
"I think it's immensely important," she said of the voting process.
"I just hope everybody gets out and votes."