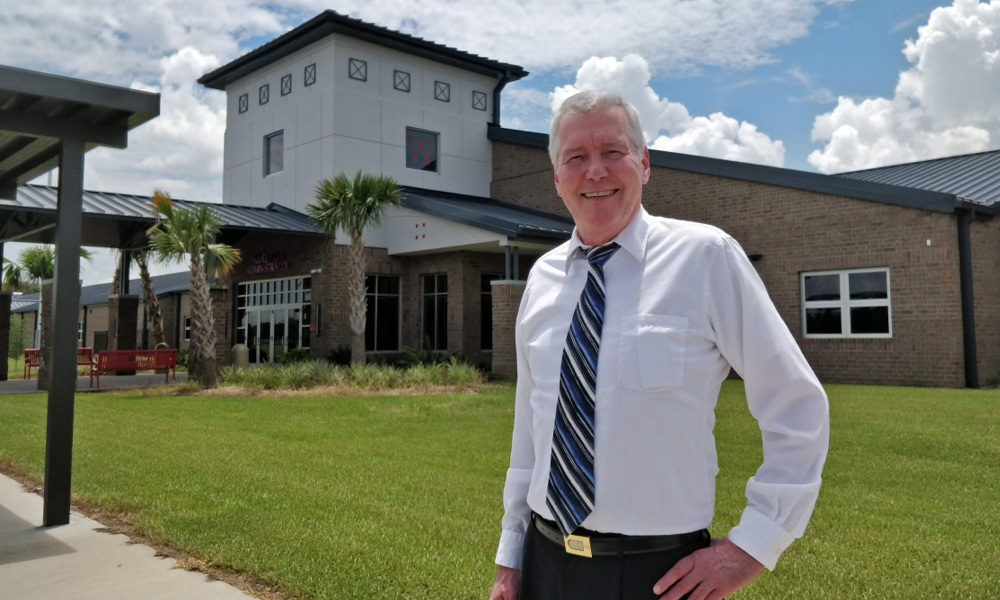 Just like in 2016, we're again asking every candidate, including incumbents, to complete a questionnaire we believe offers an interesting, albeit, thumbnail sketch of who they are and why they are running.
If you are a candidate and would like to complete the questionnaire, email [email protected]
Significant other? Kids?
I have a life partner of 26 years. No children, but we have a dog and three cats. I also care for about two-dozen feral cats.
Education background? Professional background?
Majored in business administration and economics at Temple University in Philadelphia. Worked full-time in the steamship industry while attending college. My occupations include a 6-year stint as a manufacturing manager for an industrial heat treating equipment firm located in the Philadelphia suburbs. Later served as a financial analyst and operations manager in the financial services industry in Jacksonville, Florida, for fifteen years. Primary occupation is that of a writer and historian, having authored no fewer than a dozen books on American political history.
What was your first job?
I was a newspaper boy, delivering the Pittsburgh Post-Gazette in the mornings and the Sharon Herald in the afternoons while living Grove City in northwest Pennsylvania.
In 25 words or less, why are you running for office?
Having spent more than 40 years of my life battling the duopoly and given the sorry state of American politics, I figured this is no time to quit.
Did you speak with anybody in your political party before deciding on running? Receive any encouragement? From whom?
I spoke with a few Reform Party leaders, but I also consulted many other people, including friends and family — all of whom encouraged me to make this "last hurrah."
Who do you count on for advice?
My most trusted advisor is my campaign manager, Austin F. Cassidy of Jacksonville. Without his heavy involvement in this campaign I would not be running.
Who is your political consultant? Campaign manager?
See above.
Who was the first person to contribute to your campaign? Why did they donate?
My campaign manager and his wife, Andrea, were among my first contributors, each generously donating $1,000. San Diego businessman Rocky De La Fuente, who intends to challenge President [Donald] Trump for the Republican presidential nomination in 2020, was the first person to contribute a maximum individual contribution of $3,000 — making that generous donation a couple of days after I declared my candidacy in early June.
Who, if anyone, inspires you in state government?
Unfortunately, nobody leaps to mind. Sadly, there are few genuine representatives of the people in elected office at the current moment. We need more real public servants like my running mate, former State Senator Nancy Argenziano. She was a fiercely independent voice in the Legislature and, as perhaps the only consumer advocate to ever serve on the Public Service Commission, she refused to roll over for the utilities.
Why do people mistrust elected officials and what are you going to do about it?
Oh, I don't know. I suppose there's a myriad of reasons. It can't possibly have anything to do with the fact that one of Florida's major parties nominated a gubernatorial candidate whose administration has been the subject of a troubling three-year FBI investigation into corruption in his city. Nor, I'm sure, does it have anything to do with the fact that both corrupt parties nominated candidates who've never spent any time whatsoever in the private sector, instead spending their respective careers feeding at the public trough.
What are 3 issues that you're running on? (You're not allowed to say education or "improving the schools")
Florida's next governor is going to face many challenges. My administration's top priorities will include reforming the way Tallahassee does business, including scrapping Gov. [Rick] Scott's costly and ineffective Enterprise Florida — crony capitalism at its worst — cleaning up his environmental disaster, and ensuring the health and safety of all Floridians.
What is a "disruptive" issue (i.e., ride-sharing) you are interested in?
Closing Florida's private prisons and vastly reducing the state's overall prison population.
Who was the best governor in Florida's modern history?
LeRoy Collins.
If you could amend the Florida Constitution, what would you change?
There are too many things to list. Seriously.
Are yard signs an important part of campaigning in your race?
Well, I currently have a couple thousand Richardson-Argenziano signs in my living room waiting to be distributed, so I guess I would say yes.
What's the first thing you read each morning?
My emails.
Where do you get your political news?
A variety of sources, including Florida Politics. I love A. G. Gancarski's reporting. I also enjoy reading the latest writings by Thomas L. Knapp, an edgy and contemplative Libertarian polemicist from Gainesville.
Who do you think will be the next President of the United States?
I dread even thinking about it.
If we're lucky, it'll be a genuine outsider like Rocky De La Fuente — you know, somebody running for all the right reasons.  I suppose a Joe Biden or John Kasich presidency probably wouldn't be too bad either. They'd certainly be an improvement over the current occupant of the White House.
60 Minutes or House of Cards?
Twenty years ago I might have said 60 Minutes.
In 140 characters, what's a Tweet that best describes your campaign message?
End the hyper-partisanship and polarization of American politics. Can't we all just get along?
Hobbies?
Writing, building scale 1:144 model commercial airplanes, and feeding my feral army.
Favorite sport and sports team?
College basketball. I'm a lifelong fan of the once-proud Duquesne Dukes, winners of the 1955 NIT championship. After a steady 40-year decline not unlike last year's Cinderella Loyola of Chicago Ramblers, the long-suffering Dukes are poised to return as a national power under second-year head coach Keith Dambrot, one of the winningest coaches in the country.  You heard it here first.