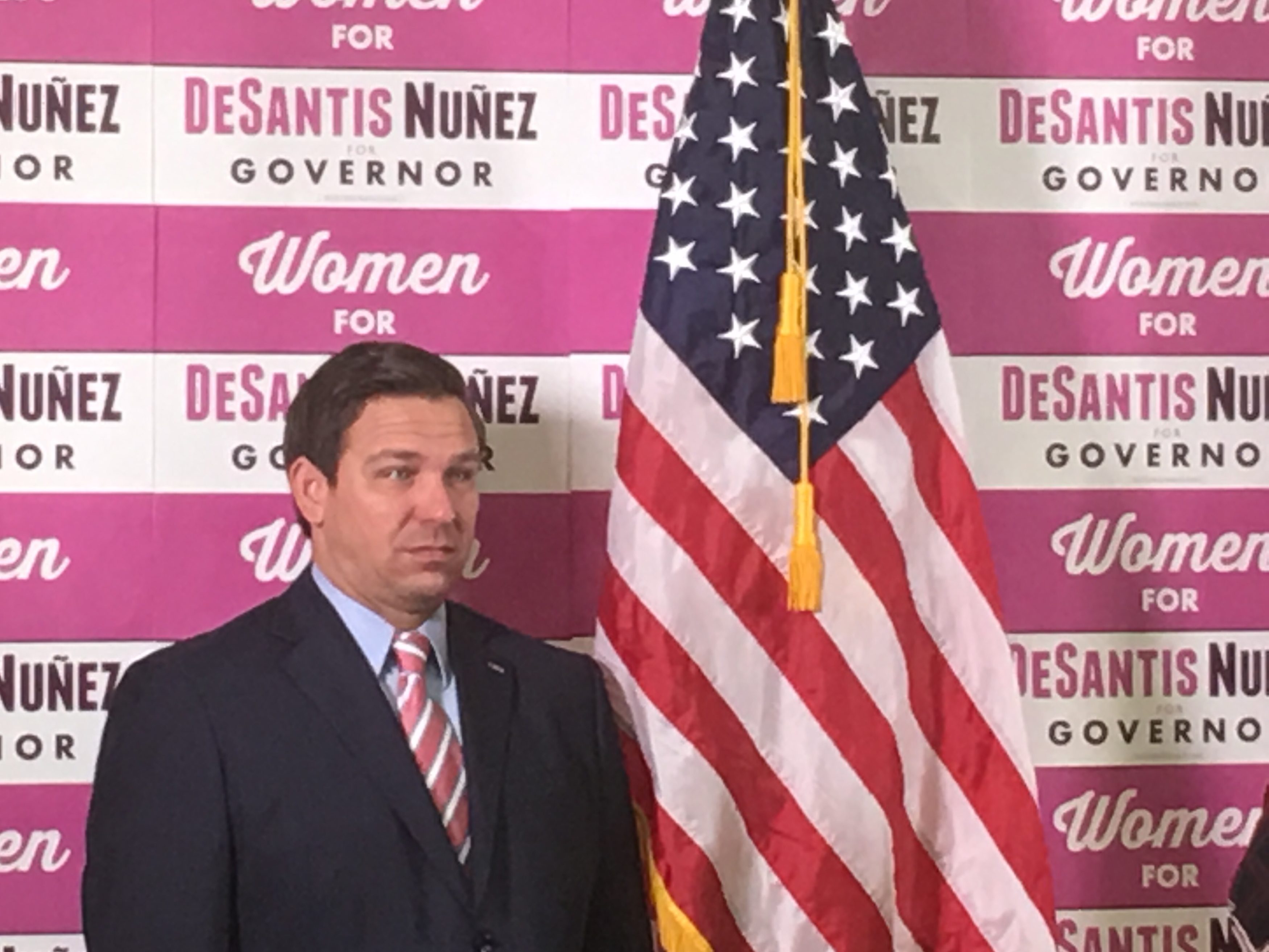 Republican gubernatorial nominee Ron DeSantis called a press conference Tuesday in Jacksonville to promote his "Women4DeSantis" coalition.
However, the most quotable and newsworthy sections of the event happened after the 25-minute formal rollout, which happened in the backroom of the local Republican Party of Florida office with a few dozen supporters on hand.
Just hours after President Donald Trump called DeSantis' opponent, Democrat Andrew Gillum, a "stone cold thief" on Fox News, we asked DeSantis if he agreed with the President.
We also asked whether Gov. Rick Scott, whose issues with his blind trust have been myriad, had been above board regarding separating financial interests from public policy.
Regarding Scott, DeSantis' answer was simple, as the candidate clearly separated himself from the recurring Democratic talking point in the race.
"I'm just not that familiar with his financial arrangements. I can tell you, as (wife) Casey mentioned in my bio, I basically made decisions to serve in uniform, as a prosecutor, and in Congress to my financial detriment," DeSantis said.
"I'm not complaining about that, but I'm not entering (office) with a big trust fund or anything like that, so I'm not going to be entering office with those issues," DeSantis added.
Regarding Gillum, however, the answer was long and winding and avoided addressing the President's pyrotechnic quote, despite repeated attempts to get specifics.
"In the case of Andrew, look, he has not been honest with the voters of Florida. I asked him in that debate, and the media should have been asking him these questions … he says he's not under investigation. He's been saying that. He's the only one who says that," DeSantis said.
"Let me ask you this: He had a thousand dollar ticket given to him to go to this play. It's not like going to see The Avengers on a Saturday afternoon … maybe two thousand dollars at that time," DeSantis added.
"He gets that from an agent. A guy posing as a contractor — really, he's an FBI agent. And that same undercover FBI agent later underwrote a fundraising dinner for him. He never disclosed that. (That's) $4,300 from an undercover agent for Andrew's political endeavors," DeSantis said.
Indeed, Gillum has struggled with answers to these questions.
This, from the Miami Herald: "Now folks are asking me to answer for which caterer does what? I've done more events than I could count. I couldn't tell you anything about a food venue or, quite frankly, whether somebody cooked it or somebody catered it. But that apparently is the new expectation," Gillum has lamented.
We attempted, again, to get DeSantis to answer the question directly as the crowd on hand got surly.
"What other reason would an undercover agent have for making those expenditures unless he was investigating Andrew?
"What Andrew has done," DeSantis said, "is take illegal gifts. You cannot accept a thousand dollars worth of gifts from an FBI agent posing as a contractor. That violates Florida law."
"You cannot accept a thousand dollar junket to Costa Rica, which he did not pay for, from a lobbyist doing business with the government," DeSantis added. "That violates Florida law.
"What did he do after getting that? He turned around and gave the lobbyist exactly what that lobbyist wanted," DeSantis said. "To me, those are ill-begotten gains that he should not have had. And what he did, doing the favor for the lobbyist, is exactly how we don't want government to work."
The crowd applauded; indeed, the loudest applause of the event. But the mood again soured when we asked DeSantis simply if Gillum was a thief or not.
The crowd jeered, with multiple people turning around and chiding that that question had been asked enough already. Almost as if there were an implicit arrangement to let Trump, DeSantis' political patron who will rally with him Wednesday, throw bombs while the candidate himself can avoid giving a direct answer.
"Have some respect" and "you got your soundbite" were among the audible responses, as DeSantis moved on to take a question from an audience member.
Outside the event, Gillum surrogate Donna Deegan addressed DeSantis' inability to address Gov. Rick Scott's blind trust while condemning Gillum's alleged corruption.
We asked Deegan if there was a double standard.
"Doesn't that question really answer itself? The whole strategy of the DeSantis campaign, the Trump campaign, the Scott campaign is to try to create as much chaos as possible. To try to throw as much as possible," Deegan said.
"Truly, if Ron DeSantis cared about corruption, he wouldn't be promoting a Governor who literally had the largest Medicare extortion in the history of the United States. He would not be backing a President (with) 17 indictments in his administration, one conviction. A person who's ignored the fact we have an Emoluments Clause."
"It's laughable," Deegan said. "He doesn't care about corruption. He cares about creating as much chaos as he can to try to confuse people. And I find that personally very offensive."
"We have to get beyond this whole post-truth world and start telling the truth to people," said Deegan, a former reporter.
"That's partly on you guys. Instead of just reporting every little crazy thing that's been said, point out that's not consistent with what the actions have been. That's not consistent with the truth," Deegan added.