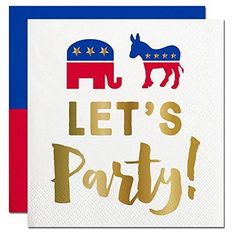 Political candidates spend months rallying volunteers, knocking on doors, hobnobbing with voters at public events and, of course, raising cash. Come Election Night they're ready, win or lose, to cut loose and either get to work or get back to their families.
Whether the champagne is flowing or supporters are drowning disappointing election results at a cash bar with an arm full of finger foods, just about everyone will be somewhere.
Supporters can nab a piece of the action — and an hors-d'oeuvre or two — right along with their favorite candidate this November 6. Here's where to find them.
Governor/U.S. Senate/Cabinet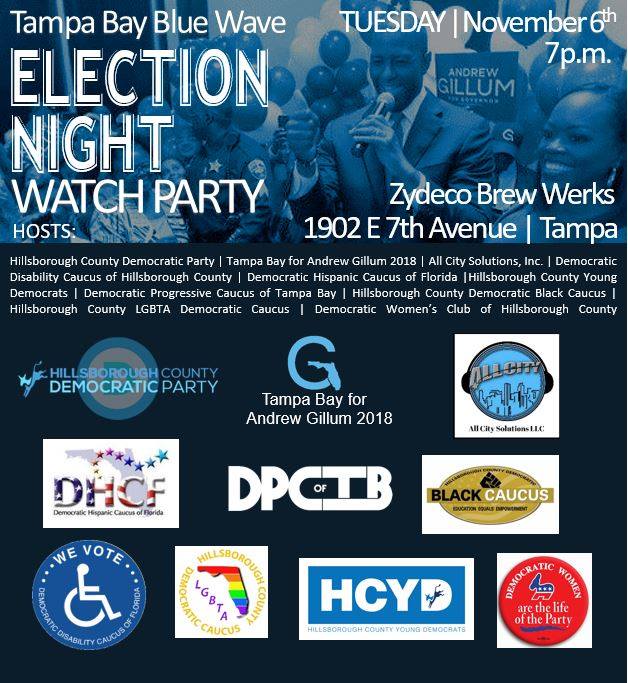 Reform Party gubernatorial candidate Darcy Richardson will be hosting a private event to monitor results in Jacksonville with campaign staff and family. The Reform Party of Florida is hosting its watch party at the Holiday Inn on 8310 Galbraith Road in Tampa.
North Pinellas County Democratic Club — Benedict Family Restaurant, 2676 Causeway Plaza, Dunedin
Hillsborough County Republican Party — Due Amici Restaurant, 1724 E. 7th Ave., Ybor City
Sarasota GOP — Hyatt Regency Sarasota, 1000 Blvd. Of The Arts, Sarasota, 5:30-9
CD 13
Charlie Crist — The Avenue, 330 1st Ave S, St. Pete, 7-10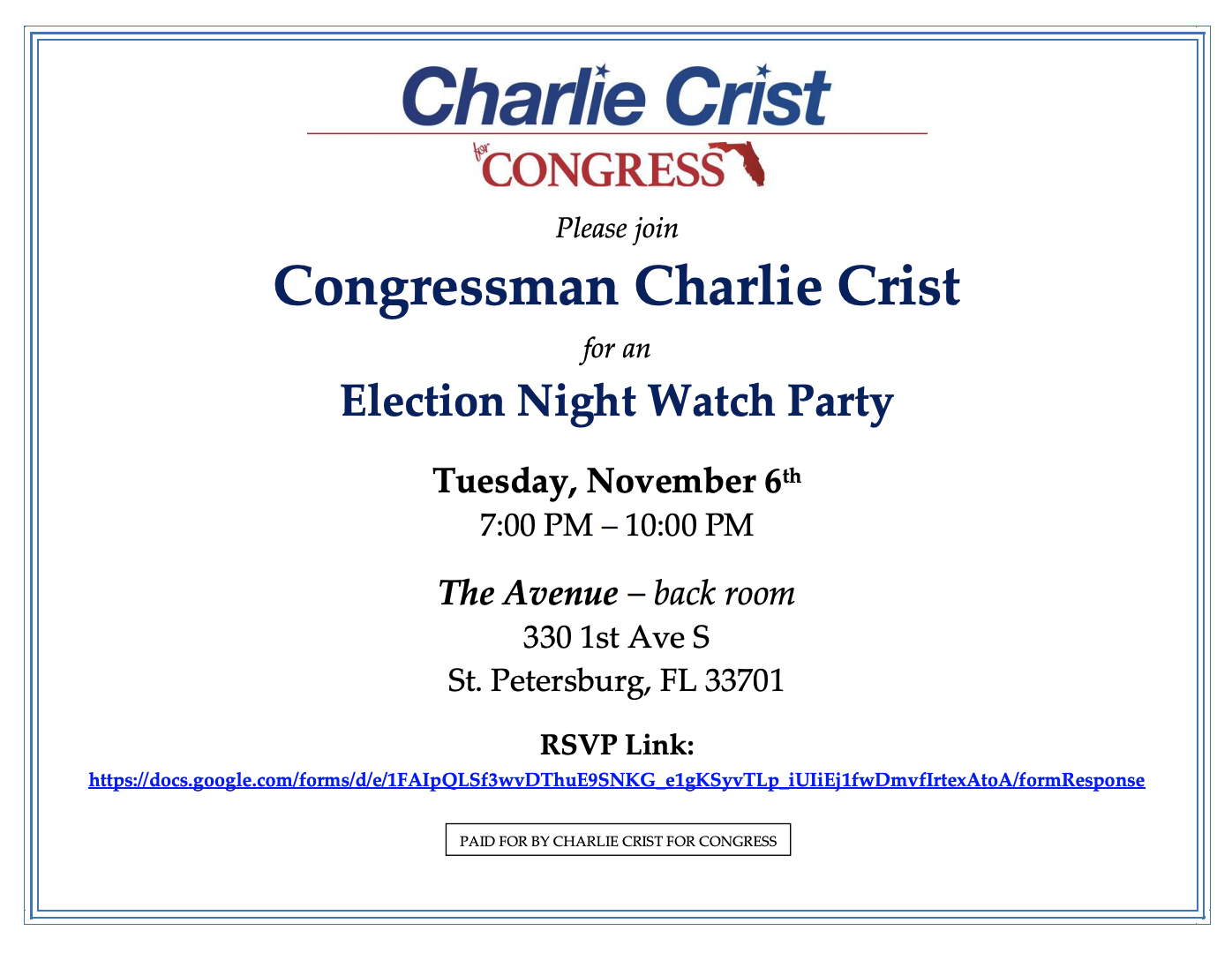 CD 15
Ross Spano — Beef O'Brady's in Brandon, 210 S Kings Ave, Brandon
Kristen Carlson — The Lakeland Room, 130 S Massachusetts Ave, Lakeland
Please RSVP to Robert Walters at [email protected]kristencarlsonforcongress.com
SD 16
Ed Hooper — Island Way Grill, 20 Island Way in Clearwater, 6-9 
More information is on his campaign Facebook page.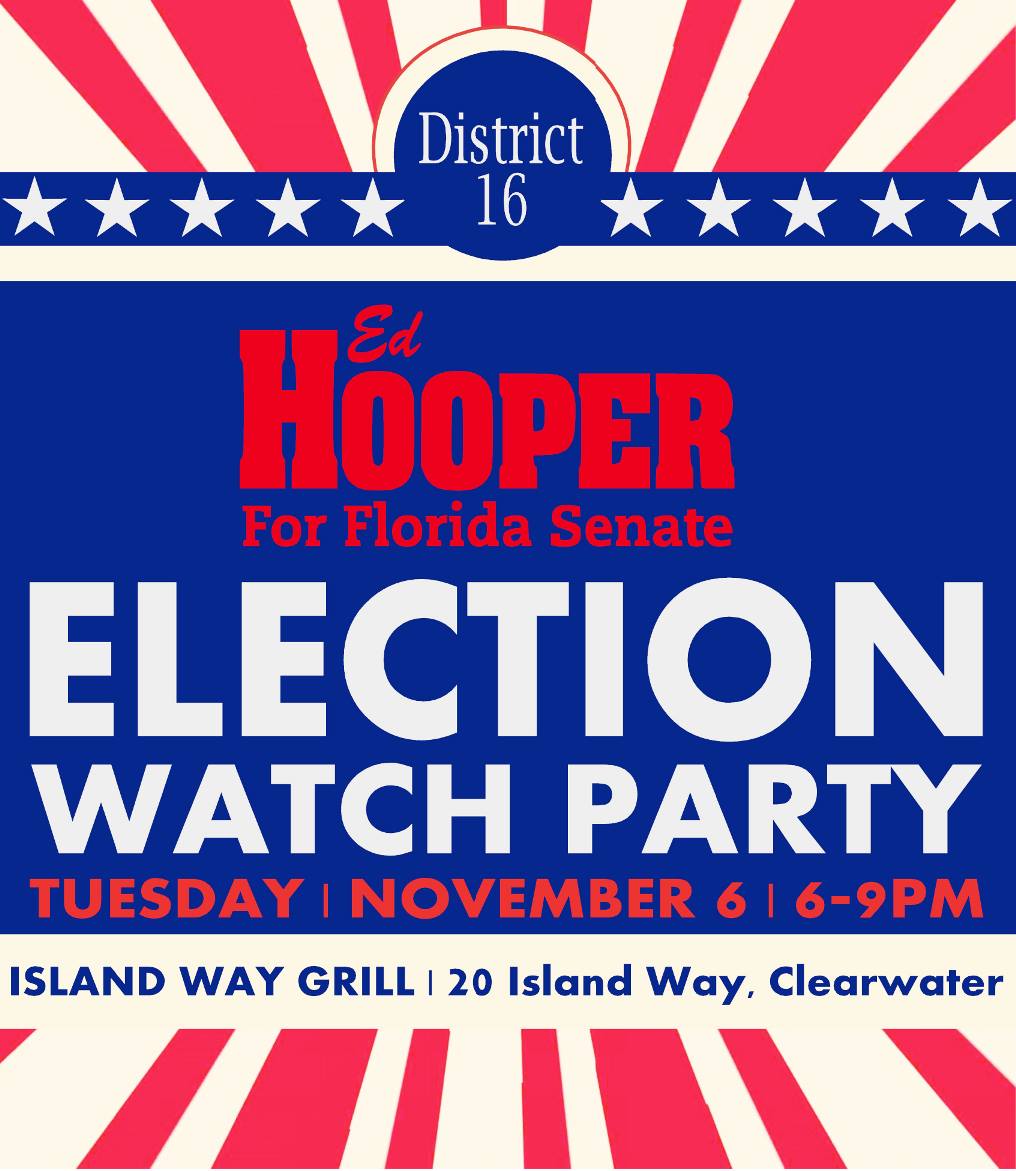 Amanda Murphy — Campaign office, 34931 US-19 N, Palm Harbor
SD 18
Janet Cruz — Grillsmith Restaurant, 14303 N Dale Mabry Hwy, Tampa, doors open at 7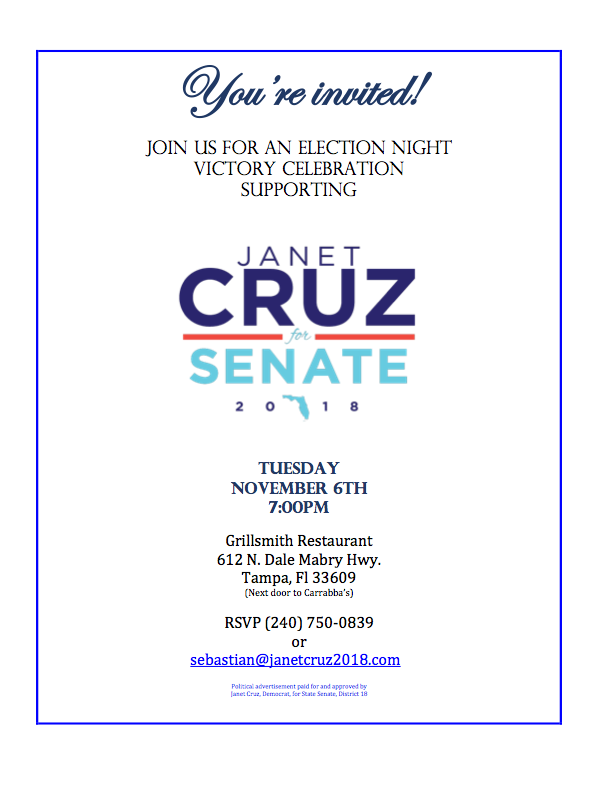 Dana Young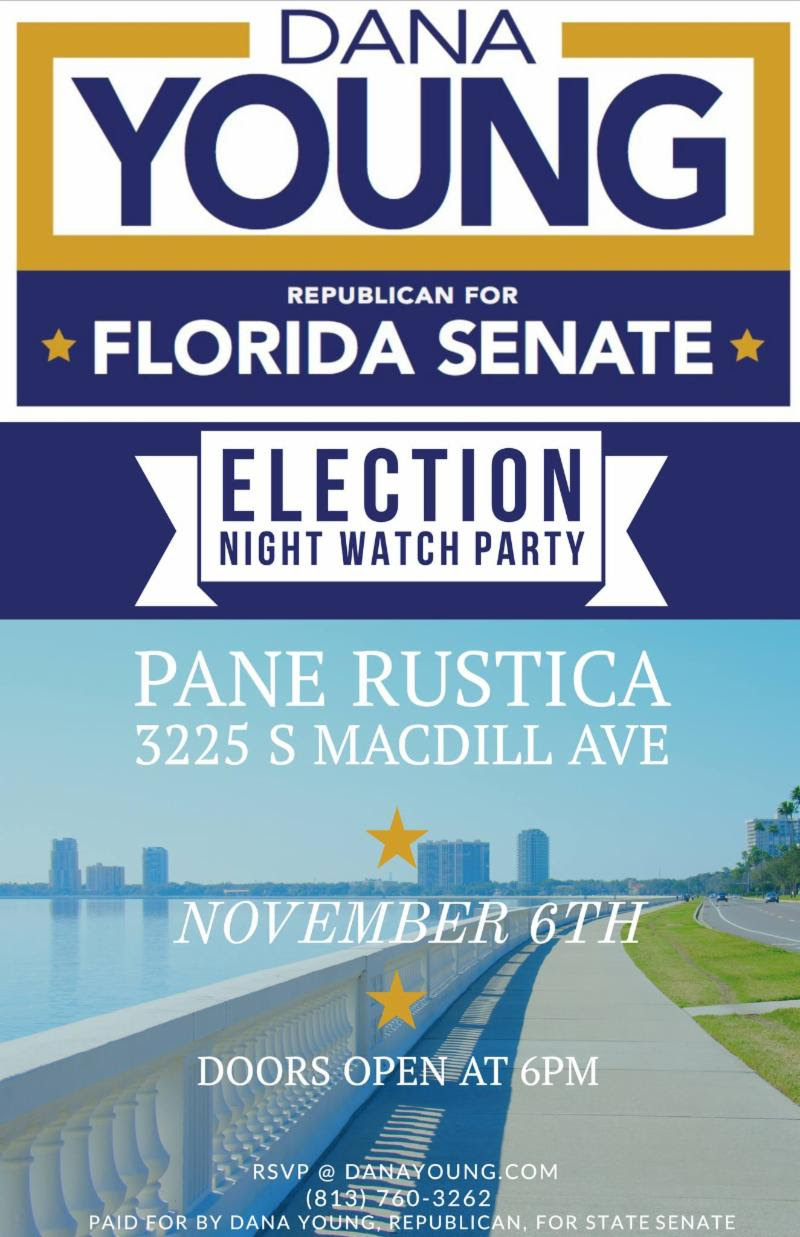 SD 22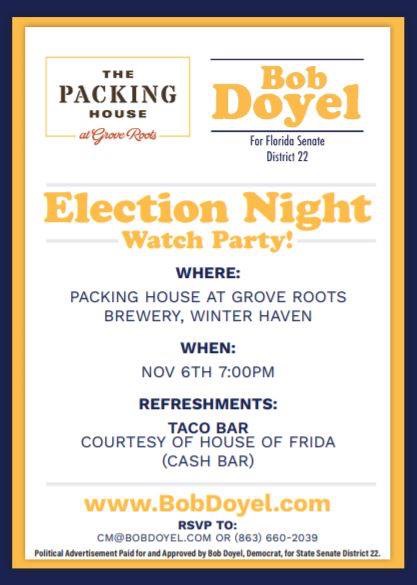 SD 24
Lindsay Cross — The Getaway, 13090 Gandy Blvd N in St. Pete, 6-8 
More information is on her campaign Facebook page.
Jeff Brandes — 400 Beach Seafood and Tap House, 400 Beach Dr. NE in downtown St. Pete, 6-8 
More information is on his campaign Facebook page.
HD 57, 58 and 59
Debbie Katt, Phil Hornback and Adam Hattersley, 11135 Winthrop Market St., Riverview
HD 63
Fentrice Driskell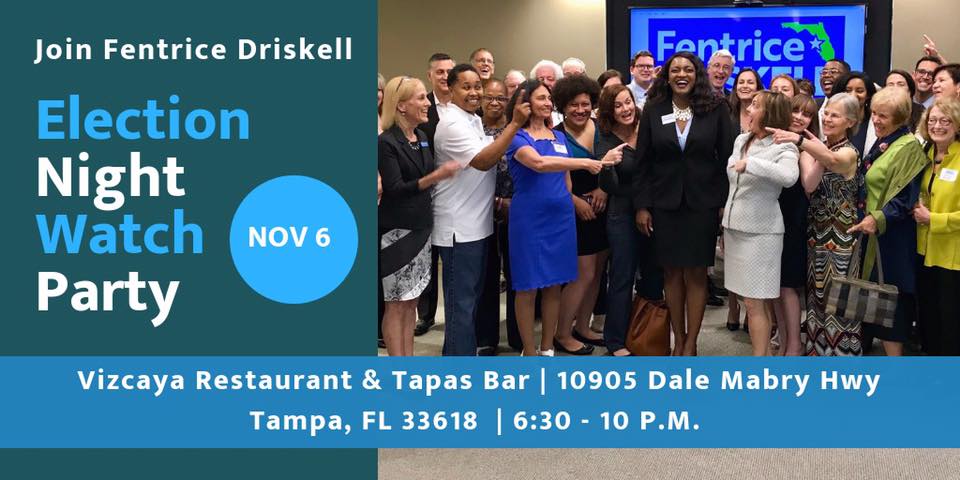 HD 66
Nick Diceglie — Salt Rock Grill, 19325 Gulf Blvd, Indian Shores, 6-8
More information is on his campaign Facebook page.
Alex Heeren — West Bay Tap House, 80 Clearwater Largo Rd S, in Largo, 6-9 
More information is on his campaign Facebook page.
HD 69
Jennifer Webb — Peninsula Inn Gulfport, 2937 Beach Blvd S, Gulfport
Ray Blacklidge — Gator's Cafe 12754 Kingfish Dr., Treasure Island, 5:30-9
Hillsborough County Commission District 7
Kimberly Overman, The C House, 6005 N. Florida Avenue, Tampa
Todd Marks, Catch 23, 10103 Montague St, Tampa
Hillsborough County Commission District 5
Mariella Smith, The Attic Cafe, 500 E Kennedy Blvd, Suite 400, Downtown Tampa
Hillsborough County Referendum No. 2
All For Transportation — not hosting a party, press availability after election results at campaign headquarters, 610 S Boulevard, Tampa
Pinellas County Commission District 6
Kathleen Peters — Middlegrounds, 10925 Gulf Blvd, Treasure Island, 6-8 
Amy Kedron — Is not making her event public due to security concerns raised against Tampa Bay Times reporter Mark Puente.
Pasco County Commission District 2
Mike Moore — Florida Hospital Center Ice, 3173 Cypress Ridge Blvd, Wesley Chapel, 6-9:30
The polls close at 7 p.m. For campaigns without a time listing, events will be held as polls close.