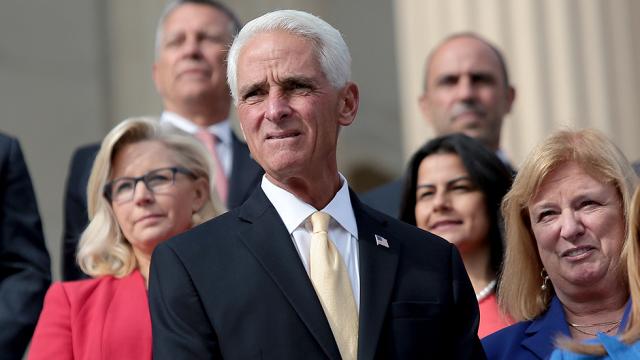 Democrat Charlie Crist scored an easy victory over Republican George Buck in his reelection race for Congressional District 13 in St. Petersburg and parts of Pinellas County.
In a landslide, Crist grabbed 58 percent of the vote of the vote.
Crist's race looked sealed from the get-go. He raked in well over $3 million to ward off a GOP challenger. Buck's unimpressive fundraising haul came to about $30,000 and his campaign efforts were limited.
Crist was first elected to the district two years ago when he beat former GOP Congressman David Jolly. Crist's victory came after the district's boundaries were redrawn to include parts of downtown St. Pete and south St. Pete, a hub for Democrats.
The district changes shifted the district from leaning conservative to favoring Democrats.
Crist ran a tough campaign against Buck, a retired firefighter turned academic, despite is massive fundraising advantage.
His campaign slathered airwaves with positive messages about his freshman class accomplishments including work for veterans and consumers, as well as his open communication with constituents.
One of Crist's ads featured the Democrat, who used to be a Republican Florida Governor, taking calls from constituents telling voters he works for them.
Crist focused a lot of his campaign efforts helping other Democrats in more competitive races. He toured the state rallying voters in various campaign stumps, town halls and get out the vote efforts.
Crist said those stops helped his own campaign while also pushing messages from other Democrats. He made several campaign appearances with Lt. Gov. nominee Chris King, and also campaigned heavily for Attorney General candidate Sean Shaw who and Agriculture Commissioner candidate Nikki Fried.
Crist plans to continue work in Congress supporting access to health care and fighting back conservative efforts to scale back on health care access for people with pre-existing conditions.
He's also working with colleagues to identify mitigation and relief efforts to combat red tide, which is plaguing Crist's district.