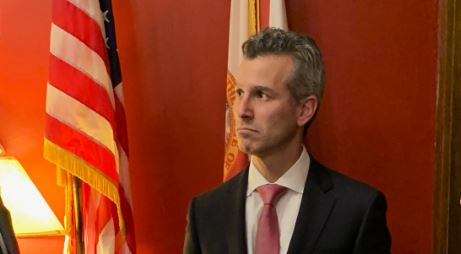 Max Schachter, who serves on the Marjory Stoneman Douglas High School Public Safety Commission after losing his son, Alex, in February's shooting, says he's considering a run for the House District 97 seat being vacated by state Rep. Jared Moskowitz.
That's according to reporting from WLRN which has been confirmed by the Sun Sentinel.
Schachter could make a decision some time next week, according to the reports.
"I am just consulting with my family" on the best way "how I can honor my son's memory," he told the Sun Sentinel.
Moskowitz will leave the HD 97 seat open after being appointed by Governor-elect Ron DeSantis to lead the Florida Division of Emergency Management.
A special election will be held to replace Moskowitz once he formally resigns his seat to take on his new role, though Moskowitz has not yet set a firm resignation date.
Coral Springs City Commissioner Dan Daley has already thrown his hat into the ring to replace Moskowitz. Now, Schachter says he'll do the same.
Schachter's 14-year-old son, Alex, was one of 17 people killed in the Feb. 14 shooting at Stoneman Douglas High School.
He has since been an outspoken advocate for stricter gun measures. That's something Moskowitz, a Stoneman Douglas alumni, pushed for as well in the aftermath of the shooting. Commissioner Daley also said the issue would be a priority, as his city was one of several municipalities to sue over state preemption laws earlier this year.
Schachter has also been highly critical of the Broward County School Board.
"It's just frustrating dealing with this district," Schachter said of the school board back in August.
"There is no accountability. There's no leadership. We don't want this to happen to other schools. We don't want this to happen to any other children."
Schachter previously worked as an insurance agent, though has put his career on hold following the death of his son.