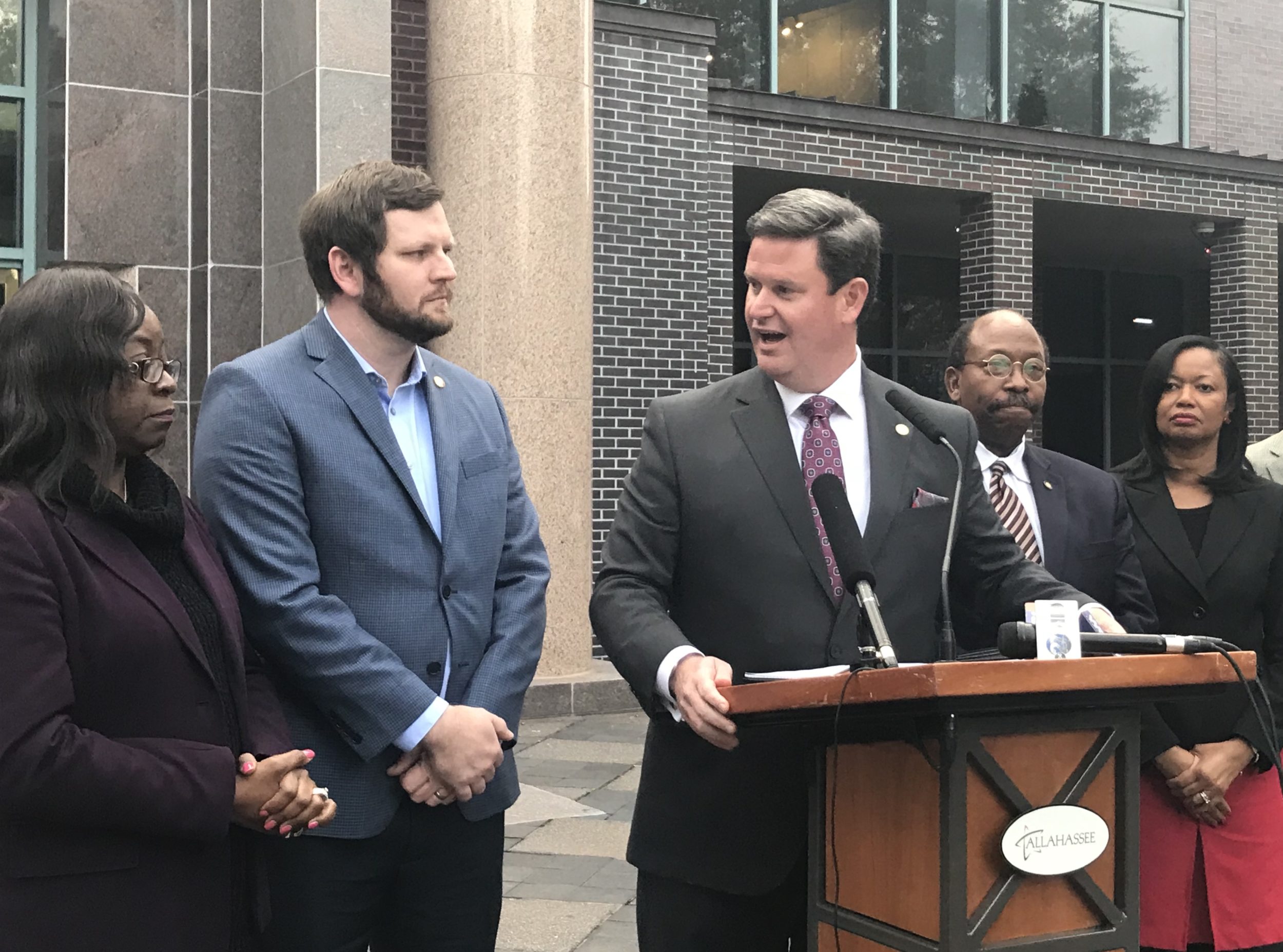 A seat on the Tallahassee City Commission is up for grabs, and more than a dozen candidates already have pursued the rare opportunity to hold elected office without having to campaign.
Gov. Rick Scott suspended City Commissioner Scott Maddox last week after Maddox and former Downtown Improvement Authority Executive Director Paige Carter–Smith were indicted by a federal jury for public corruption. Both are pleading not guilty to the charges in the 44-count indictment.
During a news conference last week, Tallahassee Mayor John Dailey said he and City Commissioners Jeremy Matlow, Curtis Richardson and Dianne Williams–Cox "are dedicated to finding the most talented individual that can help move this community forward."
As of Friday evening, 17 candidates had applied to fill the Seat 1 vacancy.
But the pool of potentials is deep and the number of applicants is expected to climb.
The Tallahassee Democrat reported that an informal, local straw poll of possible replacements included votes for city and county candidates in 2018, like former state Rep. Michelle Rehwinkel Vasilinda, Bill Schack, Bob Lotane, Howard Kessler and Emily Fritz. The only official applicant from that crop so far is Kessler, who earlier this year finished fourth in a five-way primary for City Commission Seat 5. 
Joining Kessler as a former 2018 candidate and current applicant is Ricky Bell, who received about 45 percent of the vote in the race for Leon County School Board District 1 against incumbent Alva Striplin.
Prior electeds from outside the city also pad the current group of applicants, including former Pinellas County Commissioner Norm Roche and Deborah Foote, a local consultant and former Representative to the New Hampshire General Court.
The present list of Seat 1 hopefuls also contains a number of state agency workers and consultants. 
Gus Corbella, the senior director of government law and policy for Greenberg Traurig, applied shortly after news of Maddox's suspension.
William McDaniel, who owns McDaniel Consulting, also is vying for the job. McDaniel served as the Deputy Secretary at the Florida Department of Health from 1997-2003, according to his application.
Each member of the City Commission will review applicants and submit a shortlist of three candidates by Dec. 26. Dailey has scheduled a special meeting of the City Commission at 4 p.m. on New Year's Eve to determine Maddox's replacement, who will serve through 2020, when Maddox's term expires.
Dailey said last week that Maddox is by law innocent and that it's possible Maddox can return to office if cleared of any wrongdoing. 
The application deadline for the vacancy is 5 p.m. on Saturday. Postal delivery of an application must occur by Friday. More details are available here. 
A full list of applicants appears here. The city will update the list at the close of business each day this week. 
Commissioners make $37,914 annually, not including other benefits.