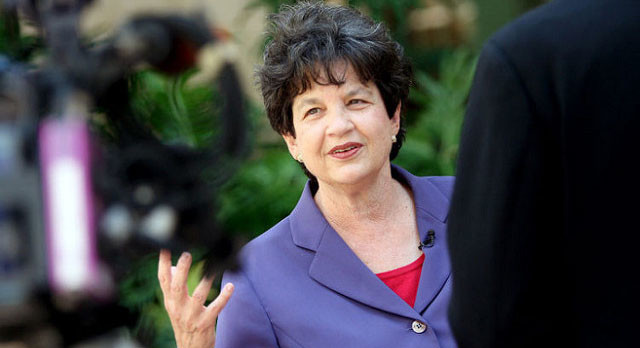 Removal of the Palm Beach Supervisor sparked partisan reaction statewide.
U.S. Rep. Lois Frankel came to the defense of suspended Palm Beach Supervisor of Elections Susan Bucher this weekend.
"This is a direct power grab and politically motivated move by Gov. Ron DeSantis that undermines our democratic process and sets a dangerous precedent," the Boca Raton Democrat said.
The voice was the latest defending Bucher, who faced scrutiny since being the only supervisor election in Florida who failed to complete statewide recounts before a statutory deadline.
Bucher's office completed recounts for U.S. Senate and for a local state House race but did not complete recounts for the Governor's race or for Agriculture Commissioner in time for new counts to be included in certified election results.
She maintained her machines could not conduct more than one recount at a time.
The same day DeSantis suspended Bucher, he accepted a resignation and ended a legal struggle with former Broward Supervisor of Elections Brenda Snipes.
But while few voices rushed to Snipes defense, there's been a partisan reaction to Bucher's suspension.
Joe Gruters, Republican Party of Florida chair, called the move another from "America's boldest Governor."
"It is apparent that the Florida Democrats have chosen political games over the integrity of our voting system," Gruters said.
"Holding individuals accountable for the hoopla that occurred during the recent midterm elections is vital to restoring the faith of the people in a fair election process. And undermining the will of Floridians will only continue to jeopardize the most sacred right and essential element of our democracy."

But Terrie Rizzo, Florida Democratic Party chair, said the suspension itself smelled political.
"The Governor's recent power grab, removing Democrats from elected positions, including Susan Bucher, should be seen for what it is," she said, "a gross overreach and a politically motivated move to consolidate power and obstruct the will of the people."
Notably, while DeSantis said in announcing Bucher's suspension that "Florida had 65 out of 67 counties that ran good elections," he's taken no action against Bay Supervisor of Elections Mark Anderson.
The Republican supervisor accepted more than 140 vote-by-mail ballots by fax or email from residents displaced by Hurricane Michael. He did so despite an executive order on election procedure after the storm that expressly ruled out that procedure.